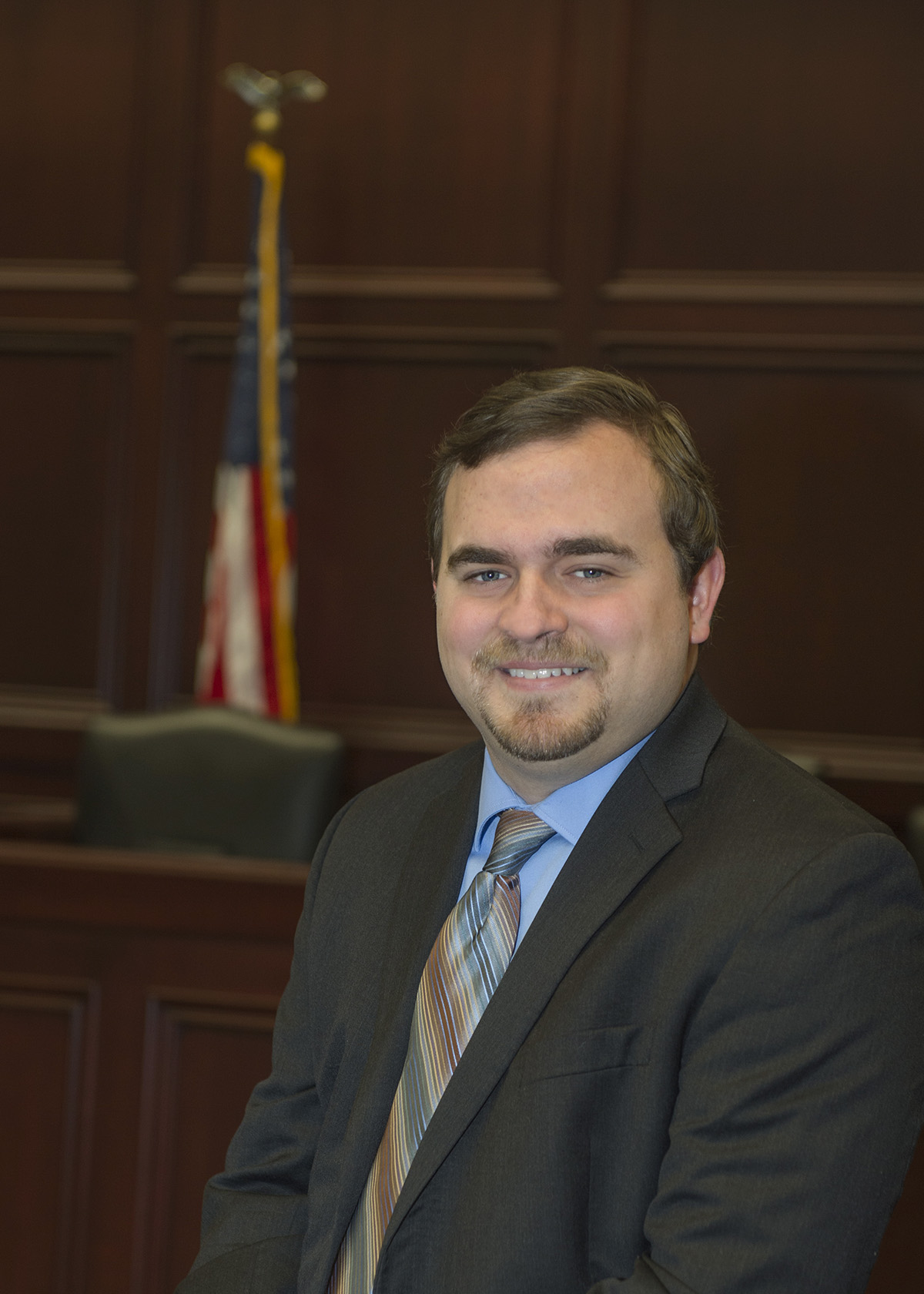 January 29, 2018
SIU law student chosen for selective Justice Department program
CARBONDALE, Ill. — With two summers of working in federal court-related positons behind him, SIU School of Law student Cody Benway will soon be headed to a highly selective post within the U.S. Department of Justice. 
Benway recently learned he will start his post-law school legal career participating in the DOJ Attorney General's Honors Program. Benway was chosen to join the Drug Enforcement Administration's Office of Administrative Law Judges as the principal law clerk to Judge Mark M. Dowd at the DEA hearing facility in Arlington, Va. A third-year law student at SIU Carbondale, Benway will take his bar exam in July after he graduates in May. He expects to start his one-year DEA judicial clerkship in early September. 
The honors program has been in place since 1953 and is "recognized as the nation's premier entry-level federal attorney recruitment program," according to the DOJ website. Graduating law school students and recent law school graduates who entered judicial clerkships, graduate law programs and qualifying legal fellowships within nine months of graduating from law school are eligible. 
"I was very excited just to be selected for an interview," Benway, the son of Robin and Lee Benway of Peoria, said. 
Joining elite company 
The competition for slots is fierce. Nearly 1,600 eligible applicants sought 156 positions this year. Benway said 103 positions were for immigration-related posts, with the remaining 53 slots for other justice department divisions. Just three slots were available for DEA judicial clerkships. 
"It's very selective. It's desirable. And these jobs in particular, if you have one on your resume it means that you stood out. To get selected is a big accomplishment," Ed Dawson, an assistant law professor who taught Benway in legislation and criminal procedure classes, said. 
Benway's upcoming work 
DEA judges sit on the only bench in the United States that presides over matters that involve administrative violations of the Controlled Substances Act and its associated regulations. As Judge Dowd's law clerk, Benway will serve as his principle legal adviser, act as the chief liaison between the court and the involved parties, and serve as Dowd's courtroom clerk. During his tenure as a law clerk, Mr. Benway will have the opportunity to travel with Judge Dowd, conducting contested administrative hearings in courthouses throughout the United States. 
Known for his diligence and detailed work ethic
Benway is a "very strong student" whose attention to detail and diligence stands out, Dawson said. Benway is the SIU Law Journal research editor, which involves not only checking for grammar but also checking legal citations. 
"It's looked at as a time-consuming but important task," Dawson said. "They (law journal) picked him because he's good at that sort of detail and focus and making sure citations are correct." 
Benway has a "sophisticated understanding of legal issues and different solutions to legal problems," Dawson said. 
Benway is also president of the law school's student chapter of the Federal Bar Association.  
"He's a great student and I'm very excited that he was accepted into this program," Dawson said. "This is a good example of the opportunities students can achieve when they come here and do well." 
Experiences with federal courts pays off 
In summer 2016, Benway worked as law student intern with the U.S. Attorney's Office in St. Louis. Last summer, he was a judicial extern in Peoria for Senior U.S. District Judge Joe B. McDade of the U.S. District Court for the Central District of Illinois. Benway, who is interested in being a career prosecutor and litigator, said he learned about the honors program while working in the U.S. Attorney's Office. 
He credits Dawson and law professor Patricia McCubbin, who had worked with the DOJ's Environmental Defense section, with helping him prepare. Benway learned he was selected for an interview in late September and interviewed in Washington, D.C. in early November. He received the phone call telling him of the job while driving to his parents' home in Peoria for Thanksgiving break. 
"Being able to work not only behind the scenes with the judges, but with the DEA and DOJ and being able to get that first-hand experience of how it works – that will make me a more effective litigator down the road," he said. 
Law school's important role in his career 
Benway came to the law school after earning a bachelor's degree in criminal justice sciences from Illinois State University in 2015. He worked as a legal intern with the McLean County State's Attorney's office while in Bloomington-Normal and several prosecutors there had attended the SIU School of Law, he said. 
"They had a lot of great things to say about it," he said. "That definitely drew me here." 
Benway noted the "range of opportunities" that SIU School of Law students have, including a number of available clinics that allow students to connect with attorneys in a variety of legal practices. 
"It's absolutely paramount, especially at a school at this level," he said. "My relationship with Professor Dawson has helped me develop from a first-year student to where I am now. Being able to interact with all the professors in their areas of expertise, they get to know us very well and they are able to share in a more intimate relationship how we can pursue positions like this." 
Law school involvement with federal system
Benway is part of the law school's long-running success in placing students in prestigious legal positions throughout the federal government.  Alumni have worked for the Senate Judiciary Committee, the Judge Advocate General's Corps, the U.S. Patent and Trademark Office, the U.S. Environmental Protection Agency's Office of General Counsel, the U.S. Department of Interior, the U.S. Department of Labor, and various federal district court and appellate court judges.
Paying it forward

While working for the DOJ, Benway also has plans to get the message out about the SIU School of Law. He wants to use this program to bring students to SIU and show them the opportunities that are available. 
"I would love to use a position like this and the opportunities from the honors program to show students that SIU is a great school," he said. "We have so many amazing opportunities here for a fraction of the cost."