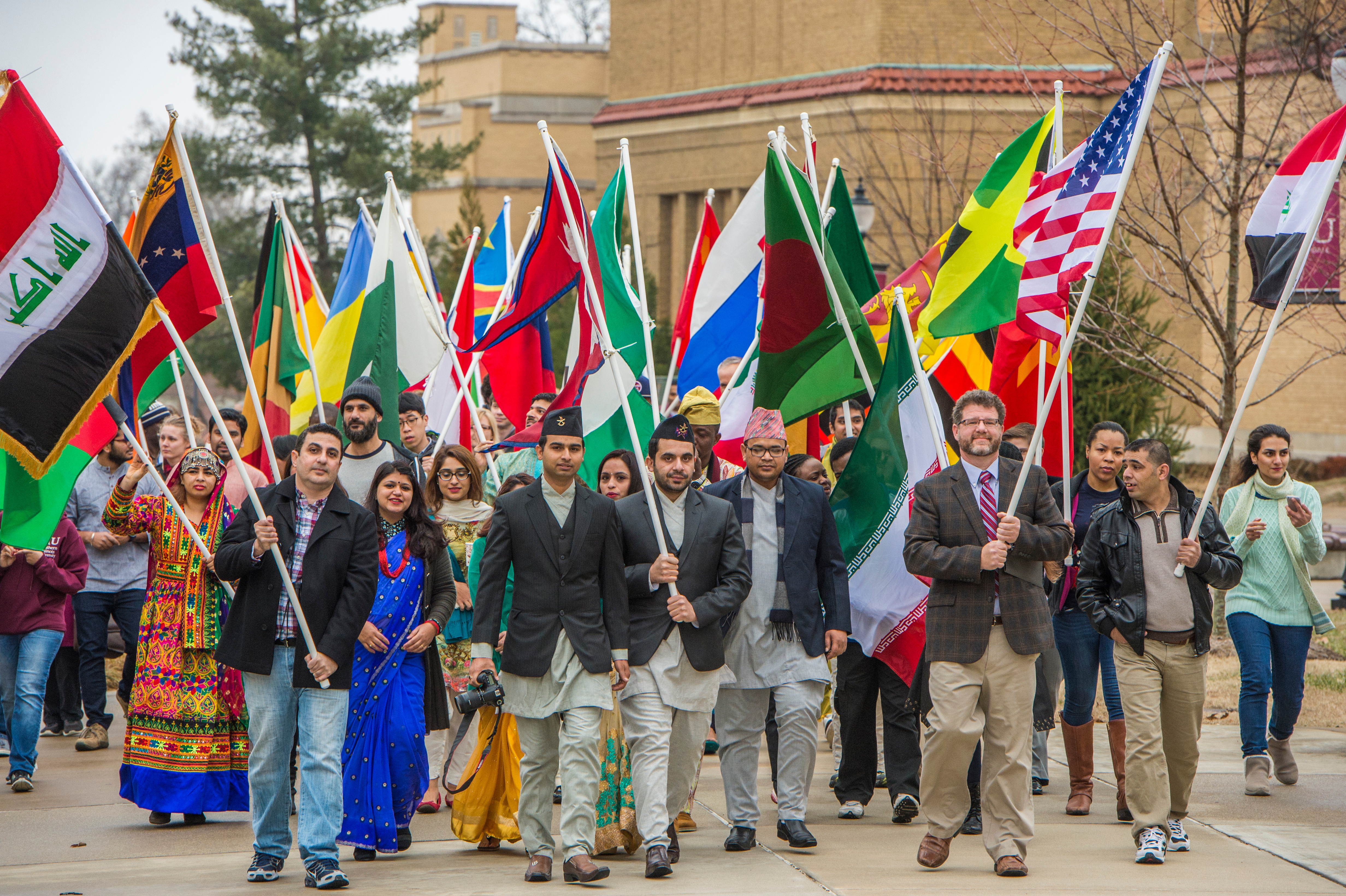 January 29, 2018
International Festival '18 coming to SIU Feb. 5-9
CARBONDALE, Ill. -- Southern Illinois University Carbondale celebrates its diversity, inclusiveness and appeal to people from around the globe during the 2018 International Festival, set for Feb. 5-9. The theme of this year's event is "One World. One Passport." 
The fest typically draws large crowds from campus and the community. A new event – a passport fair – is part of the lineup this year. 
A sea of flags
The poignant International Parade of Flags kicks off the international celebration at 10 a.m. on Feb. 5. Carrying flags representing their nations, students, faculty and staff will walk together across campus from the Center for International Education in Woody Hall to the Student Center. It's a colorful and impressive assembly and some participants also wear the native attire of their countries. 
The official proclamation and university welcome ceremony follows in the Student Center's International Lounge at 10:30 a.m. Chancellor Carlo Montemagno and Carbondale Mayor Mike Henry will attend to officially "open" the festival. 
Try diverse culinary fare at the International Food Fair
One of the most popular events at the annual fest is the International Food Fair, coming to the Student Center Ballrooms at 11 a.m. on Wednesday, Feb. 7. It's a unique opportunity to sample a wide variety of cuisine from all over the world as students from nations far and wide prepare and serve popular foods from their countries. Tickets are just 50 cents each and samples are available for one or more tickets. Some booths even offer full meal options. 
Tickets are on sale now at the Student Center Business Office window, located on the second floor, from 8 a.m. to 3:30 p.m. Monday through Friday. The International Student Council will also sell tickets at the escalators near the center's north entrance from 11 a.m. to 1 p.m. Feb. 1-2. Tickets may also be purchased at the Food Fair beginning at 11 a.m. Feb. 7.   
Learn more about study abroad and apply for a passport
Discover what it takes to experience international travel at the new Study Abroad and Passport Fair, which will take place 11 a.m.-1 p.m. on Feb. 7, in the Student Center's International Lounge. It's the perfect opportunity to learn how to go about getting a passport so you can explore the world or participate in one of the many study abroad classes offered at SIU. In fact, the event is actually a "one-stop" opportunity for first-time passport applicants to take care of all of the requirements to obtain a passport. 
Students, faculty, staff or community members who want to apply for a passport should bring two forms of legal identification – one must be an original birth certificate featuring the raised seal, or a previous passport. They can also bring an official 2-inch square passport photo or for a $15 fee, obtain an official picture that day. 
Officials from the U.S. Postal Service will be on hand to take care of the official in-person interview required for applicants. There's a $25 acceptance fee for this service but SIU's Center for International Education will cover the cost for all currently enrolled students who present valid student IDs. Those attending the fair can complete their passport applications and submit all of the documentation, along with a check for the $110 application fee, during the event. 
"This is the first time SIU has hosted a Passport Fair and we're doing so to foster cross-cultural exchanges and in keeping with SIU's mission of campus internationalization," Andrew Carver, the campus executive director of International Affairs, said. 
The Study Abroad and Passport Fair will also feature information about SIU's numerous Study Abroad programs, which allow students to earn college credit while participating in classes at an international location. Programs range from two weeks to one year in length and are offered in many different locales. 
Experience entertainment from around the world
SIU students will celebrate their diverse backgrounds music, dance and drama performances from their diverse backgrounds at the popular annual Cultural Show. The event is from 7 to 9 pm. on Feb. 9 at the Student Center Ballrooms and typically draws large crowds. The show is free and open to the public. 
The International Student Council, the Center for International Education, the Student Center and the Office of Student Engagement coordinate the international festival. The menu for the food fair and the program for the cultural show will be posted online prior to the events. For more information, visit studentcenter.siu.edu/internationalfest or call 618/536-3393