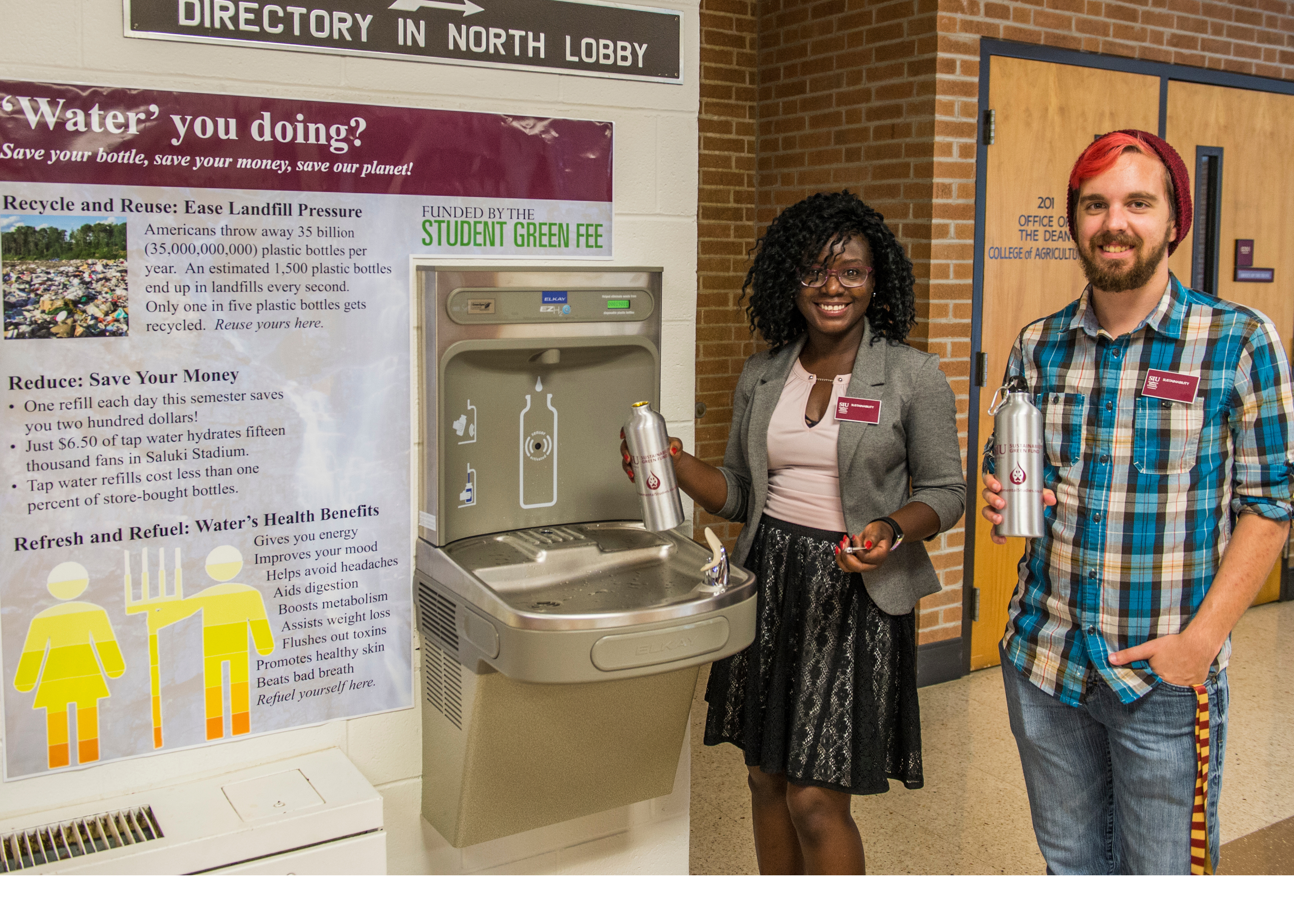 January 16, 2018
SIU works toward sustainability while inviting Green Fund applications
CARBONDALE, Ill. – Southern Illinois University Carbondale just keeps getting greener.
As a new semester kicks off, proposals are being accepted for the newest round of Green Fund awards. The grants are given to projects that promote campus sustainability. Applications are due by March 1.  
"The Green Fund gives students, faculty and staff the resources to work on projects that they are passionate about, which will have an impact on the local ecosystems and reach out to both students and community members. The projects also enable students to build a network that includes community members, professors and professionals from a range of fields. Working together, we can instill in people the importance of raising awareness and designing for a sustainable future," Ashley Booth, a senior industrial design major from St. Joseph, Mich., said.
Booth is part of a team that is participating in the new Sustainable Eco-Recreation Program, funded by a Green Fund grant. The program is promoting recreational use of Campus Lake in various ways in order to support the health of the lake and its users. A cross-campus interdisciplinary team that includes faculty, staff and students, is working on the project that received a spring 2017 grant for $29,777.
"The Green Fund is an innovative way for students, faculty and staff to collaborate and take a leading role in developing a more eco-friendly future," added Rachel Steiger, a master's zoology student from Crown Point, Ind. who is also working with the Sustainable Eco-Recreation Program. "The Green Fund allows SIU to support the environment, improve the community and encourage the personal and professional development of individuals involved with the projects. Our ability to provide for future generations is dependent upon creating sustainable solutions to everyday problems. I am proud to say that my student fees and master's research contribute to SIU's dedication to improving this world by supporting sustainable research and development."
Seeking funding
SIU students, faculty or staff, working alone or in groups, are welcome to submit Green Fund grant proposals. Preference will be given to proposals that address all three pillars of sustainability (environmental health, social equity and economic prosperity) in one or more of these areas: energy, water, waste, buildings, transportation, grounds, food/dining, purchasing, outreach, research and social equity. Any proposal involving a campus unit or department should include a letter of unit/departmental support as part of the application. Many grant proposals also require written support or documentation from Plant and Service Operations due to the plans involved. Learn more by attending a Green Fund workshop.
Grant funding comes from a $10-per-semester student Green Fee, adopted in 2009 as the result of a student-led initiative. More than $2.1 million has been allocated in support of 169 diverse sustainability projects. This spring is the only time in 2018 that Green Fund awards will be presented.
"It is exciting to see Salukis take ownership of their green ideas and collaborate with others across campus to bring the concepts to life," Geory Kurtzhals, sustainability coordinator, said. "We are pleased that we have been receiving proposals that address a wide range of opportunities across campus. In the last few years, the Sustainability Council has awarded a growing number of grants to projects that exemplify cross-campus collaboration, especially those leveraging student ideas with faculty and staff expertise. The Morris Library mother's room project, the Campus Lake eco-recreation project and the compost facility are just a few models of the collaborative problem-solving that the Student Green Fund encourages."
Find the Green Fund grant application, rubric and additional information online.
Upcoming workshops for grant applications
A series of four upcoming workshops will provide more information and technical assistance to anyone interested in applying for this cycle. The workshop schedule is:
Jan. 18, noon, Morris Library, Room 480A
Jan. 22, 5 p.m., Innovation and Sustainability Hub, in the north end of the Student Center
Feb. 6, 5:30 p.m., Morris Library, Room 480A
Feb. 12, noon, Morris Library, Room 480A
Award recipients will be announced in April, which is Earth Month. At that time, SIU's environmental ambassadors and sustainability collaborators will also be announced.
Learn more about SIU's nationally recognized sustainability efforts at www.sustainability.siu.edu, by emailing sustainability@siu.edu or by calling 618/453-2846.