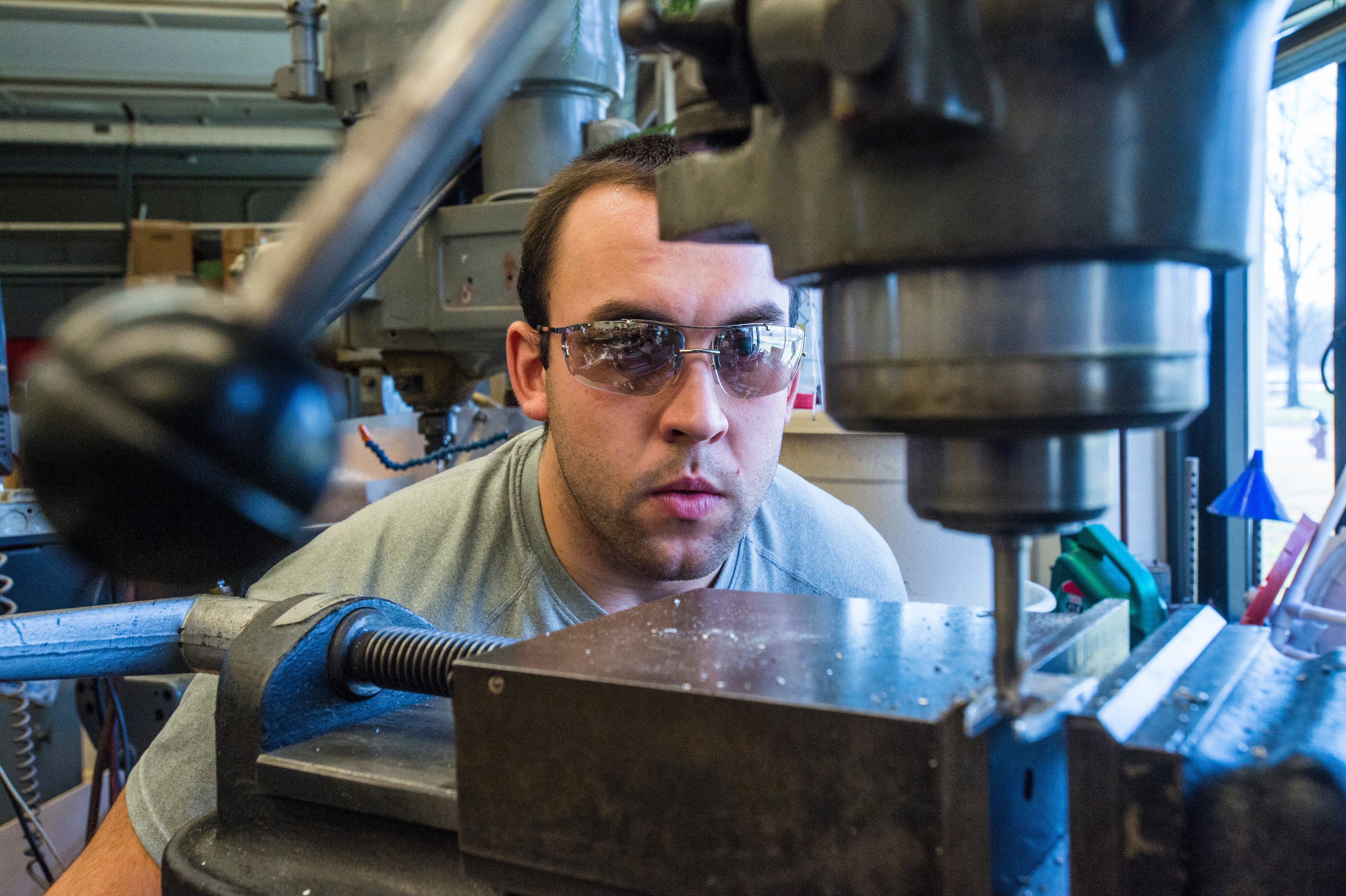 December 14, 2017
How does that work? Student's curiosity, drive lead to engineering degree
CARBONDALE, Ill. – Down on the farm, one needs a fair amount of know-how and independence. When something breaks down, help may be far away or non-existent. 
But growing up on a working farm can be the perfect laboratory for a youngster who is abidingly interested in how machines really work. For Matt Schmidlin, reverse-engineering anything from a set of Legos to a piece of agriculture equipment was the best way to learn. 
"From a young age I loved taking things apart," said Schmidlin, of Palestine, who will graduate from Southern Illinois University Carbondale this month with a Bachelor of Science degree in mechanical engineering. "I was fascinated with how everything worked.  Growing up on a family farm allowed for these small toys to develop into larger toys such as four-wheelers, Jeeps, and tractors." 
Life on the family farm 
The son of John and Marcia Schmidlin, he attended tiny Palestine High School, where he was a top athlete, student and volunteer. His love for math and science, combined with his "how stuff works" curiosity, made majoring in mechanical engineering a logical choice. 
"I love mechanical engineering's diversity," he said. "There are mechanical engineers ranging from the automotive industry, to missile defense, to biomedical, to so much more." 
His high school graduating class had just 23 students, however, and Schmidlin worried whether he could make the adjustment to a larger university setting at SIU. But the university welcomed him as Chancellor's Scholar, its top scholarship, and Schmidlin soon learned the ropes. 
"I had to adapt to the overwhelming-at-first lecture halls," he recalled. Also, because of its small size, his high school had not offered certain programs that would have better prepared him for the rigors of pursuing an engineering degree. "There was definitely a learning curve that I had to overcome my freshman year to be where I needed to be in certain classes to get assignments completed." 
Finding his place at SIU 
But at SIU, Schmidlin found a welcoming environment that gave him opportunities he hadn't expected. Starting in 2013, he served with several Registered Student Organizations, including the Engineering Student Council. He became a Saluki Ambassador and a senator with the Undergraduate Student Government that year, as well, twice earning recognition as Senator of the Year. He remains active in all three organizations as his graduation approaches, and also has served as a recruiter for SIU Athletics since 2014. 
Schmidlin also is a member of Tau Beta Pi, the National Engineering Honor Society, and has earned Dean's List honors each semester. 
"Having multiple RSOs and machine shops within the College of Engineering gives us the ability to get hand-on learning and experience," he said. "Learning from a textbook is one thing, but having the opportunity to apply something you learned in class to the real world makes me have a better understanding of how something works and the reasoning behind it." 
Strong in the volunteer spirit, Schmidlin donated 50 hours a year to various organizations including SIU Undergraduate Admissions, local pet shelters, the United Methodist Church and national forest parks. 
As a student, he also held several cooperative and intern engineering positions with major energy companies including Marathon Petroleum Co. and Renewable Energy Group, which has offered him a position in Louisiana as a process engineer making renewable diesel and biodiesel fuels at a refinery there.  
Building relationships among a diverse group of students and faculty was also a major plus at SIU, Schmidlin said. 
"The thing that makes SIU unique is the ability to work and speak with a multitude of different people from different backgrounds," he said. "Whether it be a different college within the school or even a different country of origin from someone else, the ability to communicate with everyone is something that allows me to stand out in the school of engineering."