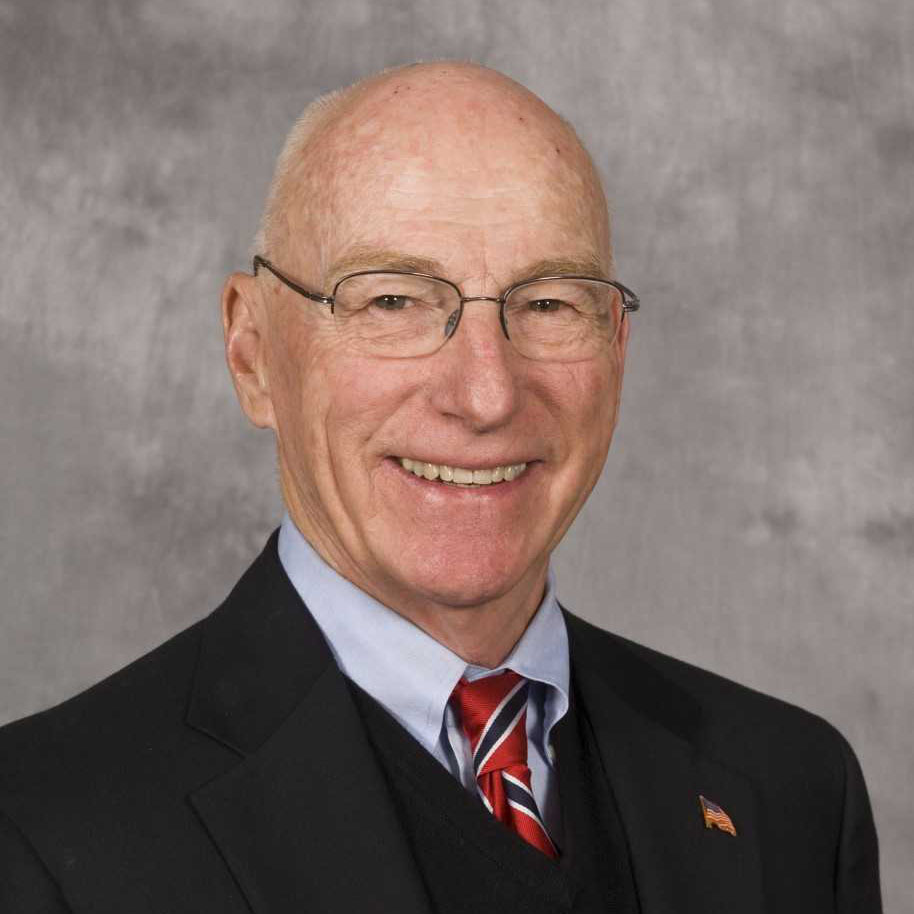 December 07, 2017
Business alumnus Lynn McPheeters donates to help future business Salukis succeed
CARBONDALE, Ill. – Growing up on a farm near Canton, F. Lynn McPheeters never imagined he would become the chief financial officer and vice president of Caterpillar Inc. Now, he's donating $1 million to Southern Illinois University Carbondale, his alma mater, to help future Salukis succeed.
The endowment gift establishes the McPheeters Family Scholarship to benefit undergraduate College of Business students, Chancellor Carlo Montemagno announced this week.
"Without SIU, I would never have been in a position to have the opportunity to do something like this," McPheeters said. "I'm a first-generation college student, and being able to attend SIU – a national, state-supported college – enabled me to have the career and life I've had. My hope is that this scholarship will allow others who are in similar situations the opportunity to attend SIU and succeed in their chosen field as I was able to."
Benefitting business students
McPheeters' gift will enable the university to award about $40,000 in scholarship assistance annually to deserving first-generation business students.
"Mr. McPheeters has been a longtime supporter of SIU, and we are very appreciative of his ongoing involvement and this generous contribution," Montemagno said. "Countless students will realize their dreams of attending college because of this gift, and its impact on the world of business will reach far into the future."
The scholarship funds are earmarked for first-generation students in the College of Business who are from Illinois counties located south of I-80; preference will be given to those who major in finance or accounting. Recipients must maintain a GPA of at least 3.0 to retain their eligibility and the scholarship is renewable for up to four years.
The McPheeters story
McPheeters is a 1964 accounting graduate from SIU's College of Business. He joined the Fortune 500 company soon thereafter and held a number of finance-related positions in the United States and abroad during a 40-year career capped off by a term as CFO. He fostered a working partnership between SIU and Caterpillar during his career. Since he retired, he remains active professionally on behalf of SIU and as a proponent for public education and charitable causes.
McPheeters was the first to enroll at and graduate from Spoon River Community College, then known as Canton College, and he established the Francis G. and Dorothea B. McPheeters Scholarship there in honor of his parents. He continues to serve as a board member for several companies, including RLI Inc. and WPC Technologies.
A member of the SIU Foundation board since 2002, McPheeters has served as chair of the audit committee and later as board president; he is currently an emeritus board member. He was one of the first members of the College of Business external advisory board, holding a seat since 1988. He was inducted into the college's Hall of Fame in 1988 and has earned a number of other honors, including the College of Business Alumni Achievement Award in 2004.
In 2006, McPheeters and his wife, Susan, supported SIU with a $585,000 gift of appreciated Caterpillar stock, which was invested to create the Susan F. and F. Lynn McPheeters College of Business Leadership Endowed Chair, the college's first endowed chair. The McPheeters' philanthropy has also extended to various other charitable organizations and efforts in the health, education and abuse-prevention areas, earning them the title of Outstanding Philanthropists for Central Illinois in 2006.
 "Lynn McPheeters has been associated with SIU and the College of Business for a long time. He has also been a loyal and generous friend," said Terry Clark, dean of the College of Business. "Over the years, his love for our institution has been shown in many ways, from serving on the college's External Advisory Board to serving on the SIU Foundation Board. Lynn's institutional spiritedness is legendary. We are deeply grateful for his most recent gift. Through his generosity, another generation of Salukis will be helped onto the ladder that Lynn climbed so notably upon graduation from the college in 1964."
Forever SIU
The McPheeters Family Scholarship endowment was made in conjunction with the Forever SIU fundraising campaign, to advance the university's goal of providing the best education possible to students of all disciplines. More information about the campaign is available at foreversiu.org.