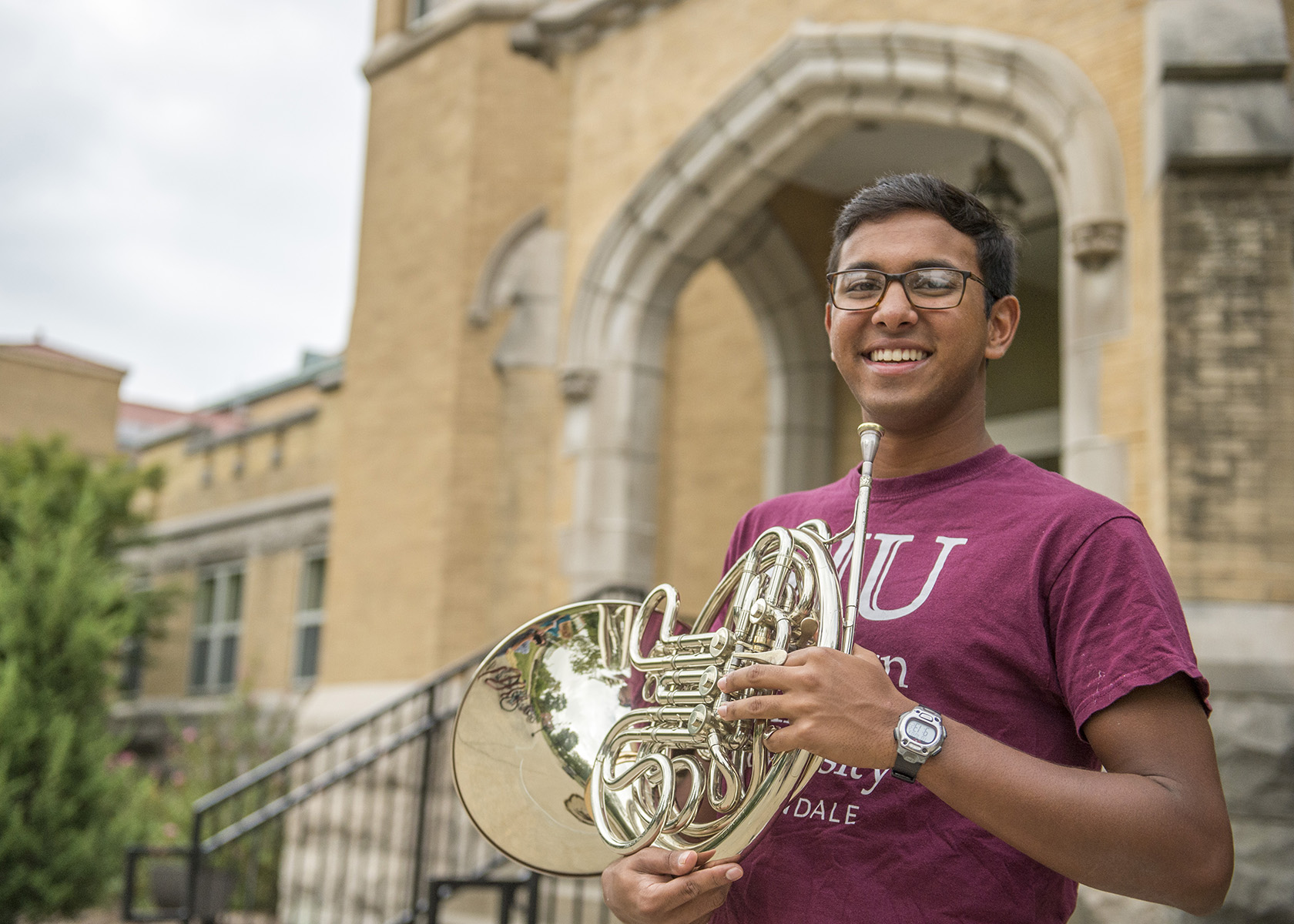 November 27, 2017
Student composes score for SIU eclipse documentary
CARBONDALE, Ill. – Caleb Gomes watches a few clips of a documentary and makes notes on a computer, like so many college students do today in this post-computer age. Gomes' notes, though, become music. 
Gomes is a junior music major at SIU, where he focuses on music theory and composition. He's creating the musical score for "2:38: A Glimpse Into the Eclipse," a documentary about the 2017 SIU eclipse experience Malea Bailey and Marcia Kuhlman, SIU students, are producing. 
"I watch the clips they send me, and then I glean what tempo and mood the scene needs," he explained. He'll spend roughly ten times as long composing as the finished piece – so, for every 10 or 15 minutes of music, he's composed for two hours or so. He'll edit the piece and send a rough draft of the music to the film's producers to see if they like it. If they do, he'll fine tune and finish the selection. If they don't, he'll recompose. 
"It's electronic music," Gomes said, noting that through the wonders of modern composing software, he can access piano, strings and percussion. When he writes sheet music, it's via piano and composition program. Gomes plays piano, mellophone and trumpet, but his main instrument is the French horn. 
Eclipse experience 
A member of the Marching Salukis, Gomes,  who is from Du Quoin, was in the Saluki Stadium during the 2017 eclipse. As he composes music to accompany the documentary, he is able to draw on his emotions as he witnessed the natural phenomenon. 
"The score is meant to convey these huge, impactful emotions," he said. "I'm able to put in my own experience, how I felt witnessing such an event with so many thousands of people." 
"Creating a score is fun, but it does take a lot of time," he said. But he enjoys the collaboration, he said, and he hopes his role with this documentary may lead to other projects. 
Past projects 
Last summer, Gomes was among a group of SIU music students who participated in a playwriting and performance program at the Gaiety School of Acting, part of the National Theatre School of Ireland. He and his fellow students created an original production they performed at the Smock Alley Theatre 1662 in Dublin. Gomes was one of the musical composers.