November 10, 2017
Phonics are 'Shaking it at Shryock'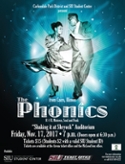 CARBONDALE, Ill. – The Phonics will guest star as the Southern Illinois University Carbondale Student Center and the Carbondale Park District partner for "Shaking it at Shryock," an evening of rhythm and blues, Motown, soul and funk.
The concert, open to the public, is set for 7 p.m. on Nov. 17 at SIU's Shryock Auditorium. The doors will open at 6:30 p.m. In addition to the popular Cairo performers, the show will also feature a Michael Jackson review and special guests James Barnes, Larry Baldwin, B. Douglas and Peule Rogan.
Tickets are $15 each for the general public or $2 for SIU students, with a valid student ID. Purchase tickets online, at the SIU Arena box office or the McLeod Theater or by calling 877/725-8547. For more information, visit www.studentcenter.siu.edu or call 618/549-4222.