September 20, 2017
Durbin to keynote Simon Institute's 20th anniversary fall schedule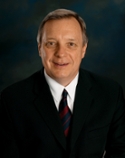 CARBONDALE, Ill. – U.S. Sen. Richard J. "Dick" Durbin next month will provide his unique perspective on the late U.S. Sen. Paul Simon and the Southern Illinois University Carbondale public policy institute that honors the longtime legislator. 
Durbin's presentation, "Paul Simon Public Policy Institute: A Lasting Legacy,"  is the keynote speech of the institute's fall 2017 schedule and a part of the 20th anniversary of the institute's founding in 1997. The event is at 5:30 p.m., Oct. 10, in the SIU School of Law Hiram H. Lesar Law Building Auditorium. Durbin's presentation is free and open to the public. 
"We are delighted that Sen. Durbin has agreed to deliver the fall keynote speech to celebrate the 20th anniversary of the Paul Simon Public Policy Institute, interim institute director Jak Tichenor, said.  "His speech will be the perfect capstone for a year's worth of events and activities commemorating the institute's founding in 1997." 
Durbin, D-Illinois, the state's senior senator and Democratic Whip – the second highest-ranking position among senate Democrats – succeeded Simon following his retirement. Since 2005, Democratic colleagues have selected Durbin for the senate leadership post. Durbin won re-election in 2002, 2008 and 2014 and is a member of the senate's judiciary, appropriations and rules committees. He is the ranking member on the Judiciary Committee's Subcommittee on Immigration and the Appropriations Committee's Defense Subcommittee. 
Simon first met Durbin when Durbin, who is originally from East St. Louis, was a student helping U.S. Sen. Paul Douglas, D-Illinois. Durbin served as then-Lt. Gov. Simon's legal counsel from 1969 to 1972 and campaigned door-to-door for Simon during his mentor's first successful run for Congress in 1974, Tichenor said. Durbin also served in the U.S. House of Representatives from 1983 to 1997. 
"I can't imagine anyone better prepared to discuss how Paul's legacy lives on as a force for change in today's world than Senator Durbin," Tichenor said. 
Durbin, who lives in Springfield, makes approximately 50 round trips a year between Washington, D.C., and Illinois.