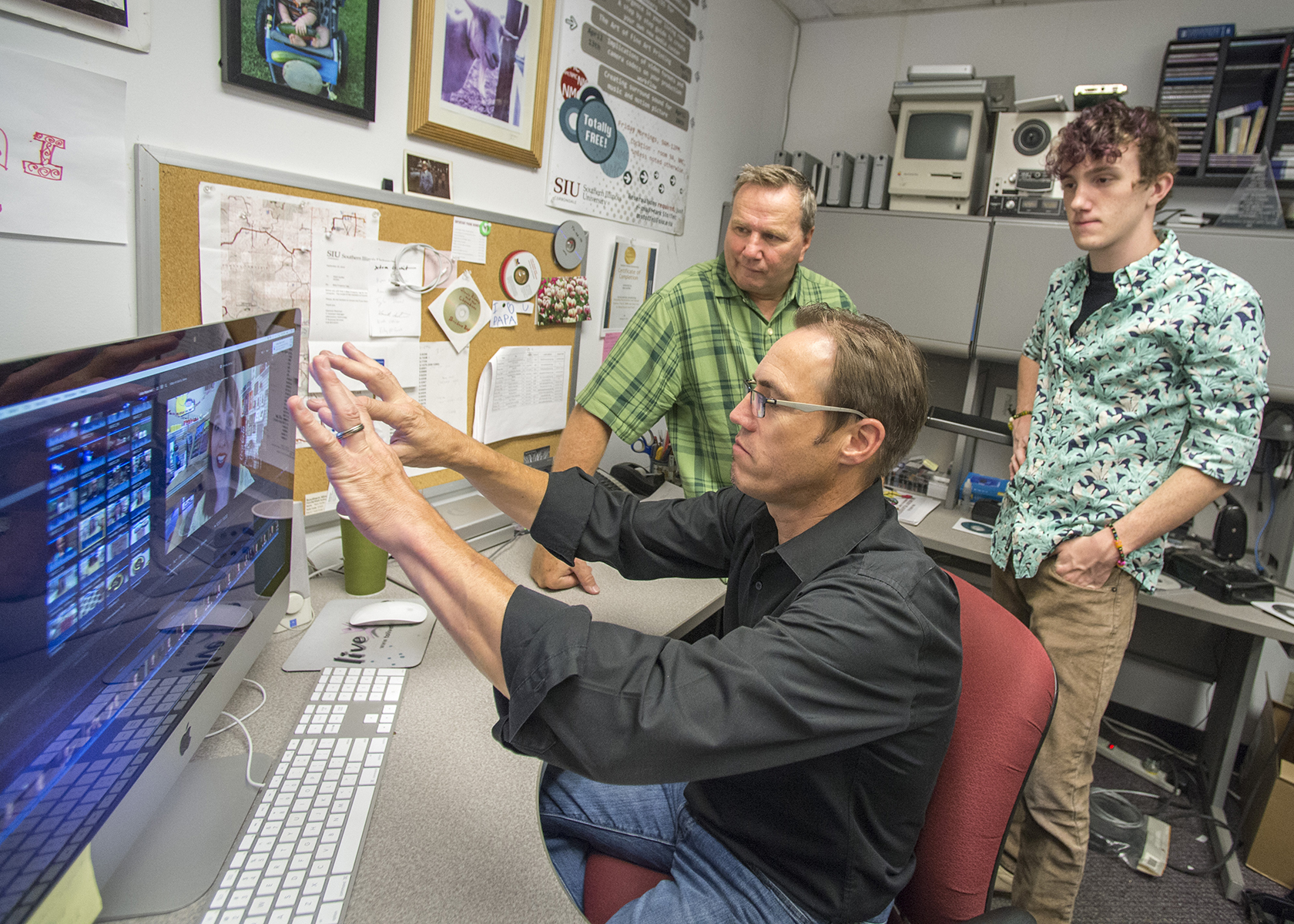 Setting the scene – Mark Stoffel, center, discusses footage already shot ahead of a planned documentary at Southern Illinois University Carbondale on the Aug. 21 total solar eclipse. Stoffel and H.D. Motyl, left, both faculty members in the College of Mass Communication and Media Arts, and Ben Giles, right, a student in Radio, Television, and Digital Media, will be among those chronicling events surrounding the eclipse. (Photo by Russell Bailey)
August 11, 2017
University prepares to document total solar eclipse
CARBONDALE, Ill. – As media from around the world and thousands of eclipse enthusiasts descend on the region later this month, a Southern Illinois University Carbondale documentary crew will capture every moment. 
For H.D. Motyl, Mark Stoffel, and other faculty and students within the College of Mass Communication and Media Arts, chronicling events surrounding the Aug. 21 total solar eclipse is a unique opportunity. Stoffel noted the significance of the university and region to the eclipse, with a second one scheduled to occur on April 8, 2024. 
"People are coming here from far away; how many filmmakers and creative people would love to come here and cover this?" said Motyl, interim chair of the Department of Radio, Television, and Digital Media. "We are lucky to be right here in the middle. This is just so obvious this needs to be covered."
Official estimates call for 50,000 to 100,000 visiting the greater Carbondale area, with a large number of those on the SIU campus. State agencies say up to 200,000 may visit Southern Illinois' prime viewing areas.
Motyl and Stoffel, a digital media systems specialist and instructor, agree that the documentary's perspective will be a bit different from those who are visiting campus. While most eyes will be trained toward the sky, Motyl, Stoffel, and about 10 camera crews inside the stadium plan to capture people's reactions. In addition, crews will be outside the stadium and in the region during the day interviewing eclipse watchers, local residents, police and volunteers. 
The crews will also shoot the weekend prior to the eclipse as preparations to the big event ramp up. Students are working on a 3-D animation eclipse model for use. In addition, there are plans for some of the interviews and other footage to appear on the stadium's large video board in the hours leading up to the eclipse. 
Motyl said the goal is to have a one-hour documentary that can air on WSIU-TV by the end of the year. If Motyl and Stoffel like what they capture from what they believe will be about 100 hours of video, the plan is to send the film to festivals. NASA will provide the actual eclipse footage for the documentary, Motyl said. 
A white board in the Communications Building "Eclipse Office" shows the work already done and future assignments. Filming started in late spring and has included interviews with several people including David Baron, historian, author and self-professed umbraphile -- or eclipse chaser, and Bob Baer, co-chair of the university's Eclipse Committee. There is also a discussion on how ancient cultures viewed eclipses. Other eclipse-related video range from soda cans bakery goods, cookies, and postal stamps. 
"For me, it's an opportunity to do some creative stuff," Stoffel said. "I work a lot on the technical side in the college, so I don't really have much of an outlet. I teach an editing class -- it is about the 'how to' and not as much about aesthetics and content. Here I get to do a little of both." 
A central theme will be what happens in the 13 hours and 23 minutes on Aug. 21 between sunrise at 6:18 a.m. and sunset at 7:41 p.m. – nearly five hours after the eclipse ends. The eclipse duration is from 11:52 a.m. to 2:47 p.m., with eclipse totality at 2 minutes and 42 seconds starting at 1:21 p.m. 
Ben Giles, a junior from Paducah, Ky., who is specializing in television production, is among 15 students who will be involved. The chance is a "great opportunity," said Giles, who is also co-executive producer of the student-run news magazine alt.news 26:46. Giles recalls working on an unrelated segment in nearby Makanda two years ago; not thinking much of the eclipse because 2017 and 2024 were far off. Now, less than two weeks from the first event, the impact is evident, he said. 
"This is a great opportunity for alt.news," Giles said. "There are not many people with alt.news who have been able to take on something like this and film it." 
Giles anticipates the program will use footage during the upcoming season. 
"It would be a wasted segment to not use something that is so big and so local," he said. "This is usually something that we have to travel at least three hours to a bigger city to get something of this size." 
Motyl said planning for this documentary is similar to his 2012 feature-length film "Cowboy Christmas. One difference is in logistics, where the filming now will be concentrated over a period of days rather than two or three weeks. 
"I think the one thing that is very similar to what I did was I wasn't sure about how it would end; what the stories were," he said. "With the eclipse, even weather is an issue for us. It could be cloudy. For us, that becomes part of the story. There was all this buildup for a cloudy day. No one, though, is hoping for a cloudy day." 
The documentary will also include "citizen journalism," where the filmmakers will use footage provided by the public showing responses to the eclipse. Anyone who is interested in submitting footage may do so at mstoffel@siu.edu