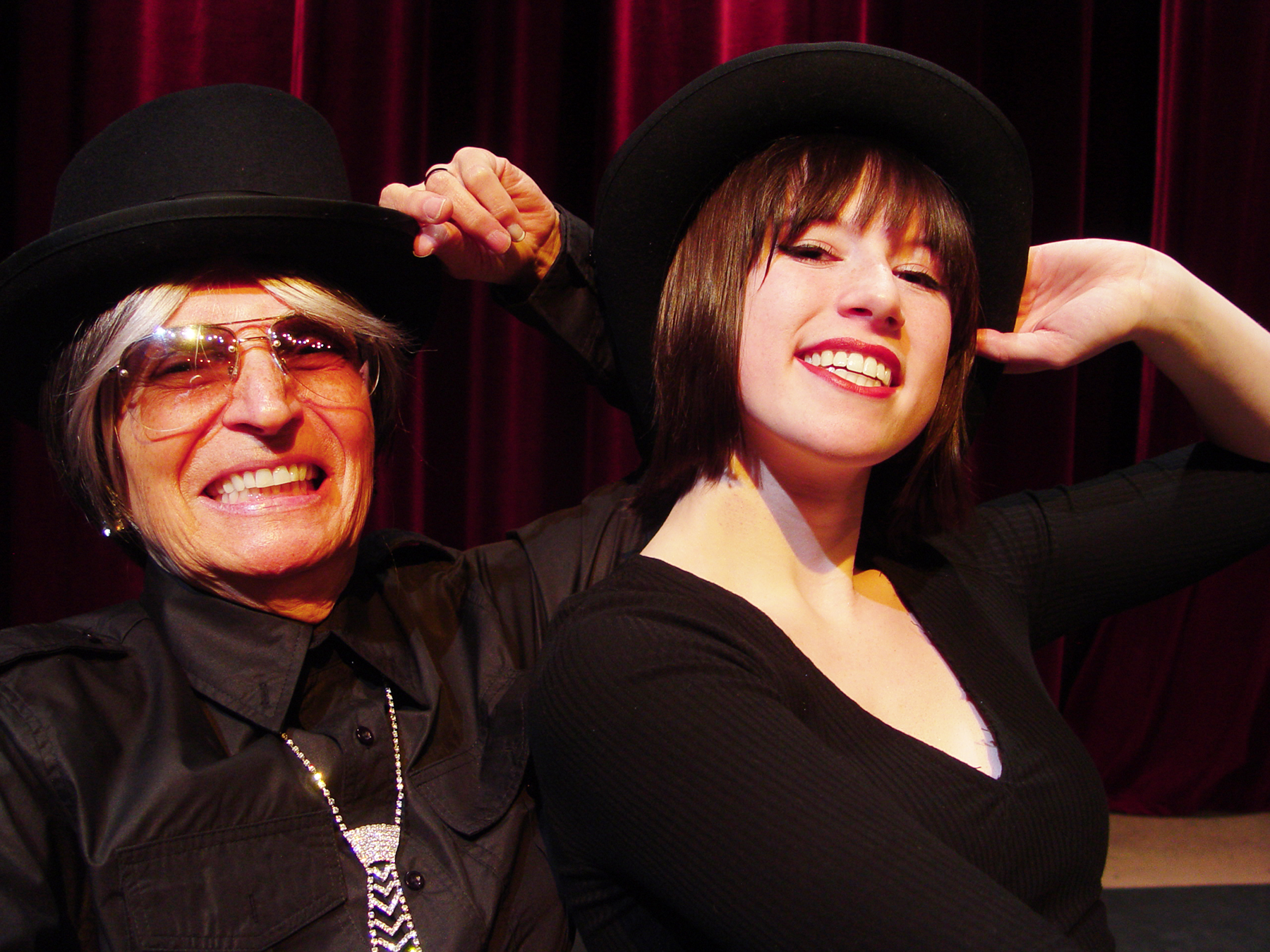 Kristin Doty, a senior from Herrin majoring in musical theater at Southern Illinois University Carbondale, is the fall 2017 recipient of the Stuart Fischoff Excellence in Musical Theater Award. Here she is, right, with Rachel Gordon Fischoff. (Photo provided)
August 03, 2017
Doty wins Fischoff Award Excellence in Musical Theater Award
CARBONDALE, Ill. – Kristin Doty, a senior from Herrin majoring in musical theater at Southern Illinois University Carbondale, is the fall 2017 recipient of the Stuart Fischoff Excellence in Musical Theater Award. 
The award, presented each semester of the academic year, honors an outstanding undergraduate student in the university's musical theater program. The honor includes a $1,000 cash award. 
"I feel like I was born singing," Doty said, acknowledging her lifelong passion for musical theater. Doty participated in her first stage production in fifth grade and has not looked back. 
Doty performed in school and community shows and was part of the McLeod Summer Theater-Carbondale Community Arts' All-Southern High School Theater Project productions throughout high school. 
"It was always the highlight of my summers," Doty said of the All-Southern theater productions. "The professional environment prepared me for the college rehearsal process and challenged me to grow as an actor, singer and dancer." 
Doty met some of the SIU faculty during those summer productions and on visits with her school during Drama Daze, one of the theater department's most successful annual outreach programs. Doty chose SIU because she felt welcomed and because she knew her training would be in good hands. 
She has appeared as Morticia in "The Addams Family" and Charlotte in "A Little Night Music." Her summers "off" see her onstage as well. She has worked at the Pioneer Playhouse in Danville, Ky., the Red Barn Summer Theater in Frankfort, Ind., and most recently as a camp counselor at Music Theater Works in Wilmette. 
When she is not on stage at SIU, she writes poetry and theatrical plays. Doty said she clears her mind by "playing piano, knitting and gardening," and she looks for inspiration hiking in the forests and parks in the region. 
"I am overwhelmed by the love and support I've received from my theater family," Doty said. "It means so much when someone believes in you, and this award has given me encouragement, confidence and determination to take with me into my senior year." 
The Stuart Fischoff Excellence in Musical Theater Award, established in 2013, honors an award-winning screenwriter, film consultant and California State University Los Angeles professor of psychology who died in 2014. Fischoff and his wife, Rachel Gordon Fischoff, who is also a writer and script consultant, moved to the area in 2005.