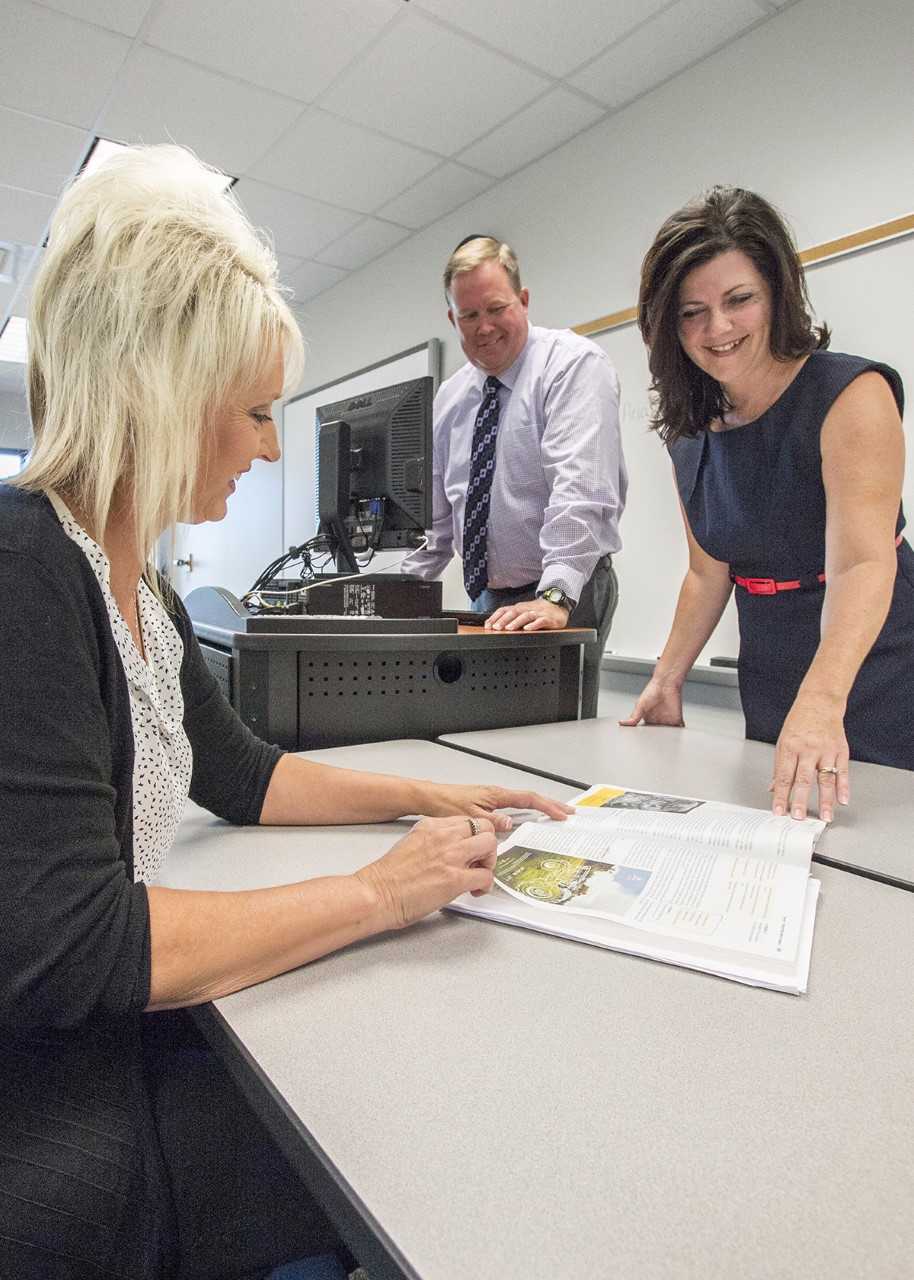 Southern Illinois University Carbondale is for the first time offering people the opportunity to complete a bachelor's degree in Workforce Education and Development at John A. Logan College in Carterville. Nicole Mathis of Carterville, (seated), talks about the program, the curriculum and the advantage of being able to take classes at JALC with Deborah Barnett, director of off-campus degree programs for SIU's Department of Workforce Education and Development, and Steve O'Keefe, director of recruitment and retention for JALC. Mathis is a May graduate of SIU's on-campus WED program and will begin working on her WED master's degree at SIU this fall. (Photo by Russell Bailey)
July 24, 2017
SIU to offer workforce development degree at John A. Logan
CARBONDALE, Ill. – For the first time ever, people in the Southern Illinois region will be able to complete a bachelor's degree from Southern Illinois University Carbondale at John A. Logan College in Carterville.
This fall, SIU is introducing an off-campus bachelor's degree completion program in workforce education and development at John A. Logan College. The program, with specialization in organizational training and development, is geared toward adult learners who typically have completed some college classes or an associate's degree and who have professional work experience and occupational training.
Through a combination of online and accelerated weekend classroom courses, participants can complete their baccalaureate degree in as little as one year, depending on their previous education and work experience.
"Our students enter the program with life experience, professional work experience and occupational or military training," says Deborah Barnett, director of off-campus degree programs for the Department of Workforce Education and Development at SIU's College of Education and Human Services. "We value this experience by evaluating it for college credit, and by incorporating it in the classroom through assignments, projects and real-world application,"
The accelerated format incorporates 36 credit hours of major degree requirements, including six, 16-week-long online classes. In addition, students will participate in a series of six consecutive, seated, eight-week classes. Each seated class meets at JALC for eight hours every other Saturday as well as on Sunday during the first and last weekend of the session for a total of six attendance days per course. Students can also enroll on a part-time basis.
Heather Rose, of Marion, is one of the first to enroll in SIU's new WED program at John A Logan College. She graduated from Logan in fall 2016 but was unsure of what baccalaureate degree to pursue, so she took a little time off from school. Already established in her career and working full-time, she said the program's flexible schedule appealed to her.
"I heard about the WED program through an academic adviser at John A. Logan and was instantly interested," Rose said. "The program is based around catering to work schedules like mine, which is exactly what I was looking for. This program will help me to achieve my ultimate goal of obtaining my bachelor's degree.
SIU's off-campus programs originated nearly a half-century ago at Scott Air Force Base and the university currently has programs at a dozen sites, primarily military-affiliated. The John A. Logan College program is the newest off-campus program, and the closet geographically to SIU Carbondale.  The university also offers an on-campus WED degree completion program that utilizes online and evening classes.
Nicole Mathis, of Carterville, is a spring 2017 graduate of the on-campus WED degree completion program at SIU and said SIU's commitment to offering such flexible degree programs is very important to students. After being out of school for nearly 30 years, she discovered the WED program, enrolled and completed her degree.
"This is a very versatile program with many opportunities for employment after graduation," Mathis said. "The WED program is very flexible, which allowed me to still work full-time, be a mom and a grandmother."
Mathis plans to continue her education this fall as she'll begin working on her WED master's degree at SIU.
Barnett said the on-campus program has been quite successful, but SIU officials became aware of the need for additional schedule and location flexibility and the result is the partnership with JALC for the off-campus degree program.
"President Ron House and JALC administrators have been wonderful to work with and have welcomed SIU and our WED program with open arms," Barnett said. "We all embraced this opportunity not only as a collaborative partnership, but as a great benefit for JALC students and others in the Southern Illinois region who are considering pursuing a bachelor's degree."
Barnett, who serves as the contact person for SIU's WED program at JALC, encourages anyone interested in the program to reach out to her soon since classes begin Aug. 26. As an adult learner who returned to college as a student herself, Barnett said she understands the excitement and anxiety of going back to school.
"Just making the decision to apply and enroll in classes is probably the hardest part," she said. "I always tell students that the time will pass anyway, so why not go ahead and begin taking steps toward the dream of earning their degrees."
Learn more about the Workforce Education and Development off-campus degree completion program at http://ehs.siu.edu/wed/. Or, contact Barnett at 618/453-3321 or dbarnett@siu.edu to discuss your personalized degree completion plan.
In addition, SIU Extended Campus is offering two $500 scholarships to qualifying students enrolling in the WED program at JALC this fall. Learn more at http://extendedcampus.siu.edu/scholarships/.