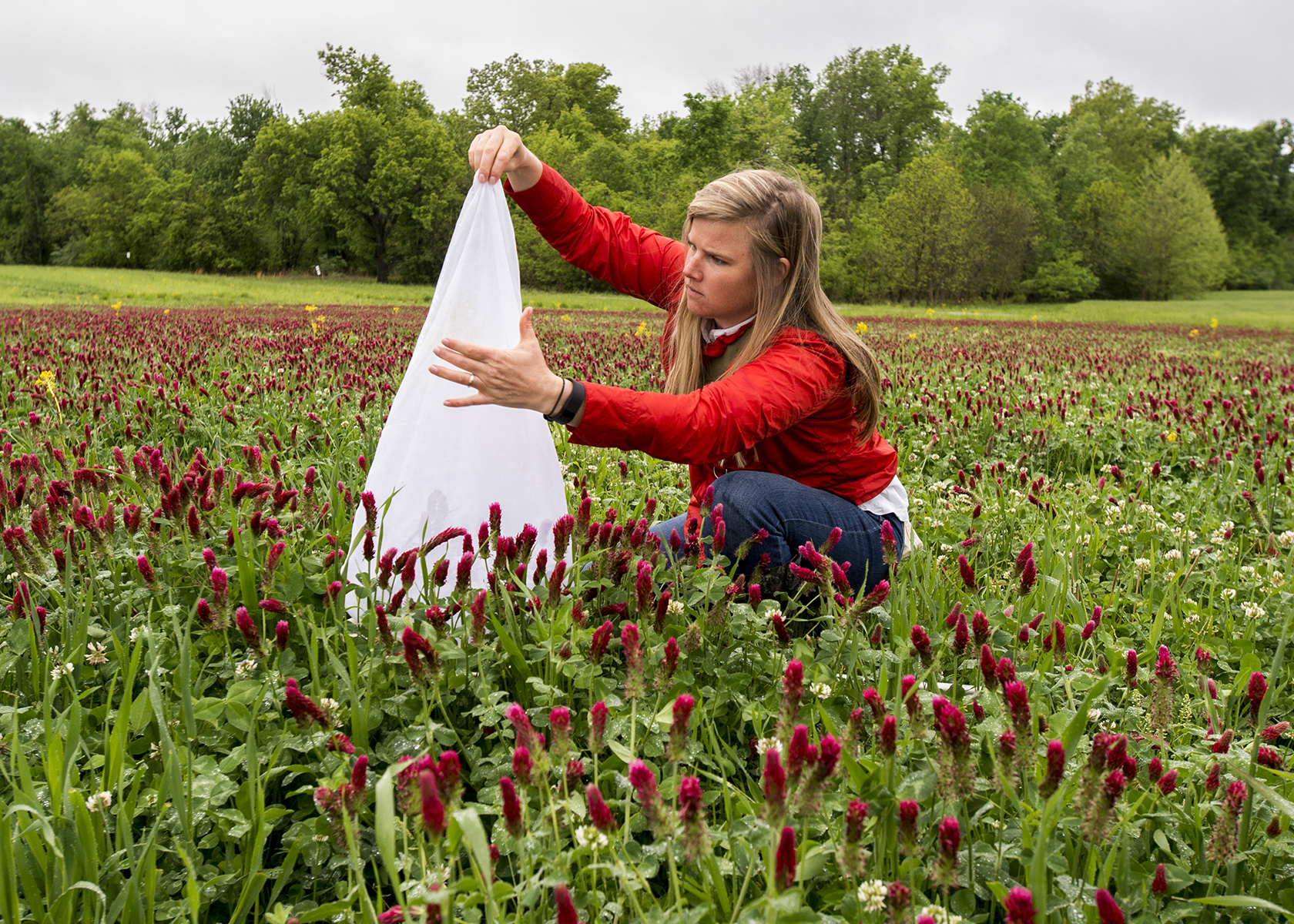 July 24, 2017
SIU researchers conducting pollinator insect inventory
CARBONDALE, Ill. – Armed with butterfly nets and pan traps, a team of researchers from Southern Illinois University Carbondale visits flowers in the Crab Orchard National Wildlife Refuge and the Shawnee National Forest. Its members are stalking bees, butterflies, moths, flies and beetles – all known as pollinators. 
The team is conducting a comprehensive pollinator inventory on federally owned lands in Southern Illinois. The survey is part of a larger study that includes flowering cover crops for weed management and water quality enhancement.   
Sedonia Sipes, associate professor of plant biology, is heading up the pollinator insect survey. It's a major undertaking. The team goal of visiting 50 sites in Crab Orchard and in the Shawnee National Forest. She and student researchers are collecting pollinators from different habitat types, and, because insect populations turn over by season, will return to some sites each season. 
On any given day in the field, three to five teams of two to three students each are collecting pollinators -- bees, butterflies, moths, flies and beetles – using pan traps and netting. The pan traps, which catch a wider array of insects than is possible with hand netting, are small water-and-detergent-filled bowls in colors attractive to pollinators. Hand netting allows for precise recording of information, including the flower the pollinator was collected from and the GPS coordinates of its exact location. 
Field days are often full, beginning at sunrise and ending late in the evening. Graduate students Leila Kassim and Christopher Sedivy determine which sites the teams will visit, predicting which will have the best floral resource depending on the season.  
Back at the lab, the students pin and label specimens. Ultimately, Sipes will send some of the specimens to experts for help with identification, but she is optimistic the team will be able to identify a substantial number of bee species right there in the lab. Sipes' expertise includes bees, and student researchers attended a bee identification seminar prior to going into the field. 
"It's a learning curve," graduate student Casey Bryan said. "But it's exciting to describe a population that has never been inventoried." 
She's not the only one who feels that way. The chance to be involved with the inventory lured Kassim back to SIU for graduate work.
"I used to work in the pollination lab as an undergraduate under Sedonia Sipes," she said. "I heard about this opportunity while living and working in Colorado. I decided to come back for graduate school to be a part of this project." 
"As soon as Dr. Sipes told me that this survey was available, I knew it was research that was both exciting and that could help to make an impact on conservation efforts in Southern Illinois," Sedivy said. He, too, completed undergraduate work at SIU, majoring in forestry, and during his studies developed, as he says, "an appreciation for the importance of ecology in the land management decision process." 
Sipes noted that the pollinator collection will benefit SIU students for years to come. "This entomological  collection will be available to students in perpetuity," she said. "A well-curated collection is a goldmine of data." 
The team expects to catalog well over 10,000 insect specimens during this survey. After they've completed the identification stage, they'll go on to statistical analysis of the data. 
The team is also looking at how non-native species are fitting into the ecological community. Non-native species are those intentionally or accidentally brought into an area. Invasive species are non-native species that disrupt the ecosystem.  
"We don't fully know how they fit in," Sipes said. "Some of the non-native plant species may have weaved themselves into the pollinators' food network. We are collecting a lot of pollinators from non-native plant species. It may be that if we remove non-native species, we may need to make sure there is a native floral resource to take its place." 
A three-year grant from the National Forest Service and the U.S. Fish and Wildlife Service is paying for the study. The study is in its first year.