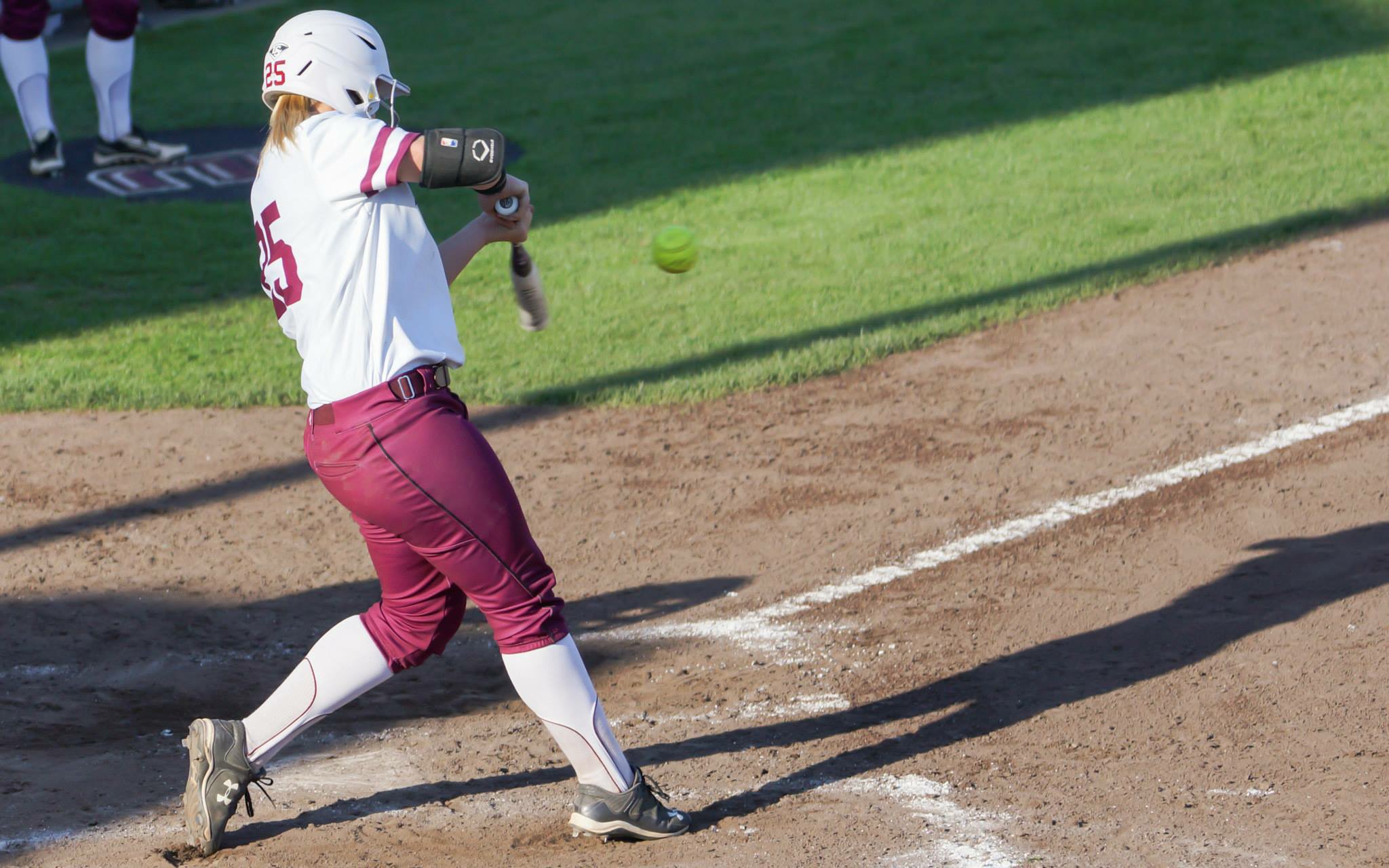 Shaye Harre will earn her bachelor's degree in animal science at Southern Illinois University Carbondale on Saturday, May 13. She has been a top player for the Saluki women's softball team, team captain and multiple MVC Player of the Week winner.  (Photo provided)
May 12, 2017
Graduate balances demands of school, softball, farming
CARBONDALE, Ill. – Shaye Harre knows how to hit a homerun. She hit 29 of them over her four seasons at Southern Illinois University Carbondale, ending with a career batting average of .328. 
This year, the Nashville, Ill., native became the all-time Saluki leader in doubles, breaking the previous record of 47. She also tied the single-season record, finishing with 17. Overall statistics aren't yet complete for the 2017 season but she's on track for a good finale. 
And she knows a thing or two about cattle. Harre owns a 50-head herd of registered Angus cattle – including several heifers purchased at SIU's annual "bull test" sale for animals with recorded health and other statistics. She shows her cattle regularly at Angus association shows. 
"I come from a third-generation dairy and grain farm, where I found out that I wanted agriculture to be my life," she said. 
Harre graduates on Saturday, May 13, with a bachelor's degree in animal science and a minor in agribusiness economics -- a good start to making certain a career in agriculture is her life. 
"I started showing cattle when I was around 10 years old. One year I asked my dad for a show heifer and ever since then I fell in love with Angus," she said. "For me, showing cattle was more about the fun of it and the people you meet along the way. It is nice to get those blue ribbons, but nothing beats your show family." 
As for the Harre family, Shaye jokingly says she feels like she is related to half the town of Nashville. "There are a lot of Harres in Nashville who farm," she said. 
And there is another Harre who was a Saluki softball standout – her cousin Amy Harre-Cross, a 2005 graduate who entered the SIU Hall of Fame in 2011. 
"There are so many perks of being a student-athlete, but many challenges as well," Harre said. "It's awesome to have a support staff such as SIU Athletics has. I would say the hardest part is time management. That's true for any student, but as an athlete representing the university, you are expected to be on top of it right away." 
And she is on top of it. This year, she received the State Farm MVC Good Neighbor Award, presented to a handful of student-athletes who maintain good academic standing and demonstrate good citizenship. She has volunteered her time with the Saluki Food Pantry Food Drive, Veterans Tailgate, WIN for Life and other causes. In addition, she's consistently on the Dean's List and she holds a 3.91 cumulative GPA. 
"To me, I love the hands-on experiences we are able to have here in labs, and being able to have that interaction with the animals at the farms," she said. 
Harre interned with Gary Apgar, professor of animal science and self-described "Pig Guy." He was impressed with her when she took his introductory animal science course, noting her humbleness despite her renown as a Saluki athlete. "She's a very studious and efficient student, and her smile is infectious," he said. "She's a great person." 
Harre is fond of a few people, too. "I'd like to give a shout-out to my family for always supporting me, my friends, my coaches, my professors and my teammates," she said. 
Her immediate post-graduation plans are to work at a Nashville feed store and help with the family farm.