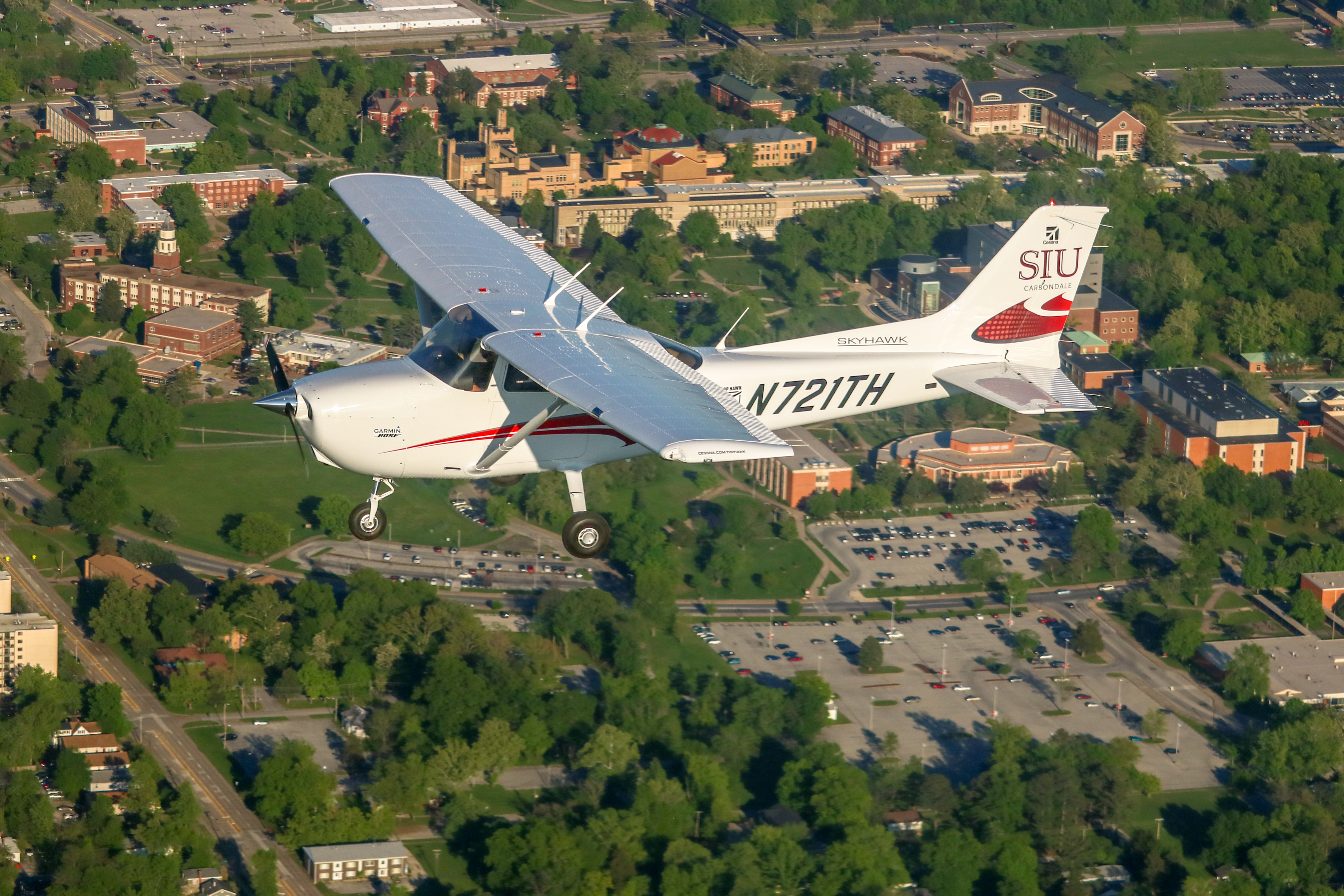 May 11, 2017
SIU participating in Cessna's 'Top Hawk' program
CARBONDALE, Ill. -- Members of Southern Illinois University Carbondale's Flying Salukis are utilizing a new Cessna Skyhawk 172 aircraft as they compete this week for a 10th national title.
Under an agreement with the Cessna Aircraft Co., the university's aviation program is using a custom-branded plane through September to support flight training, recruiting efforts and increase interest in general aviation.
The plane features state-of-the-art glass panel Garmin avionics. In addition to its use for navigation competition this week at the National Intercollegiate Flying Association championships at The Ohio State University, the plane will also be used in the region this summer, Kenneth Bro, an assistant instructor in the university's Department of Aviation Management and Flight, said.
Upcoming events include, weather permitting, May 20 at Veterans Airport of Southern Illinois in Marion where children who are part of the Young Eagles program will be given rides. On June 10, an SIU aviation student and faculty member will pilot the aircraft in the Big Muddy Air Race – a 100-mile course throughout Southern Illinois. Nearly 20 other aircraft from across the nation are expected.
The plane will be in use for flight instruction during the annual "Summer Wings" aviation camp, June 18-23. There also are plans to use the aircraft to help promote the university's aviation program at fly-ins and air shows this summer, including the EAA AirVenture Oshkosh air show, July 24-30, in Oshkosh, Wis., John Voges, chief flight instructor, said.
SIU Carbondale was one of five university programs chosen by Cessna, a subsidiary of Textron Aviation Inc., to participate in this year's Top Hawk program. The partnership is one of several the aviation program has, including an annual career day with United Airlines. The partnership helps "reach the next generation of aviators to meet our demand for pilots in the next decade," Voges said.
The 2016 Boeing Pilot and Technician Outlook forecasts that between 2016 and 2035 the aviation industry will need to fill more than 2 million new aviation jobs, including 617,000 commercial airline pilots, 679,000 maintenance technicians and 814,000 cabin crew.