May 03, 2017
U.S. district judge to deliver law school commencement keynote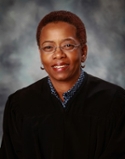 CARBONDALE, Ill. – U.S. District Judge Staci M. Yandle will deliver the keynote address during commencement ceremonies for the SIU School of Law on Friday, May 12. 
The commencement ceremony for 93 graduates -- including four who will receive a joint J.D./Master of Business Administration degree -- is at 3 p.m. in Shryock Auditorium on the Carbondale campus. In addition, one graduate will receive a joint J.D./Master of Public Administration degree, one graduate will receive a joint J.D./Master of Education, and one graduate will receive a Master of Laws (LL.M.) degree. SIU Carbondale Interim Chancellor Brad Colwell will confer the degrees at the ceremony led by School of Law Dean Cynthia Fountaine. The commencement is free and open to the public. 
Former President Obama nominated Yandle to serve on the U.S. District Court for the Southern District of Illinois and she received U.S. Senate confirmation in June 2014. Yandle presides in the U.S. District Court in Benton. The Southern District of Illinois is comprised of 38 southernmost counties in the state. 
Yandle worked in private practice for 20 years before becoming a solo practitioner in 2007. She earned a bachelor's degree from the University of Illinois at Urbana-Champaign in 1983 and her law degree from Vanderbilt University School of Law in 1987.  A former president of the Metro East Bar Association, Yandle served on the Illinois Advisory Committee to the U.S. Commission on Civil Rights from 1992 to 1996, and by appointment to the Illinois Gaming Board from 1999 to 2001. 
The ceremony marks the 41st anniversary of the law school's first graduating class of 1976. Angela Upchurch, an associate professor, is this year's "Outstanding Faculty Member" selected by the graduating class and will speak. Joseph A. Wade, chosen by his classmates to represent the Class of 2017, will also speak at the ceremony. 
The ceremony will recognize Waleed Abu al-Khair, a Saudi human rights lawyer, with the law school's Rule of Law citation. The citation is a formal recognition by the law school faculty of the important tradition of the legal profession that "requires lawyers to stand firm in support of liberty and justice in the face of oppression and, by their words and actions, to honor and support the Rule of Law, even at great personal risk." 
A commencement hood and scroll placed on an empty chair in the front row with law school faculty symbolize the law school standing with lawyers who are suffering for the Rule of Law. 
Abu al-Khair began serving a 15-year sentence in 2014 after being convicted by Saudi Arabia's terrorism tribunal for comments to news and social media outlets, including Twitter, criticizing that nation's alleged human rights abuses. He cannot travel abroad for 15 years after his release from prison, and he received a $53,000 fine. Reports indicate Abu al-Khair was accused of being involved in terrorism-related crimes that included "inflaming public opinion, "insulting the judiciary," "harming public order" and "disobeying the ruler and seeking to remove his legitimacy." Abu al-Khair did not take an active part in his defense during the trial because he did not recognize the court's legitimacy.