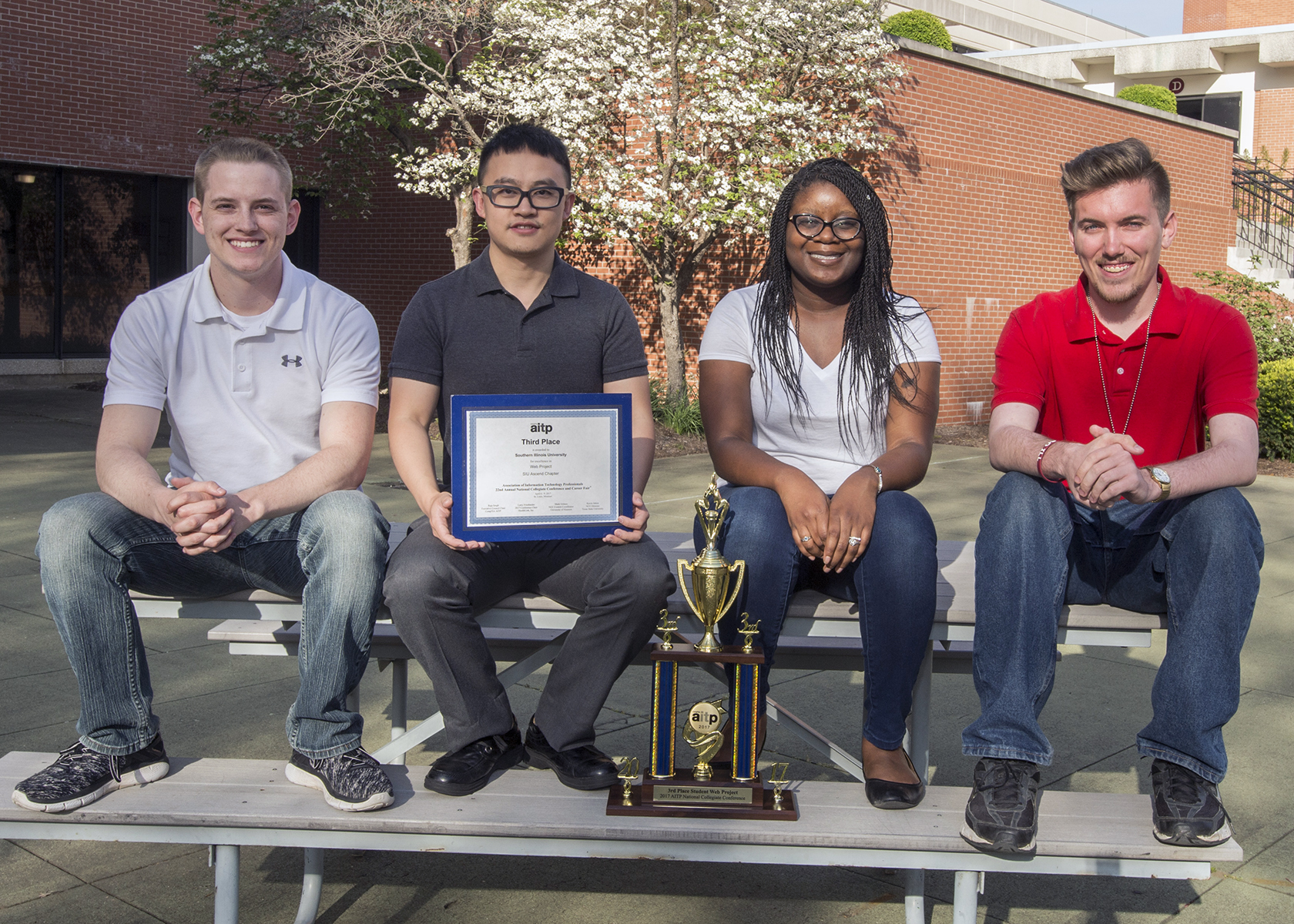 Among the tops in web development -- Four members of a Southern Illinois University Carbondale student web development team after finishing third in the Association for Information Technology Professionals National Conference and Career Fair in St. Louis. From left, are: Lee Cooper, Ren Jing, Hallie Martin and Matthew Gross. A fifth member, Cody Lingle, was unavailable for the photo. All five students are seniors in the Information Systems Technologies program. (Photo by Russell Bailey)
April 28, 2017
Student web development team places third in nation
CARBONDALE, Ill. – A student web development team comprised of five seniors in Southern Illinois University Carbondale's Information Systems Technologies program finished third in the nation earlier this month for their web application. 
Lee Cooper, Matthew Gross, Ren Jing, Cody Lingle and Hallie Martin competed with their fully functioning website for Ascend, a registered student organization in the College of Business. The team competed at the Association for Information Technology Professionals (AITP) National College Conference and Career Fair in St. Louis.  
Students are judged on a variety of criteria, including their development process, Nancy Martin, associate professor in the IST program and faculty adviser, said. Students gain valuable experience by completing a full project with a real client and deadline. The team will continue to work on the project until the end of the semester. 
Kalamazoo Valley Community College finished first among the five teams in the web project competition. One of two entries from Missouri Western State University was second. This is the third year SIU earned a trip to the finals to compete. 
The students "challenge themselves to go beyond classroom to learn new things that are relevant to the job market," Martin said, noting that as an example, they selected a platform and computer language not used in the regular curriculum but that is in demand for web development jobs. 
Martin noted the team's success is also a "sense of accomplishment" for faculty, "especially to see that our curriculum reflects the demands of the job market and the students are able to apply what they learn in class to a real project." 
Another key consideration is that students, faculty and companies that attend the event learn that SIU does a great job in preparing students for the job market, Martin said. 
The team members, by hometown are:
Illinois:
Centralia – Matt Gross
Danville – Lee Cooper
Sesser -- Cody Lingle
Georgia:
China: