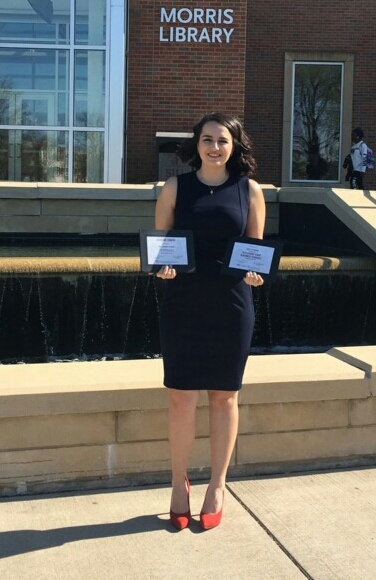 Arielle Stephenson, a senior business economics major at from Torrance, Calif., finished in the top 10 in the nation as a solo debater for Southern Illinois University Carbondale at the National Forensic Association National Championship Tournament Lincoln-Douglas Debate. She is shown here on Honors Day with awards for Outstanding Senior in Business Economics and the the Lavina Micken Award for Excellence in Debate.  (Photo provided)
April 19, 2017
Debater finishes in top 10 at national championship
CARBONDALE, Ill. – Arielle Stephenson, a senior at Southern Illinois University Carbondale, finished in the top 10 as a solo debater at the National Forensic Association National Championship Tournament Lincoln-Douglas Debate. 
Stephenson, a business economics major from Torrance, Calif., competed over Easter weekend at the University of Wisconsin-Eau Claire. She finished in a tie for ninth place at the national tournament from a field of nearly 80 competitors. The SIU debate team has finished in the top 10 at a national championship for 11 consecutive years. 
"Arielle was in the championship debate of the National Parliamentary Debate Association (NPDA) last year, finishing second in the country with her partner," Todd Graham, director of debate at SIU, said. "This year, Arielle debated in the solo style of debate, called Lincoln-Douglas debate, and not having much experience in it, I'd say she did an outstanding job finishing in a tie for ninth in the country." 
"Debating without a partner put a unique pressure on my debating skills that only made me more motivated and dedicated to the research this activity requires," Stephenson said. "I knew winning or losing was up to me and no one else -- and that kept me focused on each round, argument and speech that I gave." 
Graham said the team is in transition to a different style of debate. In the future, SIU will focus on British Parliamentary debate, a style Graham describes as "the newest iteration of the evolution of collegiate debate" and the style with the most competitors, including those from top universities. 
"We'll be the new kids on the block in that style of debate," Graham said. "But the SIU team will persevere. The Saluki debate team has won national championships in each of the past four decades, and there's no reason to believe we can't continue that success in the future. We are so well known nationwide, with the rich history of SIU debate, there's hardly a place we've traveled to that hasn't heard about SIU and the outstanding reputation of its debate program. It's important to keep that up, keep building the brand and reminding people that SIU is a great university."