April 07, 2017
Political expert to discuss 2016 presidential election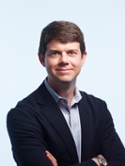 CARBONDALE, Ill. -- Southern Illinois University Carbondale next week will host John Sides, an associate professor of political science, author, and popular blogger, to offer his perspective on the 2016 presidential election. 
Sides will present "Donald Trump: How Did He Win and What Does It Mean?" at 7 p.m., Wednesday, April 12, in Student Center Ballroom B. Sides' presentation is part of The Morton-Kenney Public Affairs Lecture Series presented by the Department of Political Science and the Paul Simon Public Policy Institute. 
"Anyone who wants to know why Donald Trump won should listen to John Sides," J. Tobin Grant, a professor in the Department of Political Science, said. "He's not just an expert on political campaigns. He's someone who excels at knowing what the public wants to know and communicating it clearly." 
The event is free and the public is invited.
---

Media Advisory
Reporters, photographers and news crews are welcome to cover the lecture.  To arrange for interviews or for more information on the event, contact Carol Greenlee, assistant director, Paul Simon Public Policy Institute, at 618/967-2816 or cgreenlee@siu.edu.
---
Sides is an associate professor of political science at George Washington University. He is co-author of a forthcoming book about the 2016 presidential election. Sides also co-authored "The Gamble: Choice and Chance in the 2012 Presidential Election," a textbook on campaigns, along with scholarly articles on campaign strategies, attitudes toward immigration, and other topics. 
"John Sides is amazingly adept at blending academic expertise and practical insights in his writings for the Washington Post and the Monkey Cage political blog," Jak Tichenor, interim institute director, said. "He's equally at home dissecting Donald Trump's complex relationship with the nation's media during last year's Presidential contest to predicting the difficulty the new chief executive would have in repealing and replacing the Affordable Care Act. I think people are really going to enjoy hearing what he has to say about the news of the day."
While on campus, Sides will have a roundtable discussion with graduate students in political science, present a guest lecture in an "Introduction to American Politics" class, and meet with student ambassadors in political science and the Simon Institute. 
Sides is the 41st lecturer in the series that began in 1995.  The Morton-Kenney lecture series brings speakers to campus in the spring and fall of each year. Jerome Mileur, originally from Murphysboro, is a professor emeritus in political science at the University of Massachusetts-Amherst, retiring in 2004 after a 37-year teaching career there. Mileur established the series in 1995 in honor of two of his political science professors -- Ward Morton and David Kenney -- who inspired him as a student.  Mileur earned his bachelor's degree in speech communication in 1955, and a doctorate in government in 1971, both from SIU Carbondale.