April 04, 2017
Tichenor to speak at spring meeting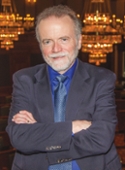 CARBONDALE, Ill. -- Jak Tichenor, longtime broadcast journalist and currently interim director of the Paul Simon Public Policy Institute, will be the guest speaker at this month's Southern Illinois University Carbondale Emeritus Faculty Organization spring meeting.
Tichenor will present "Countdown to Adjournment," focusing on the state legislature and Illinois government, at 2:30 p.m. on April 27 in the Hiram H. Lesar Law Building Auditorium. The Emeritus Faculty Organization event is free and open to the public.
Tichenor joined WSIU Public Television in 1991 after serving for a decade as the news and public affairs director for WSIU Radio. While with the public radio station, he earned Associated Press and United Press International reporting and documentary awards and produced stories for the "All Things Considered," Morning Edition" and "Monitor Radio" NPR programs. He also led efforts to assure a professionally staffed SIU public radio news department that included students.
During his tenure at WSIU-TV, before retiring in May 2015, Tichenor specialized in public affairs reporting and documentary production. He produced regional political coverage, features for the WSIU "InFocus" magazine series, the "One on One" interview series and, for the Office of the Chancellor at SIU Carbondale, the "SIU Connections" program. His documentary, "P.S. Illinois: The Paul Simon Story" aired on public television stations around the state in 2014.
Tichenor is the executive producer and host of "Illinois Lawmakers," the longest-running television series that provides continuing coverage of the Illinois General Assembly. The Illinois public television series launched in 1986 and Tichenor joined as statehouse correspondent five years later. In addition, he's produced the annual Lincoln Academy of Illinois television special for the state's PBS stations since 1995.
A Metropolis native, Tichenor is a double alumnus of SIU, earning his bachelor's degree in 1979 in radio-television and his master's degree in public visual communications in 1989.