February 22, 2017
Alumna returns to discuss her work in Washington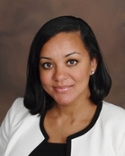 CARBONDALE, Ill. -- She once worked at the front desk of Southern Illinois University Carbondale's Paul Simon Public Policy Institute while pursuing a political science degree. Just a few years later, Carbondale native Tequia Hicks-Delgado would be working inside then-President Barack Obama's White House, helping influence policy. 
Hicks-Delgado will present "Homecoming: From the Institute's Front Desk to Conquering Washington, D.C." at 11:30 a.m., March 3, in Student Center Ballroom B. The presentation is part of the Jeanne Hurley Simon Fellowship Lecture Series. 
The lecture is free and open to the public and lunch is included, but advance registration is required. The registration deadline is Monday, Feb. 27. Go to http://paulsimoninstitute.siu.edu/event-information/index.php and click on the RSVP for the event and luncheon to register, or you can call 618/453-4078 to register by phone. 
Hicks-Delgado served as a senior adviser for congressional engagement & legislative relations in the White House Office of Legislative Affairs from June 2016 to January of this year. Prior to that, she served as member relations adviser in the White House's Office of Legislative Affairs from March 2014 to June 2016. 
While in the White House, Hicks-Delgado helped shape opportunities for President Obama and the administration to engage members of Congress -- managing bill signing ceremonies, the State of the Union Address, the White House Congressional Picnic and the White House Congressional Ball. 
Hicks-Delgado is "a terrific success story," Jak Tichenor, interim director of the Paul Simon Public Policy Institute, said. She is returning to campus and her hometown to share her stories and insights into her career path and "the things she learned while being in on the inner workings of the White House," he said. 
"It's quite a trek for a young person in a short amount of time. There is a lot of hometown pride that people can take from this," Tichenor said. 
Prior to her work in the White House, Hicks-Delgado served in the office of former Senate Majority Leader Harry Reid, D-Nevada, and the U.S. Senate Democratic Caucus. She also worked in the office of Sen. Dick Durbin, D-Springfield, the current Democratic Whip in the U.S. Senate. There, she directed constituency services and legislative correspondence on education, veterans affairs, homeland security and governmental affairs. While at SIU Carbondale, she was president of the Undergraduate Student Government and later served as a student representative on the SIU Board of Trustees. 
The Jeanne Hurley Simon Lecture Series honors Public Policy Institute founder Paul Simon's first wife, Jeanne, who died in February 2000. The series brings in prestigious speakers in the field of politics, government and other vital issues to campus. 
Tichenor said Jeanne Simon was a "trailblazer in so many respects during her career" as an attorney, member of the Illinois General Assembly, her work on library issues, and as a highly valued adviser throughout husband Paul Simon's political career, which included the 1988 presidential bid in the Democratic primary.  She was also crucial in getting the institute "off the ground" with Simon and former institute director Mike Lawrence, Tichenor said. 
"It's just a very appropriate way that we honor Jeanne's legacy by bringing in another young woman whose career arc gone from her hometown of Carbondale to the nation's capital to be where important decisions are made in the White House," Tichenor said. "And she was able to help influence policy. It's a terrific fit." 
2017 marks the institute's 20th anniversary. 
For more information on this or any other institute program, contact the institute at 618/453-4009 or visit paulsimoninstitute.siu.edu. 
The Jeanne Hurley Simon Fellowship lecture series features women of distinction in public service and is made possible by the generosity of private donors.  In 2016, private donors additionally made possible another commemoration to Jeanne Simon in the form of a scholarship.  The Jeanne Hurley Simon Memorial Scholarship assists outstanding female students pursuing careers in public service.  More information can be found on the institute's website or at www.jeannesimon.org.