January 03, 2017
Law school hosts 'Women in Leadership' workshop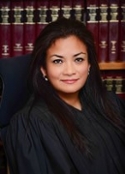 CARBONDALE, Ill. -- Judge Jessica Arong O'Brien, the first Filipina elected to the Circuit Court of Cook County, will be the keynote speaker at the SIU School of Law Women in Leadership workshop at Southern Illinois University Carbondale. 
The two-day workshop, "Diverse Leaders for a Diverse Work Force," prepares law students to be leaders while also learning about challenges that women face as leaders within the legal profession.  The workshop runs from 8 a.m. to 4 p.m., Thursday and Friday, Jan. 12-13, in the Hiram H. Lesar Law Building. The workshop culminates with a dinner featuring O'Brien at 6 p.m., Jan. 13, in Student Center Ballroom B.
---
Media Advisory
Reporters, photographers and camera crews are welcome to attend the workshops and the dinner featuring Jessica Arong O'Brien, circuit judge in Cook County. For more information or to arrange interviews, contact Alicia Ruiz, the law school's director of communication and outreach, at 618/453-8700.
---
About 26 SIU School of Law students, including males, will participate in the workshop, but the dinner is open to the public. The dinner cost is $30 apiece and the registration deadline is Friday, Jan. 6. Registration information, along with additional information on the workshop, is available at http://www.law.siu.edu/academics/center-programs/women-in-leadership-program.html. 
O'Brien, a native of the Phillipines, immigrated to the United States after high school. She earned a bachelor's degree from Boston University and a law degree from The John Marshall Law School. She has been a circuit judge since December 2012 and serves in the non-jury, civil division of the circuit's first municipal district court. She was the first Asian American president of the Illinois Women's Bar Association and president of the Filipino Bar Association. 
The workshop's primary focus remains on women in leadership, but is expanded to emphasize all types of diversity -- including gender, racial, ethnic, sexual orientation and people with disabilities, Cindy Buys, law professor and workshop co-creator, said. 
Workshop topics include diverse methods of communication, opportunities to develop professional leadership skills, gender issues in the workplace, networking, and balancing career and family issues. The program features law school faculty, other faculty on campus, alumni, local attorneys and judges participating in lectures, small group discussions, group exercises and panel discussions. Fifth Judicial Circuit Appellate Judge Judy L. Cates and Meera Komarraju, dean of SIU's College of Liberal Arts, are among the featured speakers. One of the speakers on Jan. 12 is Teresita Chavez Pedrosa, an attorney with Eventcrowd, who will discuss effective communication through social media. 
In 2015, women held approximately 17 percent of equity partners in law firms, and comprised 30 percent of the nation's law school deans in 2016, according to the National Association for Law Placement. Buys said as of 2014, 21 percent of the top lawyers at Fortune 500 companies were female. In addition, one-third of federal judges, including three of eight U.S. Supreme Court justices, are women, and a 2016 Vanderbilt University study shows 30 percent of the nation's state court judges are females.