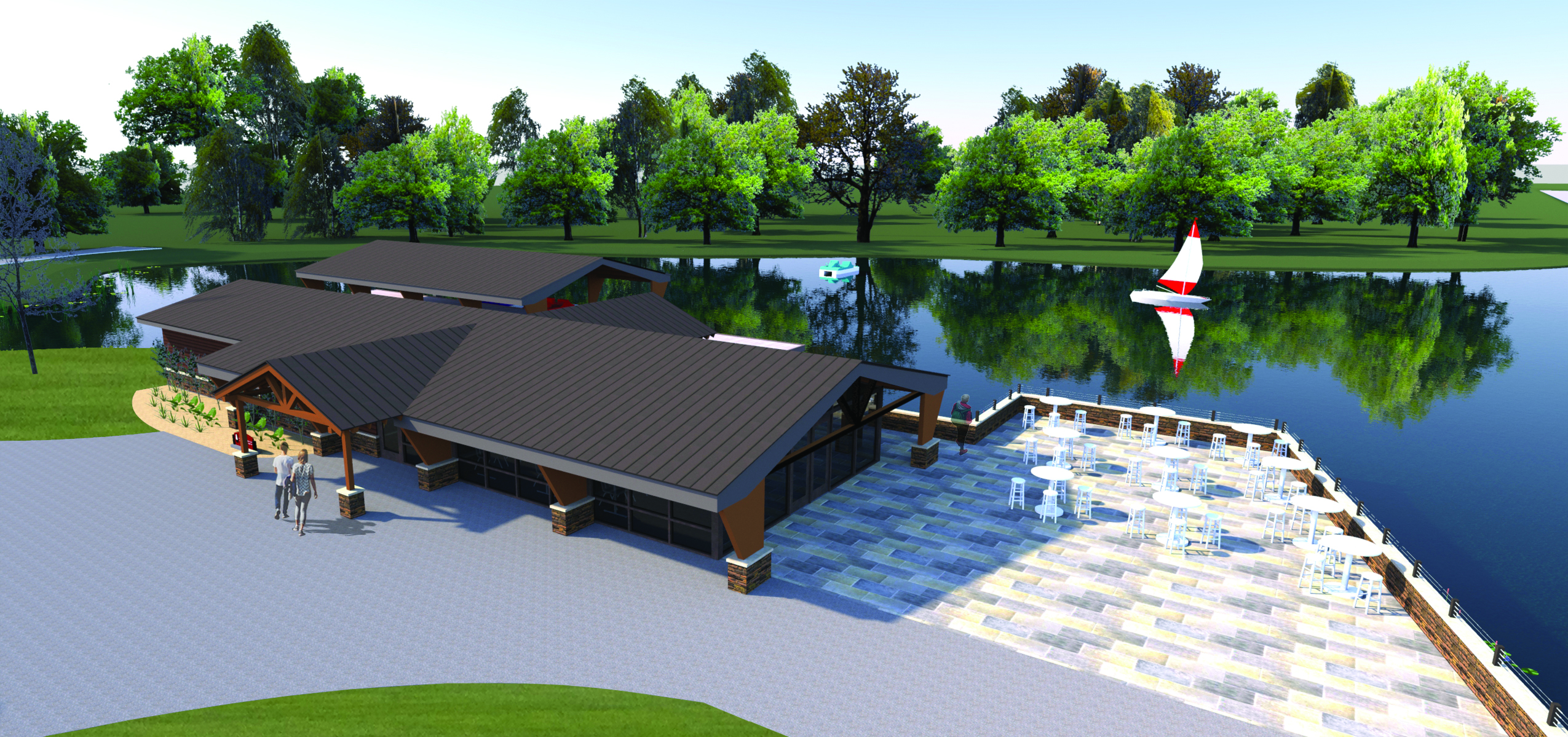 Ralph E. Becker Pavilion -- An artist's rendering of the renovated and expanded boat house and pavilion planned for Southern Illinois University Carbondale's campus lake. 
December 08, 2016
Becker gift will fund renovation, expansion of campus lake facilities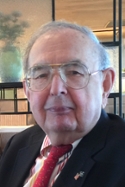 CARBONDALE, Ill. -- Ralph E. Becker wants to make sure that Southern Illinois University Carbondale continues to go "onward and upward." 
A $1 million gift by the SIU Carbondale alumnus will be used to renovate and expand the boat house and pavilion on campus lake. 
The SIU Board of Trustees today (Dec. 8) approved the project, which includes a classroom, new and additional site lighting, and creating a patio space for outdoor performances, lectures, dinners and community events. The Ralph E. Becker Pavilion will include an 850-square-foot classroom named in honor of Becker's mentor and friend, the late Frank Stanton, who was president of CBS from 1946 to 1971, and the network's vice chairman from 1971 until his retirement in 1973.   
The boat house and boat dock buildings were built in 1958-59, and many of the existing materials, including structure and plumbing systems, are 54 to 55 years old. The renovation and addition will bring the facilities up to date with building codes and standards. The work is expected to be completed by spring 2018. 
"Campus lake and its surroundings are a point of pride for generations of SIU students, faculty, staff and community members, and Mr. Becker's support of this project will revitalize this beloved and significant landmark," SIU Interim Chancellor Brad Colwell said. "We are deeply grateful for Mr. Becker's extension of his long-time support of his alma mater." 
Becker, a 1955 graduate in speech, is considered by many to be among the pioneers of the university's radio-television program. In a broadcasting career that spanned more than six decades, Becker relied on hard work and his business acumen to own numerous television stations and be a media investor. 
The Carbondale native maintains a strong affinity for SIU, the College of Mass Communication and Media Arts, and the community. 
"I would not have been successful had I not attended SIU and it is a place where I call home. It served as the foundation for what I was able to accomplish in life," said Becker, whose broadcasting career started as an intern with KMOX radio in St. Louis in 1949 while he was still in high school. 
He continued with numerous broadcasting jobs while at SIU from 1951 to 1955, including writing a radio-television column for the Daily Egyptian. After graduating, Becker taught as a lecturer for a year before going into the U.S. Air Force to fulfill his ROTC commitment. 
Becker returned to SIU in 1959 to continue his graduate studies and manage then WSRV-FM, now WSIU-FM radio. After college, Becker later expanded his expertise into producing and directing radio and television programs in markets including Peoria and Washington, D.C., working on numerous advertising and marketing campaigns, and serving as president and CEO for a group of television stations. He was later involved with media investing, where his group found poor-performing TV stations and implemented changes to improve their operations. 
Becker lives in Winston-Salem, N.C., and he has been a generous supporter of SIU Carbondale. Becker's philosophy is once a goal is set, to work hard and set additional goals. He views the donation as a "form of a challenge" to others, and a desire to "leave a legacy of hard work and opportunity." 
"I want to challenge everyone to give back to others and to what is important to them," Becker said. "It is extremely important to challenge others to do bigger and better than what I am able to accomplish. That is the only way progress will be made. Throughout my life, I challenged my employees and I challenged my children to do better." 
Becker received the SIU Alumni Association's Alumni Achievement Award for the College of Mass Communication and Media Arts and was the radio and television department's "alumnus of the year" in 1985. He endowed one of the college's largest scholarships, the Ralph E. Becker Scholarship, given annually to a radio-television student whose primary focus is in management and marketing research. Becker was the then-College of Communications and Fine Arts commencement speaker in 1987, and in 1995, received a medallion and clock from the college. In 1997, Becker donated the Obelisk sculpture, which is the centerpiece of the college's courtyard. 
"If we aren't generous, a lot of good things would never occur and a lot of creativity would not happen," he said. "There are things that can still be invented and risks that can still be taken. I just want to make sure SIU goes onward and upward." 
Stanton, Becker's mentor and friend, worked with CBS founder William S. Paley. He was significantly involved in freedom of the press issues -- ranging from the 1954 McCarthy hearings to the network's coverage of the Vietnam War and a 1971 investigative report on the Pentagon. Stanton's other activities included serving as chair of the American Red Cross for six years. Stanton earned five Peabody Awards and was elected to the Television Academy Hall of Fame in 1986. Stanton died in 2006.