December 05, 2016
Comparato named Provost Faculty Fellow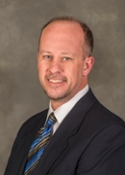 CARBONDALE, Ill. – Scott A. Comparato, associate professor of political science in the College of Liberal Arts, will be the Provost Faculty Fellow for the spring 2017 semester. 
The program's goal is to provide part-time leadership experience and skill development to university faculty with an interest in academic administration. Comparato will be involved in regular operations and activities of the Office of the Provost and Vice Chancellor for Academic Affairs. 
Susan Ford, interim provost and vice chancellor for academic affairs, said Comparato is "an outstanding faculty member, and his engagement through this fellowship will help prepare him for possible future roles in university administration and leadership." 
Under the program, which began in fall 2013, fellows gain insight into administrative practices and procedures including budgeting, academic planning, shared governance, student success programming, retention activities and assessment.  
Comparato said he is "extremely honored" to be chosen to serve as a Provost Faculty Fellow. 
"This is an excellent opportunity for me, and I am looking forward to working with the Provost's office to further the university's research and teaching missions," he said. 
Comparato said he is most interested in working on projects to enhance the university's educational mission, focusing on identifying methods to improve teaching undergraduates. He also would like to explore how to improve support for faculty teaching through analysis of the current course evaluation system, looking at the potential for a "comprehensive and effective measure of teaching effectiveness tied to student learning, with the intention of offering a concrete action plan by semester's end." He also wants to research ways to provide additional support for instructors. 
"The program will allow me to build on my administrative experience and learn as much as possible about the operations of the university, which will hopefully provide me with the foundation to serve in other administrative roles at the college or university level," he said. 
Comparato started at SIU Carbondale as assistant professor in the Department of Political Science in 2000, and became an associate professor in 2008. He served as department interim chair in 2013-2014, and was the department's director of undergraduate studies for four years. 
Comparato earned his doctorate and master's degrees in political science from Washington University. He received his bachelor's degree in political science and history from Indiana University.