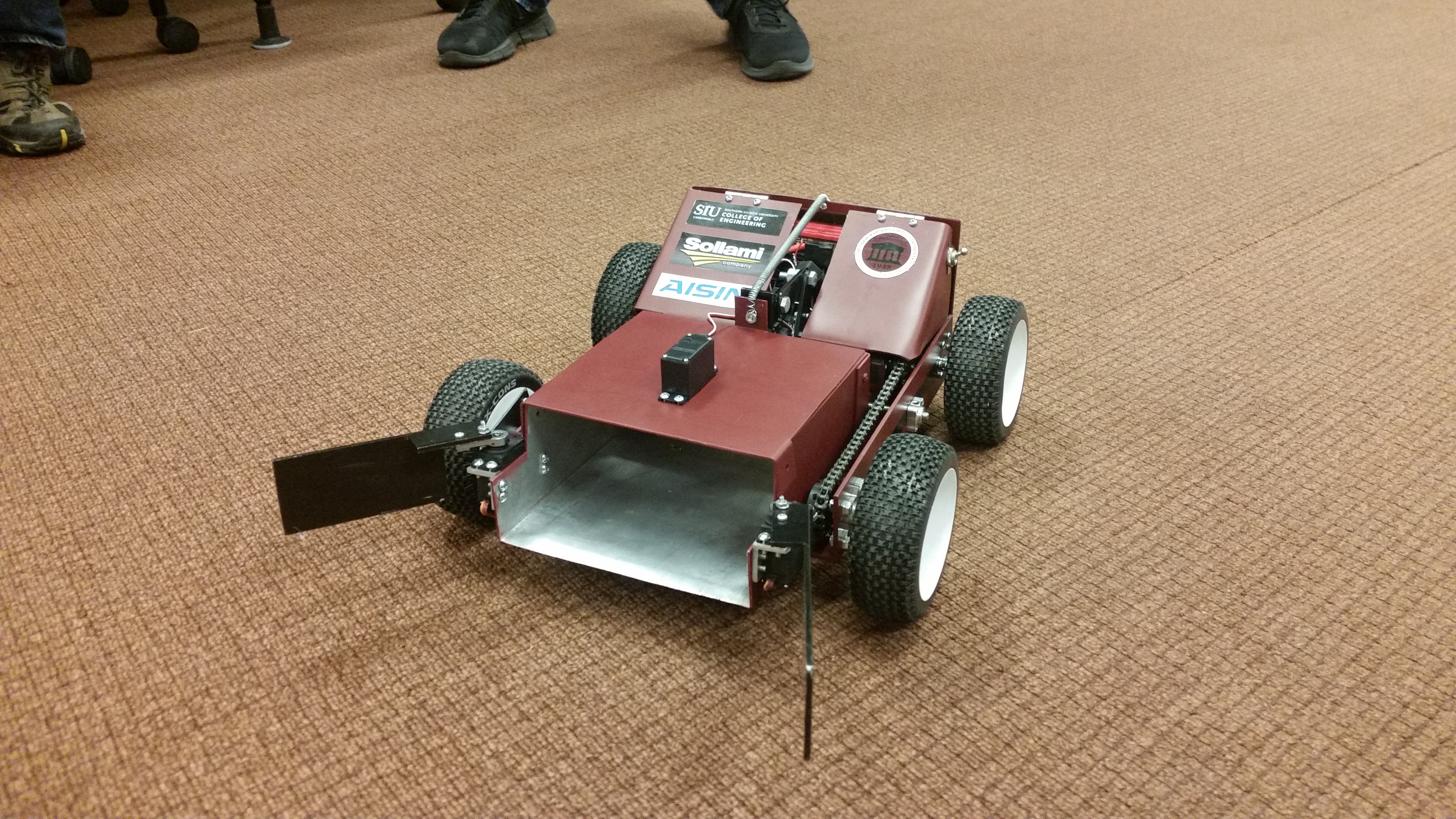 Dusty 2.0 – The robot built by the Southern Illinois University Carbondale student robotics team swept the Association of Technology Management and Applied Engineering national robotics competition Nov. 2 in Orlando, Fla. (Photo provided)
November 10, 2016
SIU team sweeps national robotics competition
CARBONDALE, Ill. -- The robotics team from Southern Illinois University Carbondale swept the Association of Technology Management and Applied Engineering national robotics competition Nov. 2 in Orlando, Fla., winning nearly half of all the possible points available to teams competing.
This year's competition featured both an obstacle course and a course in which the robot had to run autonomously during a relay race. The SIU robot, dubbed "Dusty 2.0," dominated the head-to-head competition, which was worth 40 percent of the overall scoring. The team also took first place in all the remaining categories, which included Best Electronic Control Methodology, Best Fabrication/Innovation, Best Poster, Best Technical Presentation and Audience Favorite.
Bruce DeRuntz, professor of technology and faculty adviser for the team, said SIU's Industrial Management and Applied Engineering degree in the Department of Technology is an ATMAE-accredited program, and the organization is known across the country for bringing the leading university and college robotic teams together annually for this intense competition.
"The SIU team has a long history of competing in the championship round almost every year dating back to 2010," DeRuntz said. "Other universities have tremendous respect for SIU both for the team's technical abilities as well as its professional demeanor."
The team will turn its attention next to preparing for its next robotic competition at the University of Illinois, where it finished second last year.
Brad Vahling, a senior in industrial management and applied engineering from Teutopolis, said Dusty 2.0 was an upgraded version of last year's design, which students were forced to build in only about a week because of some design flaws.
"This year we were on top of our game as we had a prototype built on the first day of classes," said Vahling, who served as mechanical design leader on the team. "Throughout the semester we have been making improvements and doing design reviews along the way. This is critical to our success as we eliminated several failure points that would have been detrimental to our robot."
The team needed to be sharp to negotiate the challenges in this year's competition. Like last year's competition, the robots operated on a surface covered in burlap, which presented challenges in maintaining traction as well as causing unwanted friction in certain modes. The SIU team responded with a low center-of-gravity vehicle equipped with knobby tires and four-wheel-drive. The students also worked to minimize any parts or screws protruding from the robot, which helped minimize the possibility of it becoming snagged on the burlap.
For another portion of the competition, the robot was tasked with retrieving puzzle pieces from one side of a track and bringing them to the other.
"Our design was very suitable for this as well, as we were able to use our large pan to slide the pieces into our robot," Vahling said.
Vahling said the team's experience and cohesiveness was a major reason for the national championship.
"Many of the team members have been here for a couple years. We have worked on several projects and know our strengths and weaknesses," he said. "We were able to lean on each other to meet our deadlines and have productive build sessions."
Vahling said being a member of the robotics team, which is part of a Registered Student Organization at SIU, has taught him lessons he could not have learned in class.
"The opportunity to be part of an engineering team has made me into a much better engineer," he said. "For me, the biggest skill I have learned through my years is definitely leadership and teamwork."
Other members of the team by hometown, their class, major and team position, include:
Algonquin
Nick Sjoberg, junior in engineering technology, electrical lead design leader
Arcola
Roberto Garza Lazo, senior in industrial management and applied engineering, team member
Carbondale
Richard Bisgaard, junior in mechanical engineering, team member
Carmi
Tyler Winkleman, senior in information system technology, coding leader
Carterville
Connor Eaton, senior in electrical engineering, team member
Chicago
Jenisha Sims, senior in electrical engineering, team member
Chrisman
Dana Mitchell, senior in computer engineering, team member
Danville
Mason Wagner, senior in computer engineering, team member
McHenry
Sarah Handrock, sophomore in computer engineering, poster leader and president of the student ATMAE student chapter at SIU
Roscoe
Matthew Dempsey, junior in computer engineering, presentation leader
Springfield
Lincoln Kinley, sophomore in computer engineering, team member
Sycamore
Ryan Guss, junior in computer engineering, team member
Taylorville
Kyle Stilwill, senior in industrial technology, treasurer
Teutopolis
Paul Schumacher, junior in industrial management and applied engineering, fabrication expert