October 28, 2016
Grant funds training for small produce growers, food processors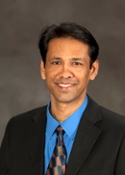 CARBONDALE, Ill. -- The guidebook to new regulations under the Food Safety Modernization Act is a weighty tome -- at least 500 pages. Ruplal Choudhary, associate professor of plant, soil and agricultural systems at Southern Illinois University Carbondale, is mastering the material to help small-scale produce growers and food processors in Southern Illinois more easily comply. 
Choudhary earned a pilot project grant from the U.S. Department of Agriculture's National Institute of Food and Agriculture for $146,893 to help develop and implement training programs that will help small-scale producers and processors comply when the new rules apply to them in 2017 and 2018. 
Choudhary has a three-fold goal: to identify current food safety training programs in the area and the program gaps; to modify the curricula to teach the new regulations, emphasizing what is most relevant in the southern-most 24 counties of Illinois; and to teach the courses to small growers and processors. He'll accomplish this with help from a small team including representatives from Rend Lake College, Shawnee Community College and the University of Illinois Extension. 
"It's a lot of work to apply for a grant and I began the application process shortly before the deadline so it was stressful," he said. "But I felt like this was an important grant for this area; it's something we need here." 
Small businesses, for the purposes of the Food Safety Modernization Act, are those employing fewer than 500 people and generating between $250,000 and $500,000 in produce sales annually. That includes many Southern Illinois produce-growers and food processors, including some who promote specialty products. 
"There aren't necessarily a lot of resources readily available in this area," Choudhary said. "Food safety is vital. An advantage small producers and processors have is that, because they are smaller, they often have more control over their process and more direct contact with employees. So that will be our first focus -- changing people's habits." 
Choudhary noted that training is easy, but habit-changing is difficult. For example, employees know by now they should wash their hands before handling food. What they may not realize is that how they wash their hands or what they wash them with might make a significant difference in their level of safe food handling. For example, washing up with a soy-based soap might not keep an employee in compliance with new rules. 
The reason for this, Choudhary said, is that many of the new food safety rules apply to the handling of potential allergens. The FDA regulates eight food allergies: milk, eggs, fish, shellfish, tree nuts, peanuts, wheat and soybeans. New standards are stricter in keeping foods on that list from contacting other foods. 
"Ideally, products made with allergens should be in separate facilities," he said. "But that's not always practical. The next best would be to have a wall separating the allergen foods from other foods or, next after that, to use completely different equipment. The least ideal is to sterilize the equipment between food processes -- but that can be hard to do." 
That's also why it makes a difference what soap employees use or the level of water treatment used on fruits or vegetables. 
"It's a serious matter, food allergies can cause people to die," Choudhary said. "And people should be able to trust that's what is on the food label is what is in the food they buy." 
Choudhary is completing his own training in the new regulations. He is certified now as a lead instructor. He plans to offer four face-to-face, low-cost training courses in the spring and summer, probably at SIU, Rend Lake College and Shawnee Community College for food processors, and at least three sessions for Good Agricultural Practices (GAP)-certification for producers.