October 21, 2016
SIU to commemorate Native American Heritage Month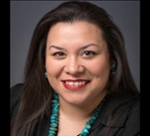 CARBONDALE, Ill. -- Southern Illinois University Carbondale will commemorate Native American Heritage Month with numerous special events in November.
Guest speakers, film presentations, special exhibits, and crafts and recipes reflecting Native American culture are on tap. Sarah Adams-Cornell, a member of the Choctaw Nation, will present the keynote address to kick things off at 5 p.m. on Nov. 4 in the University Museum Auditorium at Faner Hall. "A Mile in My Moccasins: Issues Impacting Native Americans" is the topic of her presentation.
Adams-Cornell is a board member of Live Indigenous OK, a core member of Idle No More Central Oklahoma, vice chairperson of the OKCPS Native American Student Services Parent Committee and board member of Not Your Mascot. An activist and advocate for the rights, culture and education of Native Americans, she co-hosts a radio program focusing on Native Americans and news. She has also been an activist in residence at the University of Oklahoma and a board member of the OK Choctaw Tribal Alliance. Her efforts have included organizing a movement to replace Columbus Day with Indigenous Peoples' Day in Oklahoma City, co-creating Matriarch, a program to empower Native American Women, and working with a group that was successful in eliminating Land Run reenactments and removing a mascot Native Americans find offensive from the Oklahoma City public schools.
The Adams-Cornell presentation, like the rest of the Native American Heritage Month activities, is open to the public. Everything is free, with the exception of the special recipes, to be served in conjunction with regular meals at campus dining halls on specified dates. To view full menus, visit www.housing.siu.edu/menus. Those are provided at no cost in campus dining halls for students with meal plans and open to other students and the general public at a price of $9.42 for adults or $5.55 for ages 4-12. Tickets will be available at the dining halls.
The Trueblood Hall schedule includes these dishes:
Nov. 1 dinner -- black bean soup and Onondaga corn cake
Nov. 6 dinner -- blueberry and peach salsa with fresh corn chips
Nov. 13 dinner -- corn, blueberry and wild rice salad
At Lentz Hall, the dining experiences include:
Nov. 7 dinner -- 3 sisters soup and double cornbread muffins
Nov. 17 lunch -- wild rice burgers
Nov. 20 late night snack -- blueberry and peach salsa with fresh corn chips
Another highlight of the month is the showing of the 2010 documentary "We Still Live Here" at 6:30 p.m. on Nov. 7 in the University Museum Auditorium at Faner Hall. The Wampanoag people helped the Pilgrims survive and celebrated Thanksgiving with the early English settlers, but through the years, their language had died out. However, some descendants of the Native American group still live in their homelands of southeastern Massachusetts and with the help of linguist Jessie Little Doe, the Wampanoag language and culture are making a comeback, as seen in the film.
"Trail of Tears: The Forced Removal of the Cherokee Nation from the SE United States" will be shown at 3 p.m. on Nov. 18 in the John C. Guyon Auditorium at Morris Library.  
SIU's American Indian Craft Night will give participants the opportunity to create traditional Native American crafts and learn their origins. The workshop is set for 5-7 p.m. on Nov. 18 in Parkinson Laboratory, Room 110. Those planning to attend should RSVP by emailing siucsacnas@gmail.com by Nov. 17.
An unusual but commonly used artifact of the Cree nation will also be on display at the University Museum through the rest of the semester. The goose decoy was formed when a bundle of conifer branches, probably spruce, were bound together and shaped appropriately. The decoy, about 50 years old, was found on the shore of the Hudson Bay, near the Cree village of Whapmagoostui. It's quite unusual for one of these fragile decoys to survive after use.
Find additional information, including the complete schedule of events, at www.smrc.siu.edu. To learn more, call 618/453-3740.
Sponsors of Native American Heritage Month include the university's Student Multicultural Resource Center, the Hispanic/Latino Resource Center, Black Resource Center, Morris Library, University Museum, the Center for Archaeological Investigations, University Housing and SIU chapter of the Society for Advancement of Chicanos/Hispanics and Native Americans in Science (SACNAS), along with the Illinois Chapter of the Trail of Tears Association.