October 20, 2016
Tichenor named interim director of Simon institute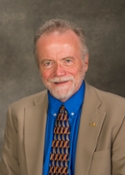 CARBONDALE, Ill. -- Jak Tichenor, whose journalism career with WSIU Public Broadcasting spanned nearly 34 years, will become interim director of Southern Illinois University Carbondale's Paul Simon Public Policy Institute on Nov. 1.
He will replace David Yepsen, who is retiring at the end of this month after leading the institute for the past seven years. The university will conduct a national search for a permanent director.
"Jak has devoted his career to educating residents of our region and throughout the state about important public policy matters, and that experience and expertise make him an excellent fit for the institute," Interim Chancellor Brad Colwell said.  "In addition, Jak was a dedicated mentor to many students and he will continue to be a valuable resource for them in his new role."
Interim Provost and Vice Chancellor Susan Ford also noted Tichenor's "highly distinguished career as a journalist," describing him as "a highly qualified individual who is well-acquainted with the university and with the institute's mission."
Tichenor was a senior producer with WSIU-TV for 24 years, retiring in May 2015. He was executive producer and host of the "Illinois Lawmakers" statewide public television series on the Illinois General Assembly for the Illinois Public Broadcasting Council. Since 1995, he served as producer/writer for the Lincoln Academy of Illinois statewide public television series.
Prior to joining WSIU-TV, Tichenor served as the news and public affairs director for WSIU Radio for nine years.
Since his retirement, Tichenor has been a media services consultant for Illinois Public Television and the Lincoln Academy of Illinois. He is suspending his retirement status while serving as interim director of the Simon institute.
Tichenor said he is "humbled" by the appointment as interim director of the institute.
"Paul Simon was a hero of mine, a mentor and a friend," he said.  "I covered his political career from his time in the House and Senate, his presidential bid, and the founding of the institute that bears his name in 1997. I've never seen anyone work as hard as he did on the issues he cared about." 
Simon's dedication to such issues as education, access to quality health care, literacy programs, protecting the environment, breaking the cycle of poverty, improving international relations, attracting young people to careers in public service, and so many others "are an important living legacy for generations to come," Tichenor said. 
"The Paul Simon Public Policy Institute embodies that legacy as a driving force for doing this important work well into the future," he added. "For me personally, it's a tremendous opportunity for me to be of service to the institute, to SIU, and to honor his legacy." 
Tichenor also cited a personal example of the impact of Simon's work on his family. 
"Our granddaughter was born with spina bifida, making it very difficult for her to walk," Tichenor said. "One of the bills that Paul passed while in the Illinois General Assembly required children with disabilities to be able to attend public schools like every other child in the state.  He did it here in Illinois and he did it later in Congress.  Paul once told me that bill never generated a single headline or editorial, but it was one of the things he was most proud of getting accomplished. Thanks to his good work, she and countless other children living with disabilities are able to go to school and get a good start in life."   
His immediate plans for the institute are to continue working on projects "that David Yepsen and his staff have been working on that need to be successfully implemented and carried out well into the spring semester and beyond." 
In addition, the institute will celebrate its 20th anniversary next year "and we want to organize a series of events and speakers that recognize Sen. Simon's legacy in an appropriate way, but more importantly, continue to grow that legacy by developing projects and activities that reflect his priorities and engage the citizens of today and tomorrow in meaningful, measurable ways." 
A Metropolis native, Tichenor is a two-degree graduate of SIU, earning a bachelor's degree in radio-television in 1979 and a master's degree in public visual communications in 1989. He is a 2006 recipient of the Lindell W. Sturgis Award for Professional Achievement.