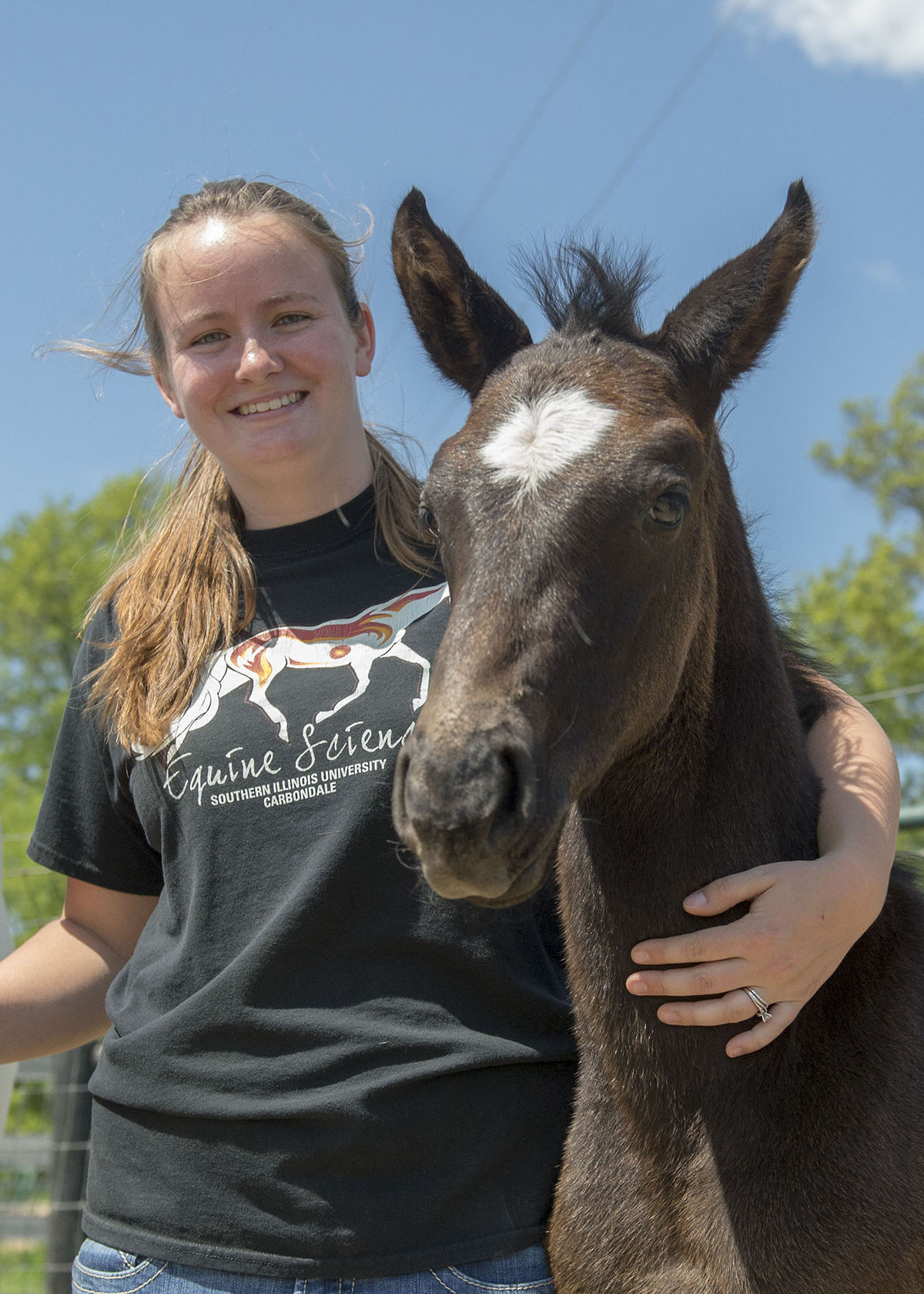 Samantha Wuest, a graduate student from Edwardsville majoring in animal science at Southern Illinois University Carbondale, with Cadbury, a colt born during "foal watch," an educational, hands-on part of the equine science program. Students witness and record a live birth of a horse during the program, learning not only about horse reproduction and birth but also horse behavior and good practices under stress.  (Photo by Russell Bailey)
September 28, 2016
'Foal watch' offers students hands-on experience
CARBONDALE, Ill. -- Talk about a demanding class -- Animal Science 419 at Southern Illinois University Carbondale requires students to spend a few overnights in the barn. But the students love it. 
Animal Science 419 is "Stable Management." The nights spent in the barn are "foal watch" nights, and the purpose is for each student to witness a mare foaling, otherwise known as the birth of a baby horse. 
Students learn the "text book" version of foaling before they begin their nighttime vigils in the barn. The students monitor the mares by video camera. A typical night is 10 p.m.-6 a.m. The students need to be awake and alert the entire time. Most mares foal during the night and things can happen quickly. 
Stephanie Speiser, senior lecturer and the foal watch instructor, explained that mares have only about a half-hour after their water breaks in which to deliver a foal safely. Longer than that and the mare may develop problems than endanger the foal's life as well as her own. The tension when a mare shows signs of foaling that night is nearly unbearable. 
The mares on video are those who've shown physical signs a foal is coming soon. When the students observe a mare's water break, they go to the mare to monitor her directly but with as little interference as possible. They record everything: when labor began, when it ended, how quickly the foal stands, how soon it begins nursing and other vital and behavioral signs. And always, the students notify barn manager Sheila Puckett, who is present at all the births. Puckett decides if the mare needs assistance and if so, if a veterinarian should be present. 
"One thing I can say after 12 years of foaling mares here, it never gets old," Puckett said. "If I have reason to think a mare might foal, I can't sleep. When that phone call comes, all my energy is focused on getting the foal here safely and keeping mom in good health as it happens." 
Michael Halpin, a senior from Dorchester, was present at four foalings during her foal watch nights. She spent about 20 nights total in the barn, staying there every fourth night during foal watch. 
"Every time I saw a mare going into labor, adrenaline would kick in," she said. "After weeks of foal watch and staying up all night, the moment the water broke all thoughts of sleep vanished. I tried to stay out of the way and hope nothing went wrong. Waiting to see that new foal for the first time, watching them struggle to stand up and balance, and hearing the foal nicker for the first time is something I cannot put into words." 
"Watching foalings is like a box of mixed emotions," Samantha Wuest, a graduate student from Edwardsville and assistant barn manager, said. She was a teaching assistant for foal watch last spring. "Your adrenaline is up, you're excited, nervous, hoping all goes ok, and overwhelmed with the job. It only takes about an hour for the foal to be born and then up and nursing, and then you are overwhelmed with exhaustion. I have spent more nights at the SIU Equine Center than I can count -- but I don't regret it." 
Speiser said the whole experience is part of what she wants students to learn -- not just the biology. "The class teaches not only foaling but also gives students the opportunity to build responsibility, to observe horse behavior for hours on end, and good practices under pressure." 
"Foal watch is actually one of the reasons I chose SIU for my animal science degree," Wuest said. "I came to SIU specifically to have the breeding and foaling experience hands-on." 
She's been around the horse barns long enough to know some years and some births are more joyous than others. Speiser tells a story about a mare that took four hours to foal -- far too long to be safe. The foal was in the wrong position and the mare was suffering from fescue toxicosis, a grass-based poison to which pregnant mares are susceptible. The foaling crew had called a veterinarian, who was on the brink of euthanizing the mare when the mare fell down in shock. And a foal's nose appeared! 
"We grabbed forelegs and jerked the foal out, thinking it might be dead," Speiser said. "It fell to the ground, and blinked! Twenty students had gathered by now, and you should have heard everyone shout. I have a picture in my office. It was a happy ending – but I'm glad we don't have dramatic stories like that very often." 
The foal watch experience is intense, and gives students a real look at what a career in equine reproduction might mean. Halpin values her experience but is looking at other areas of the equine industry. Wuest is keeping her options open, and one day hopes to own her own breeding and foaling business. 
SIU is the only public university in Illinois offering a bachelor's degree in equine science.