June 22, 2016
Automotive students will be busy at vehicle show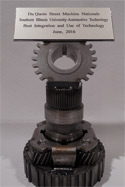 CARBONDALE, Ill. – Students in Southern Illinois University Carbondale's automotive technology program will be busy at this week's General Tire Street Machine Nationals in Du Quoin. 
This is the fourth year students developed and will judge and present the "Best Integration and Use of Technology Award" since the event returned to Southern Illinois in 2013. Each year, students design and fabricate the one-of-a-kind trophy. Students assemble a judging team, develop a plan and put into action their processes to evaluate thousands of show vehicles over one weekend. 
Students will look at the more than 2,800 high performance street machines, hot rods and trucks expected in Southern Illinois, Friday through Sunday, June 24-26. The trophy, created from bits and pieces of a transmission, "goes to show that random pieces of scrap metal can turn into a beautiful piece of art with a little imagination," said Aaron Weckhorst, a senior in automotive technology from Champaign, and president of Automotive Technology Organization, a registered student organization on campus. 
The trophy, designed by a 2016 automotive technology graduate, features gears that spin, Weckhorst said. The handful of students who will be involved in judging will carefully examine cars "for what we collectively think meets our criteria best," he said. 
Students are also hosting a "Hot Rod Hospital," where they lend a hand in making repairs, or will loan tools and equipment to event participants who need to make quick adjustments to their vehicles.  In addition, the students will show off their 1966 Chevy Nova Super Sport, a project that started in 1985 with a $100 body. Students received first-hand knowledge in working on the drag car, which competes locally in Benton and Paducah, Ky. 
"The Street Machine Nationals brings thousands of the nation's finest custom vehicles to Southern Illinois. The craftsmanship in metalworking, painting, graphics, and vehicle technology displayed is absolutely amazing," Michael Behrmann, department chair, said. "Having our students participating in this national event in this way helps fuel their passion and helps recognize the passion others have in their vehicles." 
About 10 students will be involved with the Street Machine Nationals this weekend, Behrmann said, with many returning to Southern Illinois from summer internships. 
Weckhorst said he is working through an internship in the parts department at CIT Trucks in Champaign. The internship is a valuable experience, said Weckhorst, who transferred to SIU Carbondale from Parkland College after two years.