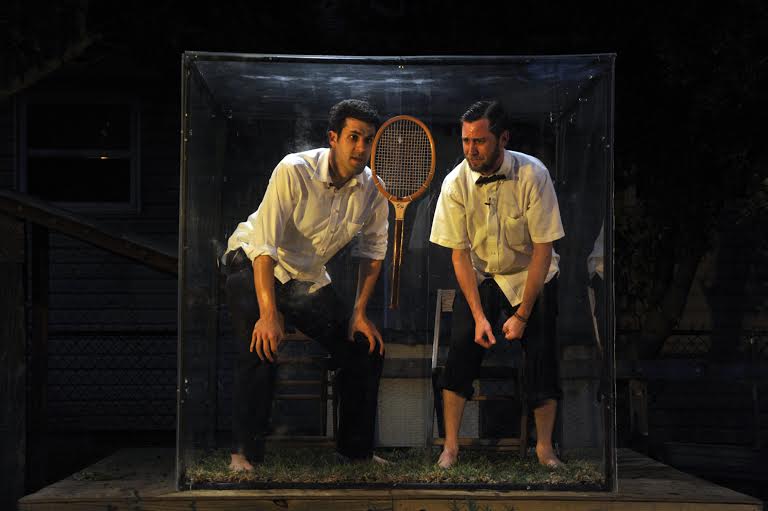 The performance group Goat in the Road will visit Southern Illinois University Carbondale for three days of workshops, art talks and performance. Here, cast members perform in "Our Man," the performance they will present at Kleinau Theater.  (Photo provided)
June 14, 2016
New Orleans performance ensemble to visit SIU
CARBONDALE, Ill. – Goat in the Road Productions, a New Orleans-based performance ensemble, will visit Southern Illinois University Carbondale next week for a trio of open-to-the-public events. 
Goat in the Road Productions blends theater, dance, performance art and education. On the performance side, the ensemble earned grant funding from the Network of Ensemble Theaters, the National Performance Network, the Puffin Foundation and the New Orleans Jazz and Heritage Foundation as well as earning several competitive residencies. "American Theater" magazine featured their original production, "Our Man," on its cover in March 2013. 
The ensemble also runs Play/Write, a program for students in elementary school through high school that teaches playwriting, staging, costuming and improv. Six schools in New Orleans have been part of this program. 
The ensemble includes three co-artistic directors and a 10-member cast. One of the co-artistic directors, William Bowling, is an SIU alumnus. He is also co-author of the performance the troupe will bring to SIU. 
Here's what's happening with them at SIU, and all of it is free and open to the public: 
June 21 – Artist Talk, 4 p.m., Kleinau Theater, Communications Building, second floor. Goat in the Road members will talk about how they do what they do, including incorporating dance and improvisation. They will also give bad advice about romantic relationships. 
June 22 – Workshop: The Beauty of Boundaries, 6 p.m., Kleinau Theater. Limitations, financial and otherwise, can be inspiring. The group will talk about how to work with rather than lament boundaries to create interesting, funny and compelling art. 
June 23 – Performance: "Our Man," 8 p.m., Kleinau Theater. There is no late admittance to this performance. Two men in a glass box narrate the lives and accomplishments, 1950s radio-style, of George "the Gipper" Gipp, the famous Notre Dame football player who died at the peak of his collegiate career. As the two men in the glass box repeat the radio show, they begin to re-write history for their own entertainment, using recognizable political campaign tactics while they do it. 
The Student Fine Arts Activity Fee contributed to this guest artist visit. 
For more information or to arrange interviews, contact Craig Gingrich-Philbrook at craiggp@siu.edu.