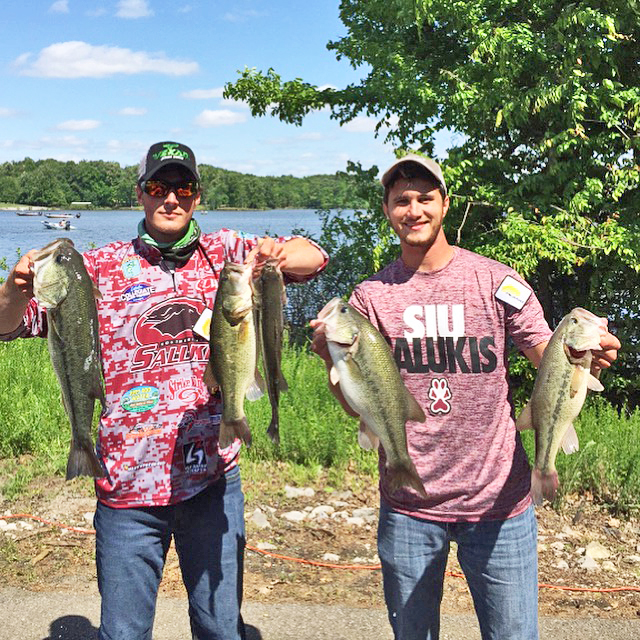 Prize-winning fishermen – Kyle Wagner, left, of Waterloo, and Mason Bishop of Goreville won fourth place at the recent Fishing League Worldwide (FLW) College Fishing Central Conference bass tournament at Lake Barkley, Ky., and qualified for the 207 LFW College Fishing National Tournament.  (Photo provided)
June 06, 2016
Fishing duo earns spot in national tournament
CARBONDALE, Ill. -- The Southern Illinois University Carbondale student fishing team of Kyle Wagner and Mason Bishop recently earned a top-five finish at the Fishing League Worldwide (FLW) College Fishing Central Conference bass tournament, earning a spot in the 2017 FLW College Fishing National Tournament. 
Bishop, a junior biology major from Goreville, and Wagner, a junior civil and environmental engineering major from Waterloo, caught five fish weighing in at a total of 15 pounds, 2 ounces on May 14 at Lake Barkley, Ky., to earn fourth place and a $500 team prize. Both are members of the Saluki Bassers, the official bass fishing registered student organization at SIU. The team has about 18 members. 
Mason is the son of Mont and Patsy Bishop. Kyle, the son of John and Julie Wagner, is the club president and said SIU having an active and supported fishing club was one of the reasons he chose to attend the university.  Wagner placed third in the Illinois High School Association state bass fishing tournament in 2012, competing for Waterloo High School where his father was fishing coach. 
Typically, 80-120 boats compete in each qualifying tournament. A total of 62 teams from universities covering a wide region competed at the Lake Barkley event. Wagner and Bishop had already caught their limit of five fish, including one that weighed in at about five pounds. But, as the tournament was wrapping up, they decided to throw a couple of more casts and caught a 3 1/2 pounder which allowed them to replace their smallest fish and move from a likely 11th or 12th place showing into fourth place and a nationals-qualifying position, they said. 
They are now one of no more than 165 college fishing duos from the entire country who are eligible to compete in the 2017 FLW College Fishing National Championship. Wagner said it is "really difficult to qualify and a huge honor" to get to the national tournament. The dates and location for the tournament have not been announced as yet. 
Wagner and his former teammate, 2015 SIU graduate Steve Seiler of Mokena, logged a top-three finish at the conference championship in October 2015 to earn the right to compete in the 2016 FLW College Fishing National Championship held in March 2016 at Lake Keowee, South Carolina during spring break. 
The Saluki Bassers club is supported by donations and personal funding. Team sponsors for Wagner and Bishop include Strike King and Tackle Warehouse and they have individual sponsors including Vexan Fishing and Dupo Marine Center as well.