May 19, 2016
Crosby named Provost Faculty Fellow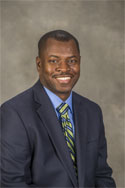 Garth V. Crosby, associate professor of technology in the College of Engineering, will be the Provost Faculty Fellow for the fall 2016 semester. 
The program's goal is to provide part-time leadership experience and skill development to university faculty with an interest in academic administration. Crosby will be involved in regular operations and activities of the Office of the Provost and Vice Chancellor for Academic Affairs. 
Susan Ford, interim provost and vice chancellor for academic affairs, said Crosby is "ideally suited for this opportunity." He will work on exploring the role and reach of faculty in the university's recruitment of students. 
"I look forward to learning more about student recruitment during Professor Crosby's fellowship. He has some great ideas I'd like to know more about as he develops insight into how the university operates." 
Under the program, which began in fall 2013, fellows gain insight into administrative practices and procedures including budgeting, academic planning, shared governance, student success programming, retention activities and assessment.  
Crosby said he is pleased to receive the fellowship, and the university "should be proud of a program that gives faculty an opportunity to gain insight and get involved in the operation of the university from an administrative aspect."
"It's nice to have a forward-thinking program that prepares future academic administration leaders," Crosby said. 
Crosby believes the fellowship will allow him to understand the "underpinnings of the university and how all the pieces fit together." He hopes to be involved in strategic planning and budgeting and believes the fellowship will enhance his organizational and communication skills. 
Crosby said his thoughts for the fellowship are to develop "strategic pathways" with international undergraduate science, technology, engineering and mathematics (STEM) programs. While the American STEM education model is considered the best, many international students find costs to attend prohibitive, Crosby said. He wants to explore ways to establish new Memorandum of Understandings (MOU) and articulation agreements with STEM programs at international undergraduate institutions. Allowing those students to have two years of training at their local institution and then completing two years at SIU Carbondale could cut costs in half. The reduced costs and an opportunity to work in the United States for at least one year after completing the program "are strong incentives for potential international students," he said. 
Crosby also wants to explore ways to improve existing procedures for establishing MOUs and articulation agreements with regional community colleges, he said. 
Crosby started at SIU Carbondale as assistant professor in the Department of Technology in January 2008, and became an associate professor in July 2014. He is a program evaluator of the Accreditation Board for Engineering and Technology (ABET), the premiere accrediting body for tertiary programs in Engineering and Technology. 
Crosby earned his master's degree in computer engineering and doctorate in electrical engineering from Florida International University. He received a bachelor's degree in electronics from the University of the West Indies, Mona, Jamaica.