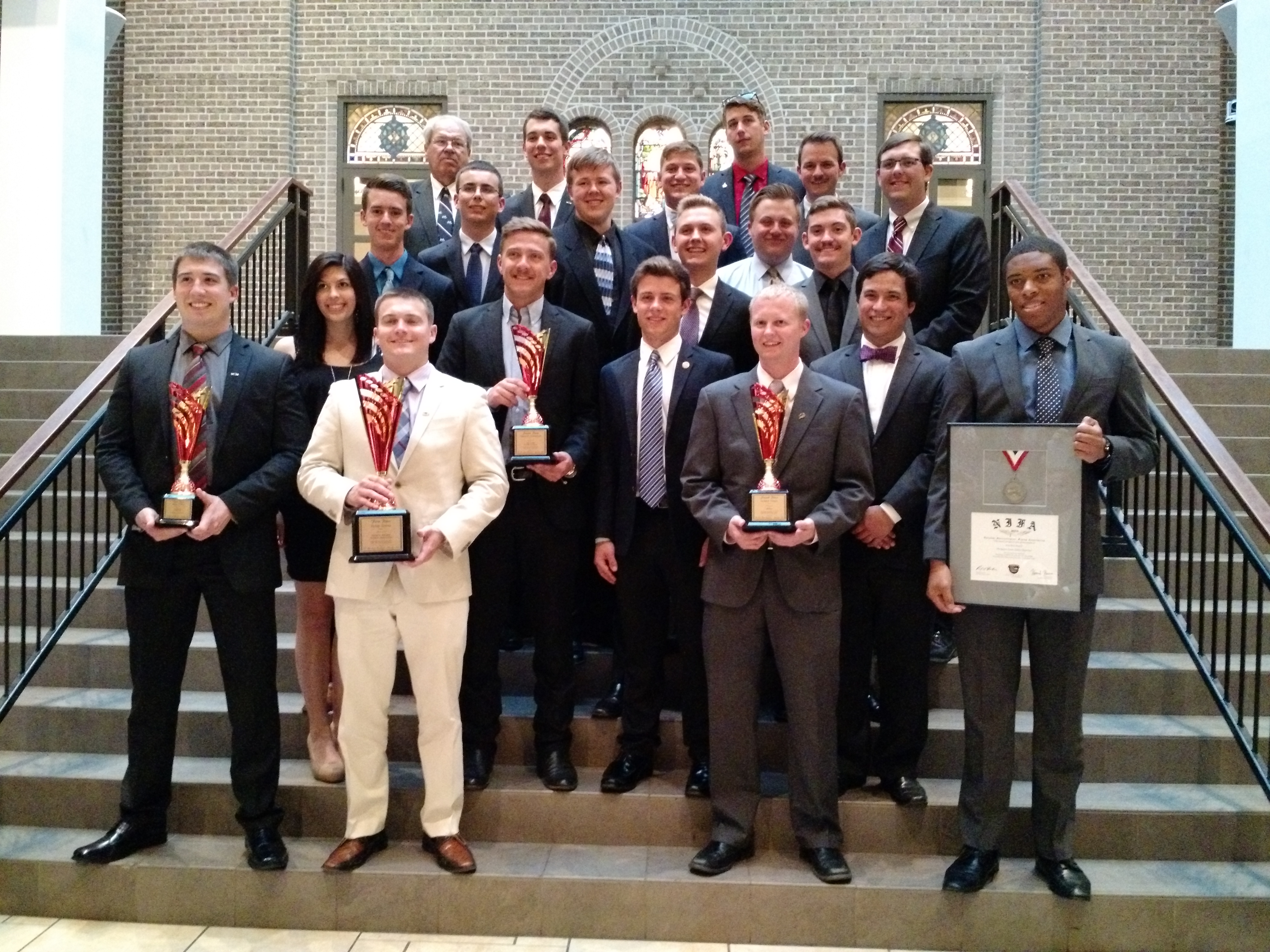 The legacy continues – Members of the Southern Illinois University Carbondale Flying Salukis celebrate a second-place finish at the 2016 National Intercollegiate Flying Association championships on Saturday. The two-time defending national champions have finished in the top three in the nation each of the last six years, including titles in 2011, 2014 and 2015. (Photo provided)
May 16, 2016
Flying Salukis finish second at championships
CARBONDALE, Ill. -- While the dream of a "three-peat" as National Intercollegiate Flying Association champions fell a few points short, the legacy of the Southern Illinois University Carbondale Flying Salukis continues to grow. 
The two-time defending national champions finished second at the 2016 national collegiate aviation championships Saturday at The Ohio State University. Buoyed by the nation's top two pilots, George H. Nimmer and Davin L. Miles, and strong scoring performances from six others, the nine-time national champion Flying Salukis scored more points than each of the past two title teams. The finish also marks the sixth straight year the team finished in the top three in the nation -- winning titles in 2011, 2014 and 2015, and finishing third in 2012 and 2013. 
Coach James Libuszowski was "absolutely" pleased with the performance from what was a junior-laden team that lost several top scorers to graduation a year ago. 
"They came together well and performed well and practiced hard all semester," he said. "I'm absolutely pleased with the results. To score more points than we did last year with a much more junior team is impressive. It bodes well for the future." 
Embry-Riddle Aeronautical University-Prescott won the title with 471.5 points, 36.5 points ahead of SIU Carbondale.  The University of North Dakota was third with 402 points. Twenty-five teams competed May 9-14 at OSU Airport in Columbus, Ohio. 
Nimmer led the competition in scoring and won the individual title in simulated comprehensive area navigation, or SCAN. A senior from Plymouth, Wis., Nimmer scored in seven of the 11 ground and flight events. Miles, second for the top pilot award and third in scoring, also scored in seven events, and Sean S. Gipe, who finished ninth for top pilot, was eighth overall in scoring; placing in five events, including winning the aircraft preflight inspection title. 
Being the top scorer was an honor, but it did not come easily, Nimmer said, noting the competitiveness with each event. 
The Flying Salukis won the flight events trophy, edging out the University of North Dakota and Embry-Riddle-Prescott. The team was second to Embry-Riddle in ground events. 
Ground events are aircraft preflight inspection, aircraft recognition, computer accuracy, crew resource management, ground trainer simulator, IFR (instrument flight rules) simulator and simulated comprehensive area navigation (SCAN). Flight events are message drop, navigation, power-off landing and short-field approach and landing. The top 20 contestants in each event earn points for their team.   
Results are available at http://nifa.us/SAFECON_2016_Results.html by clicking on each category. 

Miles, a senior co-captain from Penfield, was pleased with the team's performance, particularly with the increased scoring. He recalled a few years ago as a new member watching more experienced teammates and wondering about the amount of work it took "to become that good." 

Gipe, a senior co-captain from Media, Pa., said the events make the competitors better pilots. Winning a national title can come down to just a few points and hinge on the slightest variables, such as a competitor's ability to precisely judge winds when landing, remembering regulations, or symbols on charts. 
Other scoring team members were Bradley C. Smith, a junior from Dove Canyon, Calif.; Theodore M. Keenan, a sophomore from Evanston; Kevin D. Grandberry, Jr., a senior from Chicago; Connor E. Schlottman, a junior from McDonough, Ga.; and Dalton P. Thompson, a sophomore from Geneva. 
The finish will make the team "hungry for next year," predicted Libuszowski, who will be leaving the university to become a first officer with the regional carrier Endeavor Air. 
"They know what second place feels like now and they want to get back to first and they want to keep it for as long as possible," he said. "This is going to be the motivation that they need going into next year." 
Libuszowski, a former Flying Saluki, served as an assistant coach for two years before coaching the team to its ninth national title in 2015. He also competed for the University of Illinois' aviation program as a student. 
The experience with the Flying Salukis has been "more than I could have imagined," he said. 
"To come here and be able to compete at such a high level with these students is truly incredible and inspirational," he said. "I learn as much from them as they learn from me." 
Other team members are: Austin J. Alzapiedi, senior, Sterling, Mass.; Jonathan H. Ezell, freshman, LaGrange Park; Greysen H. Harlow, junior, Monmouth; Robert A. Kay, freshman, Plainfield; Trent D. Medernach, sophomore, Batavia; Zachary A. Rawlings, freshman, Columbia; Craig A. Schwandner, senior, Wentzville, Mo.; Kindra A. Wendling, junior, Altamont; and Brody P. Wilson, sophomore, Elmhurst. 
The co-captains for next season will be Harlow and Keenan. 
The Flying Saluki assistant coaches are assistant instructors David A. Blood, Jacob R. Schwarz, Kevin Miller and senior lecturer Kim Carter.  The team will lose Gipe, Grandberry and Miles to graduation, Libuszowski said. 
More information on the university's aviation program is available at aviation.siu.edu.