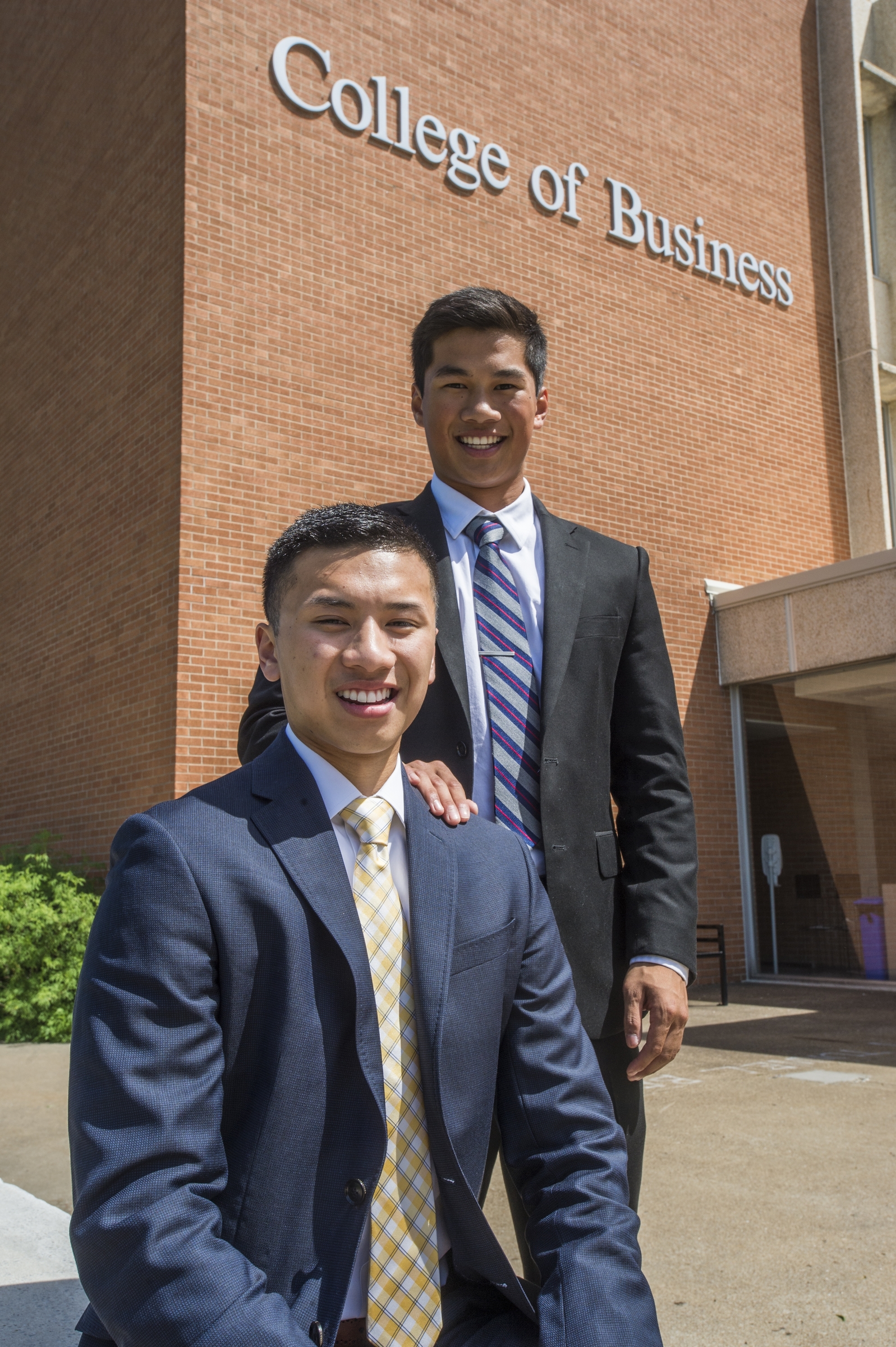 Accounting brothers – Steven Ta, front, will graduate with his bachelor's degree in accounting from Southern Illinois University Carbondale on Saturday, May 14. Pictured with Steven is his brother, Brian, a freshman who also is majoring in accounting. Both are from Carpentersville.  (Photo by Steve Buhman)
May 12, 2016
Accounting graduate makes most of opportunities
CARBONDALE, Ill.  -- Steven Ta wrestled with a big decision. 
A first-generation college student, Ta loved playing lacrosse and was being recruited by some fine smaller colleges to play the sport. A number of universities also wanted to enroll him for his scholastic capabilities. The Carpentersville native visited various places, trying to decide which would put him, an admittedly shy young man, on the path to the future he dreamed of. 
He had decided to major in business and the universities of Iowa and Illinois were in the running along with many others. Then, he came to visit Southern Illinois University Carbondale. 
"I met Jill Gebke (assistant dean of the College of Business) and Marcus Odom (accountancy professor and Deloitte & Touche Faculty Fellow) and they promised me a lot of opportunities to get involved and get real experience. It was also very important to me that the College of Business and the accounting program are both AACSB-accredited, because that makes SIU pretty elite," Ta said. 
"I fell in love with SIU," Ta added. "It's like a big city with a small-town feeling. I didn't want to be a number and here, I'm not, but yet there are so many ways you can get involved." 
The son of Janet Smith of Carpentersville and Billy Ta of Elgin, Steven came to SIU knowing he wanted to major in accounting. While attending Harry D. Jacobs High School, he took a number of business classes but was particularly inspired by teacher Robert Cerabona, who had worked at a top national accounting firm before deciding to become a teacher. Doing some job shadowing confirmed Ta's career choice.  
But, as the first one in his family to attend college, everything was a huge learning experience when he arrived at SIU. He decided to take the advice of Odom and Gebke to heart. He got involved. 
Ta was selected as a participant in the First Scholars program for first-generation students. He also quickly joined SIU's club lacrosse team, which had only four members his freshman year. He took on the role of vice president and went about recruiting. By the end of the year, the team had 20 members. Now 30 players strong, the team, of which he is captain, competes against universities such as Marquette and Northwestern. 
He joined the College of Business Diversity Committee as well as the accounting honors fraternity Beta Alpha Psi, of which he soon became vice president of programming. He is a student ambassador for the Illinois CPA Society and president of the Accounting Society, a group he's worked to help grow. Last year, there were 20 members; this year there are nearly 90.  
"I definitely found more opportunities than I even imagined," he said. "I enjoy being busy and helping others." 
Ta has participated in career fairs, forums, events, conferences and attended numerous guest speaker presentations and business events. He has taken advantage of professional opportunities as well. The summer after his sophomore year, Ta got an internship with UTC Aerospace Systems, an aerospace and building systems firm, and attended the Deloitte NextGen Leadership Conference. 
He earned an internship with Deloitte LLP the following summer and, after receiving his diploma on Saturday, May 14, Ta will intern there again this summer. He was actually offered a full-time accounting position there but has chosen to complete his master's degree first. He said SIU has connected him to mentors, professionals in the industry and internship opportunities that have proven invaluable.  
"I've made connections in business at the senior level and even at the partner level," Ta said. "A lot of big firms come to SIU because they know the reputation our students have for a mentality of working very hard and doing well." 
Faculty and staff at the College of Business said Ta deserves much credit for his success. 
"I met Steven when he visited campus and after talking with him, it was clearly evident that he would be a great Saluki," Gebke said. "He embodies the type of student we're known for – someone who sees opportunity and takes advantage of it, someone who works hard in the classroom and in extracurricular activities. He's such a sweet person, too. I have loved watching Steven grow into the person he's become. He has become a leader, not only in the School of Accountancy, but in the College of Business as well. I am proud of Steven and very thankful he let us be part of his life." 
Coming from the Chicago suburbs, Steven enjoys hiking and fishing in Southern Illinois as well as the more moderate weather and said that "the diversity in Southern Illinois is something I truly love." 
There are two proofs of Ta's commitment to SIU, he said. First, he'll be back in the fall, completing his master of accountancy degree. 
Second, he encouraged his younger brother, Brian, now completing his freshman year, to attend SIU as well.  
"I take it as a compliment that he even recommended his brother come to SIU," Gebke said. "It's the highest compliment a student can give to us." 
Brian also found himself torn between many universities, having visited some during Steven's search for a college home and others as he went on his own quest. Inspired by the same high school teacher and curriculum, he also chose accounting as his major and ultimately selected the same university. 
"It was a tough decision but I felt SIU offered more opportunities to get involved and that is the main reason I came here," Brian said. 
Steven said their family is proud "that both of us are taking advantage of the opportunities SIU is providing us." 
"It all really started for me at SIU and branches out from there -- the experience, the mentoring, the networking. I want to keep it going, too. My senior project for First Scholars is a mentorship program. I'm passing along career and interview tips and helping younger students form valuable connections," Ta said. "One of my goals after I get my master's is to give back to SIU. I've appreciated the alumni and people here who helped me and inspired me and I want to pay it forward -- whether with donations, providing internships, mentoring, or however I can help. I've received all of these opportunities because of people at SIU and connected with SIU and in appreciation for how everyone has helped me, I'm going to help others."