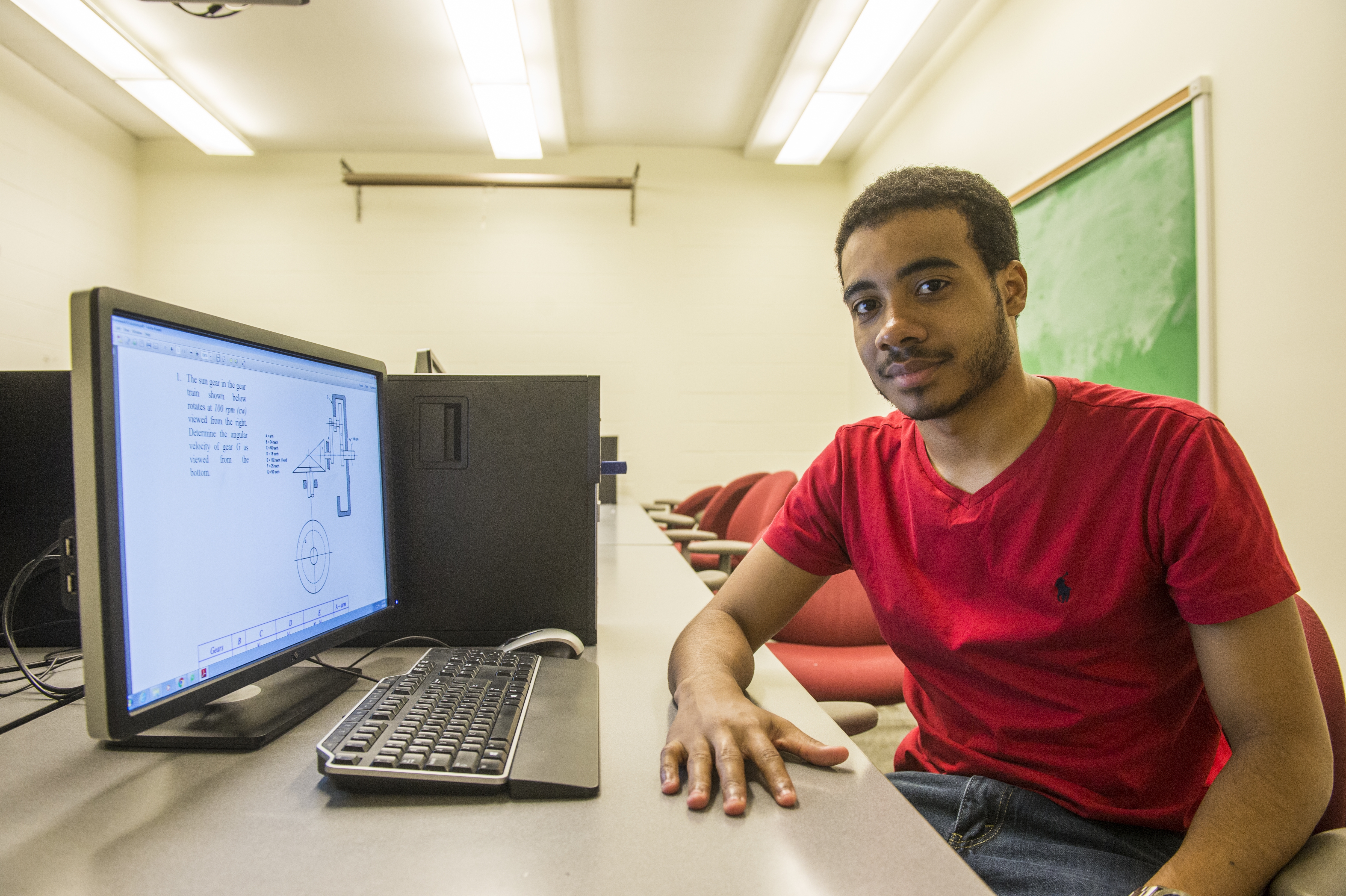 Ready for the next chapter -- Nigel Cardriche works in a laboratory in the Engineering Building at Southern Illinois University Carbondale. Cardriche, who 11 years ago fled New Orleans with his family as Hurricane Katrina approached, will graduate this weekend with a bachelor's degree in mechanical engineering after a successful student career that included a stint as president of the SIU chapter of the National Society of Black Engineers. (Photo by Steve Buhman)
May 11, 2016
Graduating senior carves out niche at SIU
CARBONDALE, Ill. – Nigel Cardriche sat in the car with his family, stuck in traffic on the outskirts of New Orleans. It was late August 2005, and the 11-year-old boy had always looked forward to what he and his friends slyly called "hurricane break" with enthusiasm. 
For as long as he could remember, his mother, Clara, had taken him and left the city whenever there was a hint of the troublesome storms making landfall nearby. Typically, it meant a mini-vacation in Texas or a visit with family friends. And no school for a few days. 
But this time things seemed different. Cardriche, a sixth-grader at a local Catholic school on New Orleans' east side, noticed a more serious tone among the fellow travelers making their way out of the city as this new storm – they were calling this one Katrina – headed their way. And this was the first time he could remember being stuck in traffic for more than an hour. The roads were so clogged that some people had gotten out of their cars and were visiting with other drivers when the first raindrops began to fall. Soon, it turned into a deluge, driving them back into their cars to sit and wait. 
Katrina was arriving. And for Cardriche, who will graduate from Southern Illinois University Carbondale on Saturday, May 14, with a bachelor's degree in mechanical engineering, it was the beginning of an odyssey that would take him through several homes and schools during the next year. 
"Hurricane time for us was more like vacation time," he said. "Normally they don't hit, but you get a week off.  My mom would always take me out of the city, just in case. But there had never been a bad hurricane for me until then, so I had never really thought it was dangerous. 
"You could tell it was different this time," he said. "People were taking it seriously." 
He couldn't have known it at the time, but Katrina would make history as the costliest hurricane in U.S. history, causing some $125 billion in damage. It also was one the deadliest, taking an estimated 1,200 to almost 1,900 lives. Once he, his mother and aunt arrived at a friend's house in Shreveport, the effects of the storm's fury began to come through on television sets there and around the country. And with a substantial number of family members still in New Orleans, Cardriche was riveted. 
"Most of my family stayed, but my mom is the worrying kind, especially where I'm concerned," Cardriche said. "On the TV, we could see the storm had begun hitting with full force and we watched the flooding, people being rescued from rooftops. As the oldest kid at that house, I kind of knew that this was more than normal. But when my mom and my aunt tried to call family member and couldn't get through it really hit home." 
It took nearly two weeks for them to reach their New Orleans family members – all had survived, though all had suffered property damage, with some being forced to climb onto their roof when dozens of levees, flood walls and storm surge protection structures failed. The apartment building where Cardriche had lived suffered damage and flooding, though his mother eventually was able to return and salvage some of his belongings, including his game console. 
"The fact that I got that back and that it still worked told me the flooding was not too bad in my room, at least," he said, though his boarded-up window had been smashed out, likely by a falling tree. 
Cardriche would never return to New Orleans, at least not as a child. Instead, he and his family began a series of heart-wrenching moves, first to a shelter for two weeks ("That was awful, to be honest," he remembers) and then to a motel for a few more before finally settling in an apartment. A serious and successful student, Cardriche was relieved to get back into school routine, enrolling at another Catholic school in Shreveport, where he was joined by some of the nuns from his old New Orleans school, who also had fled the city. 
"The principal was there from my old school, and that was good because she had been a big influence on me," he said. 
But the instability wrought by the storm's power continued to plague him. Most of his family had relocated more permanently to Little Rock, Ark., and so they were again on the move. He would finally finish his sixth-grade year in his third school that year, and more than 350 miles north of where he started. The emotional wear was difficult. 
"I easily adapt and make friends, but I thought I'd be in Shreveport for the rest of sixth grade," Cardriche said. "But I found out at Thanksgiving we were moving to Arkansas. I didn't think it would be hard on me, but leaving all the friends I made in Shreveport, I remember crying. I felt real pain because I had made real good friends there." 
Settled in Little Rock, Cardriche would go on to graduate from Catholic High School for Boys in 2012. It wasn't long before thoughts of college and the future beset his mind, and one day a mailer from SIU found its way to him. 
"I was always a good student, but I don't test well under pressure and my ACT scores weren't as good as some schools demanded," he said. "I was happy SIU wanted me, and took me for who I am and believed in me." 
Mechanical engineering seemed a great fit for the young man who grew up loving super heroes such as Iron Man and Batman. 
"It was the gadgets," he said, laughing. "These were guys that didn't necessarily have super powers, but they had the knowledge on how to make those. I mean, Tony Stark has an engineering degree, so there you go. I can build my own suit and save the world." 
Cardriche became a leader on campus, heading up the campus chapter of the National Society of Black Engineers, a group he also refers to as "family" and one that helped get him through tough times, such as when a friend and fellow student died in 2014. 
"They really helped me get through that, by dragging me out of my room to volunteer or shoot hoops or go for a walk," he said. "That's when I realized how much they meant to me." 
Cardriche also says he benefitted from SIU's "Living Learning Communities," which strive to place students with similar majors and classes in the same residence halls. 
"It definitely helped with homework because no matter what kind of engineering you're studying you still take the same basic math and science courses," Cardriche said. "When the guy living two doors down from you is taking the same Calculus II class you can exchange information and help each other. 
"To me, SIU has been all about that team concept, which is how engineering is done in the real world," Cardriche said. "I haven't fully decided what I'll do now – join the workforce or go to graduate school. The main goal for my future is to gain the necessary experience in mechanical engineering so I can contribute. This has always been my goal, and the reason I chose mechanical engineering as a major. I want to make an impact on the world."