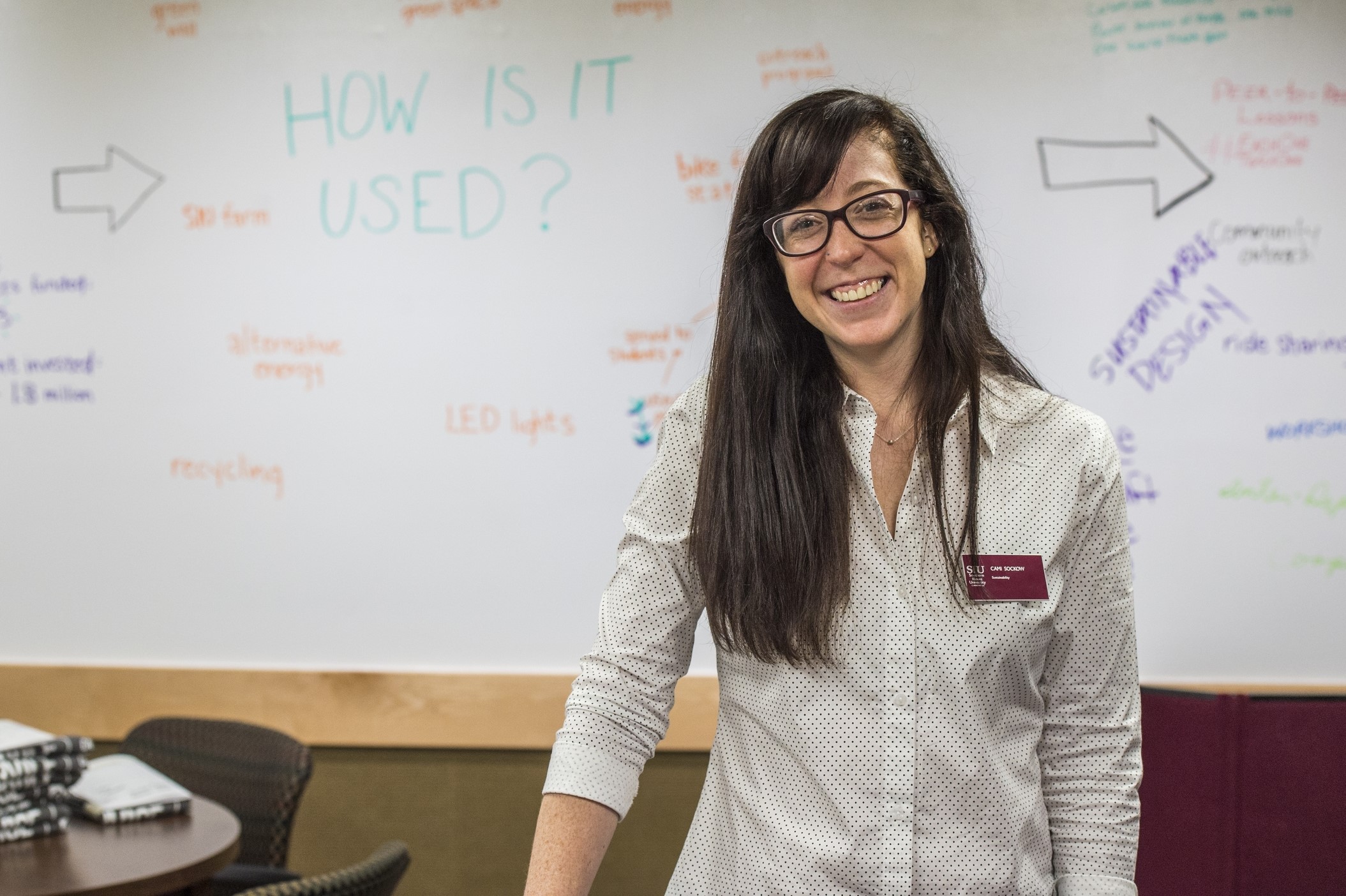 May 11, 2016
Graduate finds her calling in sustainability education
CARBONDALE, Ill. -- Cami Sockow has known since she was a young girl that she wanted to help people. She didn't have a clue how, though. 
Sockow, who lived south of Detroit in Howell, Mich., until the age of 12 when she moved to Red Bud, knew she cared about people and planet earth. She wasn't sure how to translate that into a career though. So, she enrolled at Southern Illinois University Carbondale and began exploring her options.
That exploration process has been ongoing but, she is proud to say she's now completing her master's degree in geography and environmental resources with a focus on sustainability and she will be walking across the stage during commencement ceremonies on Saturday, May 14. 
"Not everybody has their life all figured out at 18," she said. As an undergraduate, Sockow initially decided to major in psychology but quickly decided that wasn't the right direction for her.  Sockow said she then "went down the path of three other majors which I linked to contributing to an individual's health and well-being." 
Social work wasn't the right fit, either, so with a love for adventure and the outdoors, she looked toward forestry. But, the daughter of Michelle Sockow and Tom Sockow was afraid a forestry career might not have as much of a "people connection" as she wanted. She eventually settled on a leisure services management major with a focus on outdoor recreation. 
"It combined my love of the outdoors and helping people through exposing them to the enlightenment of being one with nature and it educated them about the importance of nature," she said. 
She enjoyed her time at SIU, including working for about 2 ½ years with outdoor pursuits in Recreational Sports and Services. She noted that she actually worked three jobs to help pay her way through school. 
"SIU allowed me to discover different avenues of how I can live life to the best of my ability and feel fulfilled. I've always felt supported by my professors who have pushed me and believed in my ideas," Sockow said. "I've felt the freedom to be able to figure out what avenue works best for me and I've had a lot of support along my journey because that's what life is, a journey. I went a lot of different routes and figured out they weren't for me but with encouragement and support from my mom and people at SIU telling me I can be whatever I want to be, I got it figured out." 
After completing her bachelor's degree in 2012, she took an internship position as a naturalist with the Eagle Bluff Environmental Learning Center in Lanesboro, Minn. She enjoyed working with children from schools all over the Midwest, providing experiential learning activities involving geology, nature and culture. She stayed on for the summer, assisting with summer camp.  
While she loved what she was doing, she realized she wanted something more. Her time in Minnesota showed her "different ways in which exposure to the outdoors can lead to a respect and love for it, specifically through science," and also convinced her that many people don't know or understand the connection. It solidified her love for teaching people about the effects of their actions as well.  
"I came to realize that sustainability affects everybody, no matter what class or race or position people are, it still affects them and speaks to them. I realized I wanted to teach people about how they can effect positive change in their lives and the lives of others and the planet through sustainability," she said. 
Sockow decided to return to SIU to focus on sustainability education. She completed her geography and environmental resources certificate of sustainability and worked as a department manager for the Student Recreation Center. Then she began working on her master's degree in geography and environmental resources with a focus on sustainability. 
In May 2015, Sockow was thrilled to acquire a graduate assistantship position in SIU's Sustainability Office. She dove right in, embracing the work and brainstorming ideas and initiatives. Three weeks later, the office was without a full-time coordinator, but Sockow filled in until Geory Kurtzhals was hired for the position later that fall. Kurtzhals said Sockow didn't just keep the office open – she moved it forward. 
"Cami has a passion for helping our SIU community understand how sustainability affects them and their families and she plays a vital role within the Sustainability Office and its programming. She was in the graduate assistant role before I arrived and during a summer when there was no full-time office coordinator, Cami connected with stakeholders across campus to build the foundation for programs this year, including the Sustainable Film Series, the Tailgating/Recycling Collaboration at home football games and the Farm to Fork Dinner," Kurtzhals said. "She has served as my right hand during my first year as sustainability coordinator and doesn't hesitate to accept a new challenge or opportunity to learn." 
It was a labor of love, Sockow said. 
"My love is really education so I tried to take advantage of the opportunity to create programs and bring students, faculty and staff together to focus on the issues," Sockow said. 
Sockow worked on a number of projects and initiatives.  The Sustainable Film Series featured a series of movies educating viewers about a variety of topics, from biodiversity to sustainable urban design. Sockow and fellow graduate assistant Greg Aldrich, along with about 25 volunteers, worked with Plant and Service Operations, Saluki Athletics and Recreational Sports and Services to initiate the Tailgating/Recycling Collaboration at all home football games. The result was an increase of about 25 percent in recycling of refuse from the games, she said. 
She also is proud of the first university Farm to Fork dinner, conceived by Sockow and held this spring to showcase the foods grown or raised in the region. SIU's Chef Bill Connors prepared the dinner. Sockow led more than 20 student volunteers who presented the dinner for an appreciative community audience.  
Recognizing the passion students have for sustainability, Kurtzhals said she and Sockow initiated the unpaid Sustainability Fellows internship program this semester, resulting in a new role for Sockow. She is the Fellows coordinator. 
"She is attentive and committed to these passionate students, helping them develop professional skills, learn how to influence others and make a difference in the world around them. I could not have started this powerful program without Cami's support," Kurtzhals said. "Cami strives to make connections with students from all backgrounds as well as with faculty and staff." 
Sockow already knows what dream job she will pursue when she finishes her obligations at SIU. She will seek a position in sustainability education, perhaps at the university level, because that's where she discovered her calling. 
"By exploring all of the different possibilities at SIU, I was able to find a career path I'm absolutely passionate about," Sockow said. "I've found my passion within education but not in a conventional way – rather, by educating through experience. Experiential learning is something you can connect with no matter what age you are. I've experienced that kind of learning in many of my classes at SIU and my goal is to provide those types of learning experiences to other people in the area of sustainability."