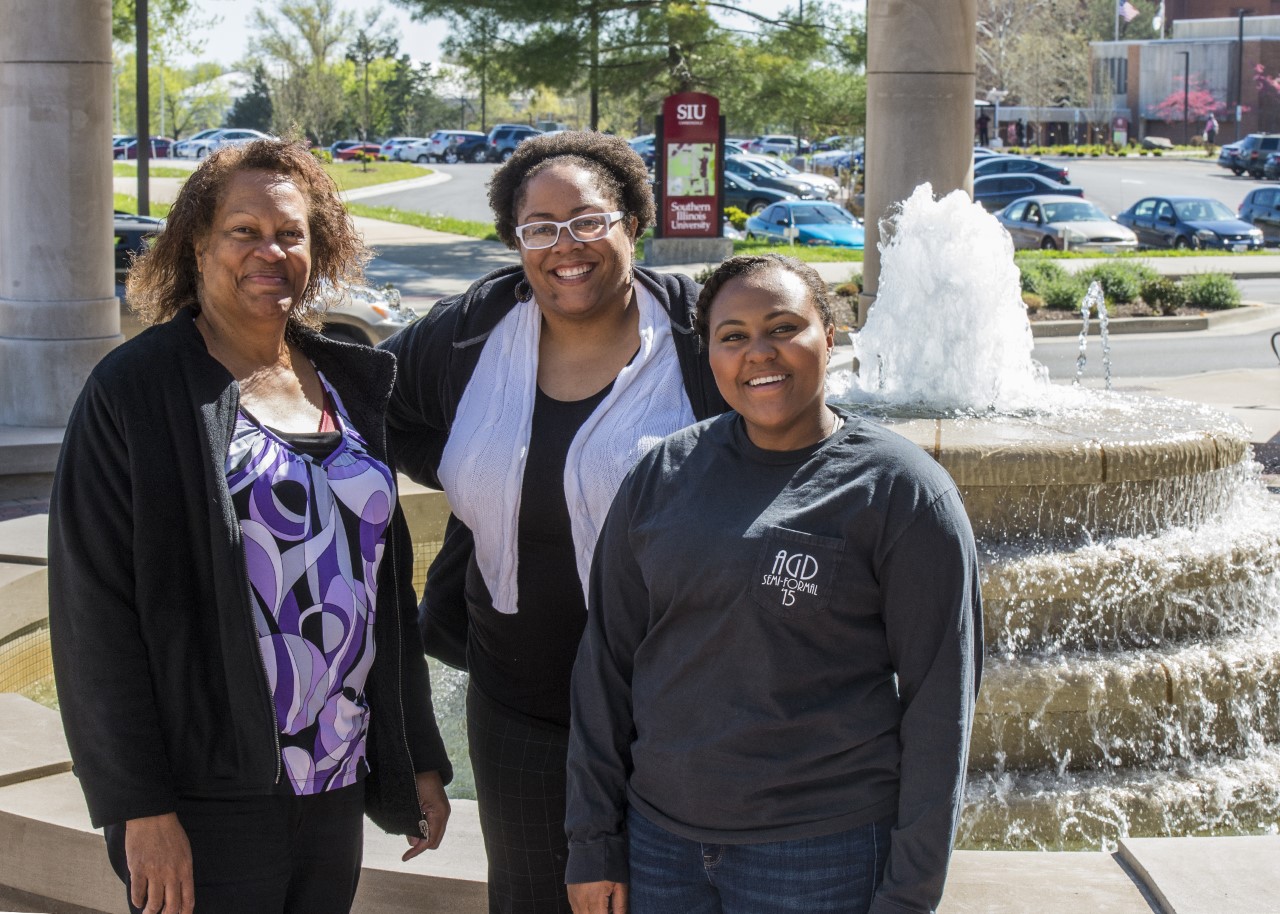 Three Smith Salukis – Three generations of the Smith family are simultaneously attending SIU. They are, from left, Marian Smith of Mounds, Arianne Smith of Carbondale and Cierra Smith of St. Louis. (Photo by Steve Buhman)
May 06, 2016
Three generations of Smiths pursuing dreams at SIU
CARBONDALE, Ill. -- Southern Illinois University Carbondale's student body includes more than 150 Smiths, but three of them are particularly well acquainted. 
That's because Marian, Arianne and Cierra Smith represent three generations of the same family. 
After retiring from the workforce, Marian Smith returned to college in the fall of 2015 to complete a degree quest she began years ago. At the same time, her granddaughter, Cierra Smith, embarked upon her college career. They joined Marian's daughter Arianne, also an SIU student as well as an employee. 
All three are full-time students, each with a different major and each taking a different path to complete her education. Cierra, 18 and a 2015 graduate of Mehlville High School in St. Louis, resides on campus where she is active in various organizations and activities as she pursues her degree in radiologic sciences. 
Marian, who is 65 and proudly proclaims that she has earned every one of those years and credit for them, makes the long drive from Mounds to attend classes each Tuesday and Thursday as she works toward a degree in social work. Arianne, 37, lives in Carbondale and works as a chief clerk for University Housing while she pursues a degree in university studies through online classes. 
Marian's SIU adventure actually began many years ago as an elementary education/special education student. She left school to raise three children and work. After retiring in 2010 following a 21-year career with the United States Department of Agriculture Farm Service Agency, she began thinking about the past and the future. 
"I wanted to finish what I started all those years ago," she said. 
Discovering she could take advantage of free tuition through the Senior Citizens Courses Act, she decided to enroll in classes for the first time in decades. She changed her major this time around. 
Marian said she's really enjoying school, but says with a chuckle that she wishes she had listened to her daughter and avoided scheduling classes at 8 a.m. due to the 50-mile drive to school, particularly in recent weeks since pain from a pinched nerve in her back requires her to stop and rest part-way through the drive. She anticipates graduating in spring 2017 and is already making plans to obtain her master's degree.  
"My first thought was I would like to work in a nursing home but I'm exploring all of my options now," Marian said. 
It comes as no surprise to Arianne and Cierra that the family matriarch is keeping busy and pondering a second career at a time in life when many people just want to take it easy. Marian is a licensed food and sanitation worker, loves attending activities her nine grandkids are involved in when possible and has long been a caregiver for her mother, now 92. 
Marian is teaching a weekly crafts class at St. John Praise and Worship Center in Pulaski, volunteers frequently to serve a weekly church dinner, and is an avid collector of Beanie Babies, black Barbie's and porcelain dolls and other things she likes. She enjoys crocheting, reading, and is a self-proclaimed "movie fanatic." Her favorite flick is the original "Star Wars," she said. 
Arianne, of Carbondale, first enrolled at SIU in 1997. While working and raising daughter Latia, 13, and son Jyair, 11, she has taken classes off and on at SIU through the years. About eight years ago, she was hired at SIU's University Housing and since then, the drive to complete her degree and pursue career opportunities and advancement has gotten stronger. Now, she's pushing to complete her degree. 
"I really like the online program," Arianne said. "Even the books are online and it's easier for me to continue working while I get my degree in this program." 
She said she loves the diversity on campus and the many opportunities the university and the community offer. In addition to working and going to school full-time, Arianne is secretary for SIU's Black Faculty and Staff Council, homeschools her children through the Gift of Love Charity literacy program, and keeps busy with her kids' involvement in sports, band, martial arts and 4-H. 
She expects to graduate in December and then go right back to school to complete her master's degree. While her immediate goal is to obtain an administrative position, her dream is to someday own a business, perhaps a recreational facility providing activities for young people. 
Cierra, the daughter of Teresa Thomas and Charles Smith (who is Marian's son and Arianne's brother) didn't choose SIU because of the family connections though. Rather, she was impressed by the four-year radiologic sciences program, which she said is more comprehensive than the one- or two-year programs many institutions offer. She said when she completes her studies, she will be a radiology technologist with certifications for computed tomography and magnetic resonance imaging. 
Various other things attracted Cierra to SIU as well.  She's involved in Lambda Nu, the national honor society for radiologic and imaging science, as well as the National Society for Collegiate Scholars and Alpha Gamma Delta sorority. She is an accomplished baton twirler and is auditioning for the SIU feature twirler position. Growing up she participated in a number of activities including dance, karate, cheerleading and gymnastics but her passion is the baton and she has performed at Disney World, Rams football games, in Branson, at Universal Studios and in numerous other venues. 
"SIU has been pretty great," Cierra said. "I like how the classes are taught. It's really interesting and I really like how there is so much to do and get involved in." 
Cierra said she will likely continue her studies and become a radiologist. Perhaps someday, she will even get her medical degree, she believes. All three generations of Smiths are confident they can fulfil their dreams and goals and they say SIU is helping them do it.