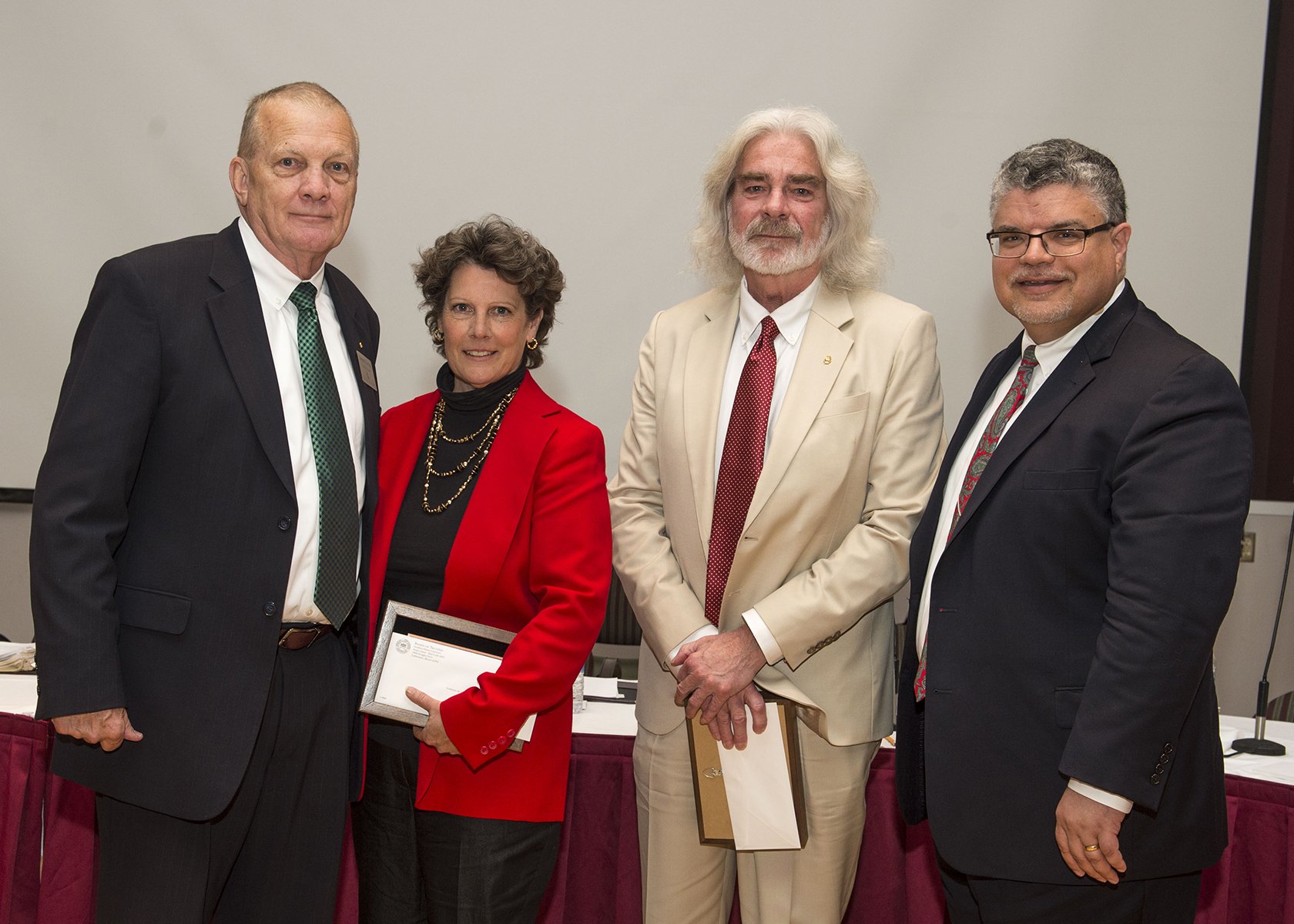 2016 Sturgis Award recipients: Jan Thompson, second from left, and Jon Davey, second from right, winners of the Lindell W. Sturgis Memorial Public Service Award, are flanked by Board of Trustees Chair Randal Thomas, left, and SIU Carbondale Interim Chancellor Brad Colwell. Thompson received the award for professional achievement; Davey received the award for public service. (Photo by Russell Bailey)
May 05, 2016
Sturgis award presented to Davey, Thompson
CARBONDALE, Ill. -- From running a workshop series to get kids interested in architecture, to researching and documenting the horrors of World War II POWs and present-day reconciliation efforts, Southern Illinois University's 2016 Lindell W. Sturgis Award recipients have a strong commitment to public and professional service. 
The SIU Board of Trustees today (May 5) presented the awards to Jon D. Davey and Jan Thompson during its regular meeting. Davey, a professor in architectural studies and interior design, received the Sturgis Memorial Public Service Award; Thompson, a professor in radio, television, and digital media, received the Sturgis award for professional achievement. 
The annual award, presented by the board since 1980, recognizes SIU Carbondale employees for public service unrelated to their jobs.   The award honors Sturgis, a Metropolis native who served more than 30 years on the SIU Board, including as chair from 1969 until retiring in 1971.  Sturgis passed away in 1972.  
Davey, a four-degree SIU Carbondale alumnus, joined the faculty as an assistant professor in architectural technology in 1986. Prior to that, he was a visiting lecturer for five years. Davey became an associate professor in 1993 and professor in 2005. He is widely recognized for his work as program director of Kid Architecture, an award-winning summer workshop that introduces children from fourth grade through high school to architecture, urban design, landscape design, interior design and industrial design. He also been involved as program director for LEGO camps at the university for five years and conducted 81 travel and study programs to Europe, Greece, Turkey, Egypt, India and Cuba. 
"I'm very honored but I have had a great deal of help and support to do the things I've done," said Davey, who lives in Carbondale. 
Davey said his continuing involvement with the Kids Architecture camps for nearly three decades is simple: he enjoys teaching. 
D. Scott Frisch, a senior lecturer in the School of Architecture, wrote in his nomination letter that Davey is a "true educator" who "has inspired us and taught us many lessons along the way that have been above and beyond the normal class setting." 
Peter B. Smith, an associate professor in the School of Architecture, wrote in his nomination letter of Davey's numerous contributions. Davey's other efforts include serving as design leader for lighting the Pulliam Clock Tower, and leading student volunteers providing design assistance and consultation to families after the deadly February 2012 tornado that hit Harrisburg and other parts of the region. He is also president of the organization responsible for restoring the R. Buckminster Fuller Dome Home in Carbondale, and directed the Eco-Challenge in the Dominican Republic during spring breaks in 2014 and 2015. Davey also spent the winter break in 2013 teaching and volunteering in Haiti. 
Smith wrote that Davey conducts the Kid Architecture workshops pro bono in a desire to "make a difference in young people's education of the built environment." This summer will mark the 28th anniversary of the workshops. Smith estimated there have been more than 300 workshops with more than 3,000 participants during that time. 
"Davey's philosophic foundation for kid architecture is built upon the assumption that those who are exposed early to architectural design will have a different conceptual basis from which to formulate more complex and differential ideas about the built environment," Smith wrote. 
Davey is a Vietnam-era and Cold War-era U.S. Army veteran who served in Europe. His university awards include the College of Applied Sciences and Arts' College Scholar of the Year and earning college teacher of the year honors twice. He is a five-time School of Architecture top teacher recipient, and received the college's E.J. and Mary C. Simon Distinguished Faculty Award. Davey earned a doctorate in workforce education from SIU Carbondale in 2011, and has master's degrees in education and environmental design, and a bachelor's degree in architectural studies. Davey was president of the Southern Illinois Chapter of the American Institute of Architects and is faculty adviser for Sigma Lambda Beta fraternity. He has also been a master guide at Bellefontaine Cemetery in St. Louis for more than 30 years. 
Thompson has been at SIU Carbondale since 2000.  Thompson's research, work and personal efforts over more than a quarter century to tell the story of World War II POWs is having an impact, Dafna Lemish, dean of the College of Mass Communication and Media Arts, wrote in her nomination letter. 
Thompson's "contribution to keeping the legacy of the POW alive, to reconciliation with Japan, and to documentation of a very dark -- yet neglected -- part of our history is remarkable and most deserving of his prestigious award," Lemish wrote. 
Thompson's work focusing on the survival stories of World War II veterans, including her late father, Robert, for nearly 25 years, resulted in two films, "Never the Same: The Prisoner of War Experience," and "Tragedy of Bataan," a half-hour television documentary and five-part radio companion. She heads the nonprofit veterans' group, American Defenders of Bataan & Corregidor Memorial Society, and she accompanied former POWs to Japan in October to witness and film the "historic apology by Mitsubishi Materials for their use of POWs as slave labor," and met with Caroline Kennedy, the U.S. Ambassador to Japan. 
A film Thompson is working on will focus on how people in both nations, including former POWs, are coming to terms with what happened 70 to 75 years after the war. 
Lemish notes that Thompson, invited to place statements in the Congressional Record, continues to work closely with the U.S. Department of State and the Japanese Ministry of Foreign Affairs to send former POWs back to Japan for reconciliation. U.S. Sen. Mark Kirk, R-Illinois, in presenting Thompson's statements to be in the Congressional Record, applauded the work of Thompson and American Defenders of Bataan & Corregidor Memorial Society. Kirk noted that they "had the historic responsibility of being offered the first Japanese corporate apology for forced labor by American prisoners of war – POWS – during World War II." 
Thompson said she is working to have President Obama acknowledge the POWs and those who fought in the Pacific when he visits Hiroshima in May. 
"Jan's work is helping preserve the legacy of these men not just in the United States but internationally," Lemish wrote. "These trips are deemed important in the U.S.-Japan Alliance and have been cited not only in international media but by top United States representatives."
Thompson, who lives in Makanda, has produced more than 300 television programs and multi-award winning prime time specials for PBS called Hidden Journeys. She is a three-time Emmy recipient. Thompson became an associate professor in 2006 and a professor in 2013.
Thompson said she is honored receive the award. "I know that there are many others who are dedicating their lives to helping others," she said.
Thompson is also adviser to "alt.news 26:46, a student produced news magazine program that has earned 31 regional professional Emmys and seven first-place College Television Awards over more than a decade. She is a three-degree graduate of Roosevelt University in Chicago.