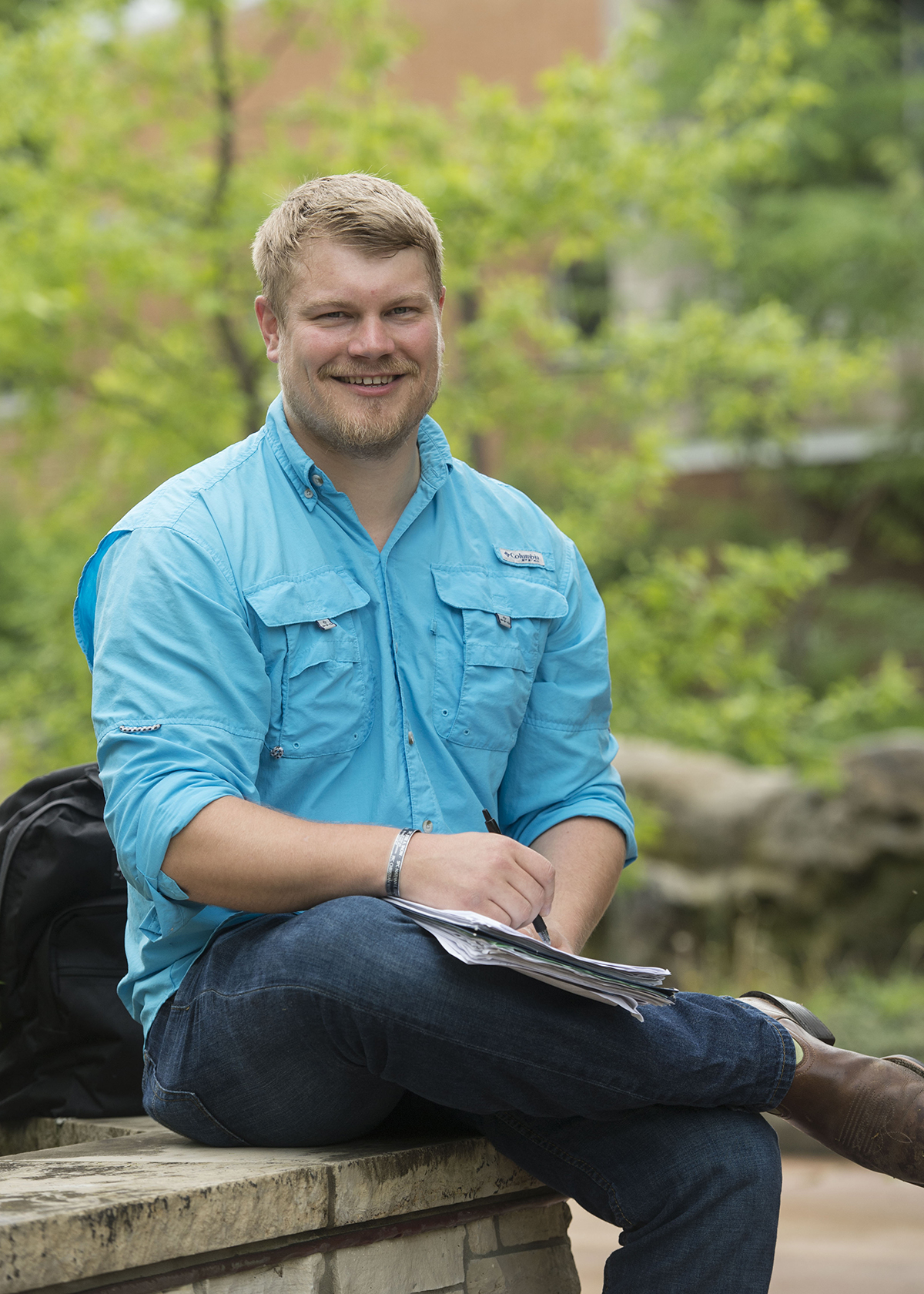 Andrew Reuschel, a Golden, Ill., native, graduates from Southern Illinois University Carbondale May 14 with a double degree in agribusiness economics and in crop, soil and environmental management. Commencement for the College of Agricultural Sciences is at 9 a.m. in the SIU Arena.   (Photo by Russell Bailey)
May 05, 2016
Army veteran makes the most of SIU experience
CARBONDALE, Ill. – Andrew Reuschel initially found it difficult to adjust to the pace of college life at Southern Illinois University Carbondale. While many new students are overwhelmed by their first weeks at college, Reuschel found it all to be rather slow. 
Reuschel, a Golden, Ill., native, came to SIU after serving in the U. S. Army. He said the experience made him "grow up fast." He worked in military intelligence attached to an infantry group. He was in Iraq in 2008 and Afghanistan in 2010, leaving the Army in 2012 as a sergeant. The fast pace of life and the experiences he had in active military duty, he said, made adjustment to civilian life a challenge – but it also prepared him for college success. He'll graduate May 14 with a double degree in agribusiness economics and crop, soil and environmental management. 
"Transitioning back into the civilian world was much harder than I anticipated," he said. "My military experiences definitely helped, though, when it came to leadership positions and teachable moments in my fraternity." 
His wife, Emily, a fourth grade teacher at Carterville Intermediate School, is also a factor in his success, he said, crediting her with inspiring him and encouraging him to excel. 
"She never allowed me to turn in low-quality papers and consistently praised me while I was working hard on a project," he said. 
The two met just a week before Reuschel began his first SIU semester. Emily was finishing her student teaching through Illinois Wesleyan University. She joined Reuschel in Carbondale, and they married in the summer of 2014. 
Reuschel said his wife encouraged him to be involved with the College of Agricultural Sciences and to take a leadership role. He had received similar advice from his friends in the military, who urged him to build a strong support system for himself. 
Reuschel turned first to the Alpha Gamma Rho Agricultural Fraternity, confident that he'd find there "a good group of guys" as the backbone of that support system. He's been involved with several other agriculture-related Registered Student Organizations as well, including Team Red, White and Blue, Alpha Zeta Agricultural Honors Fraternity, the Order of Omega Honors Society, Inter-Greek Council, Inter-Fraternity Council, Agronomy Society and the Agricultural Student Council. 
He first considered SIU because of its location – far enough away from home but yet still in Illinois, which was a requirement in order to apply his veteran's benefits. In addition, he knew about SIU's excellent reputation as a military-friendly school, saying that held "big appeal."   
Ultimately, he chose SIU because he fell in love with the campus – even though his unofficial campus tour was limited to a walk from the Student Center through Thompson Woods to the Agriculture Building. "It felt more like home than the other universities I looked at," he said. 
Reuschel took advantage of hands-on learning opportunities with internships and assistantships. He worked for Pioneer Hi-Bred International in McLeansboro as a soybean and wheat production intern responsible for crop scouting -- checking for pests, diseases and weeds and analyzing crop progress and estimated yields. 
He also worked an internship at Master's Choice in Anna, where he was a nutrition research intern responsible for analyzing competitor corn and nutrition data to guide hybrid production, marketing and sales. He was a sales intern with LaCrosse Seed in Carbondale, where he handled cover crop seed sales in a territory that covered four states, and represented the company at field days, agricultural seminars and trade shows. 
Reuschel rounded out his learning-by-working experience at SIU University Farms, where he worked with machinery and equipment, animal care and facility maintenance. 
He'll step into a fourth internship after commencement at Monsanto, working in agronomy research in Southern Illinois. After that, he'll move on to Iowa State University, where he will begin graduate work this fall in agronomy, specializing in cover crops and soil conservation. He and his wife plan to move back to Golden after Iowa, where Reuschel will work with his father on the farm that has been in his family for six generations. 
"Andrew brings many life experiences that contribute to his ability as one of our outstanding student leaders both in the classroom and outside the classroom to his peers," Susan Graham, who works in the college dean's office, said. "We know he is going to succeed in life at whatever he chooses to accomplish."