May 02, 2016
Little, Guebert named assessment fellows
Two administrative/professional staff members will serve as fellows in a university program designed to improve student achievement.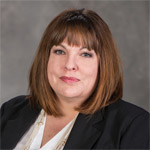 Kim Little, director of undergraduate online student services for the College of Business, and Alicia Guebert, coordinator of recruitment and internships for the College of Mass Communication and Media Arts (MCMA), will serve in the Assessment Fellows Program in the fall 2016 semester. The program, administered through the Office of the Associate Provost for Academic Programs and the Office of Assessment and Program Review, seeks to provide academic and co-curricular assessment experience and skill development to faculty and administrative/professional (A/P) staff members who have an interest in student learning.  
Jim Allen, associate provost for academic programs, said the program has been very successful thus far. The program started in the spring 2015 semester and continues to attract at least two administrative/professional staff or faculty members each semester, greatly exceeding Allen's expectations. 
"The commitment of these great colleagues to student learning is just beyond belief," Allen said.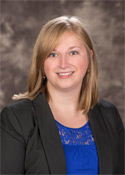 Guebert leads professional development workshops and administers MCMA's summer studies internship program. She plans to explore the correlation of co-curricular professional development engagement to student learning in MCMA. She also hopes to develop a method of assessment to determine the success and impact of co-curricular professional development activities on student learning outcomes and to use these data to build co-curricular programs that work toward more measurable outcomes. 
Little serves as the chair of the advisory council on academic advisement, coordinates the annual campus-wide summer summits and has served as an academic adviser both on-campus and now online in the College of Business.  She plans to assess student-learning outcomes on the College of Business advisement syllabus. She is also working with Andrew Balkansky, director of University Studies in the College of Liberal Arts, to develop a collaborative outreach effort with online University Studies and online business minors showing specific student populations a targeted path to degree completion. 
"I'm delighted to be collaborating with these two new Assessment Fellows," Allen said. "It's going to be another busy year of renewed work on student learning."