April 15, 2016
Beggs, Higginbotham to speak at commencement
CARBONDALE, Ill. – A former chancellor whose relationship with Southern Illinois University Carbondale goes back nearly four decades, and the first known Saluki to fly aboard a space shuttle, will be commencement speakers in May. 
Donald L. Beggs and Joan E. Higginbotham will be commencement speakers during May 14 exercises at the SIU Arena. The SIU Board of Trustees earlier approved honorary degrees for Beggs and Higginbotham. 
Higginbotham will be the keynote speaker at the 9 a.m. ceremony for the College of Agricultural Sciences, College of Liberal Arts, College of Science and School of Medicine. She will also be the keynote speaker at the 5:30 p.m. ceremony – where she will receive her honorary Doctor of Aerospace Science degree – for the College of Applied Sciences and Arts, College of Engineering and the College of Mass Communication and Media Arts. 
Beggs will be the keynote speaker at the 1:30 p.m. ceremony for the College of Business and College of Education and Human Services. He will receive the honorary degree, Doctor of Education Leadership. 
The SIU School of Law will hold its commencement ceremony at 3 p.m., May 13, in Shryock Auditorium. Kim Foxx, a former Cook County assistant state's attorney who is the Democratic nominee for that position in the November 2016 election, is the keynote speaker for that ceremony. Foxx is a two-degree SIU graduate; she earned a bachelor's degree in political science in 1994 and a law degree in 1997. 
Beggs, a two-degree alumnus and Harrisburg native, served SIU Carbondale for 32 years in various faculty and administrative positions, including as chancellor from 1996 to 1998. 
Beggs earned bachelor's and master's degrees in education, in 1963 and 1964, respectively. After earning a doctorate in educational measurement and statistics from the University of Iowa in 1966, he joined SIU's education department faculty that year. A prolific researcher, Beggs is a specialist in test development and measurement theory, writing four books and more than 30 articles on the topic over his career. 
He became associate dean of the Graduate School in 1970 and earned full professor rank in 1972. Beggs became dean of the College of Education and Human Services in 1981 and held that position until becoming chancellor. Beggs became president at Wichita State University in 1999. He retired in June 2012. Wichita State renamed the university's engineering research laboratory built in 2007 "Donald L. Beggs Hall," in his honor in July 2012. 
Four generations of Beggs' family attended SIU Carbondale. His grandmother attended the university in the late 1880s and his mother is an alumna. Beggs' wife, Shirley, is a two-degree graduate, and the couple's two children, Brent and Pam, and a daughter-in-law, Jeri, are alumni. The family established the "Beggs Legacy Scholarship," a fund benefitting legacy students in the College of Education and Human Services, and the "Beggs Symphony Fund" at SIU Carbondale, and similar scholarships at Wichita State University. The Beggs have four grandchildren and live in Bloomington.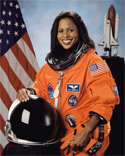 Higginbotham earned her bachelor's degree in mechanical engineering in 1987. 
Higginbotham served as a mission specialist aboard Space Shuttle Discovery during a 12-day STS-116 mission to the International Space Station in December 2006. She is the first known Saluki and third African-American woman to fly aboard a space shuttle and logged more than 308 hours on Discovery. Her primary mission was operating the space station's remote manipulator system. During the mission, Higginbotham's and other crewmembers' work included rewiring the space station's power system, retracting a solar panel and helping prepare the facility for future missions. 
NASA recruited Higginbotham, a Chicago native and youngest of four children, during her senior year at SIU Carbondale. Higginbotham spent 20 years with NASA, starting at the Kennedy Space Center as a payload electrical engineer before moving to the lead position for the Orbiter Experiments on Space Shuttle Columbia. After working on other assignments and participating in 53 space shuttle launches during a nine-year tenure at Kennedy Space Center, Higginbotham was accepted into the astronaut candidate training program in 1996, reporting to Johnson Space Center in Houston, Texas. 
While with NASA, Higginbotham earned two master's degrees from the Florida Institute of Technology -- management science in 1992 and space science in 1996. After leaving NASA, Higginbotham served as vice president of business development and worldwide production with Marathon Oil. In 2011, she became director of community relations for Lowe's Corp., based in North Carolina, where she develops and is involved with ongoing philanthropic strategies to support communities in the United States, Canada and Mexico through annual corporate contributions of more than $32 million.  In December 2015, Higginbotham transitioned to director of supplier diversity, where she identifies and develops the capability of high potential small and diverse suppliers and matches them with the enterprise strategic sourcing and merchandising teams for integration into new sourcing frameworks. She is also involved with other community activities. Higginbotham lives in Charlotte, N.C., with her husband, James Mitchell. She is a member of the North Carolina Central University Board of Trustees, appointed by Gov. Pat McCrory in 2013. 
She has received numerous national honors and awards. In 1997, she received the university's Distinguished Service Award, and was the 2007 Homecoming parade grand marshal.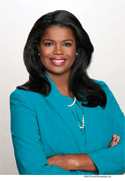 Foxx, a Chicago native, spent 12 years as assistant state's attorney in Cook County, including nearly five years as supervisor of the juvenile justice bureau. Most recently, Foxx worked as chief of staff for Cook County Board President Toni Preckwinkle, overseeing a $4 billion annual budget. She has served as chair of the Planned Parenthood of Illinois Board, and board president for Free Spirit Media, a non-profit organization that partners with schools and organizations to provide education, access and opportunity in media production to underserved urban youth, according to her biography. She is on the Adler University Board of Trustees. Foxx beat a two-term incumbent prosecutor in March and faces a Republican challenger in the November general election. 
Foxx and her husband, Kelley, and their two daughters live in Chicago.