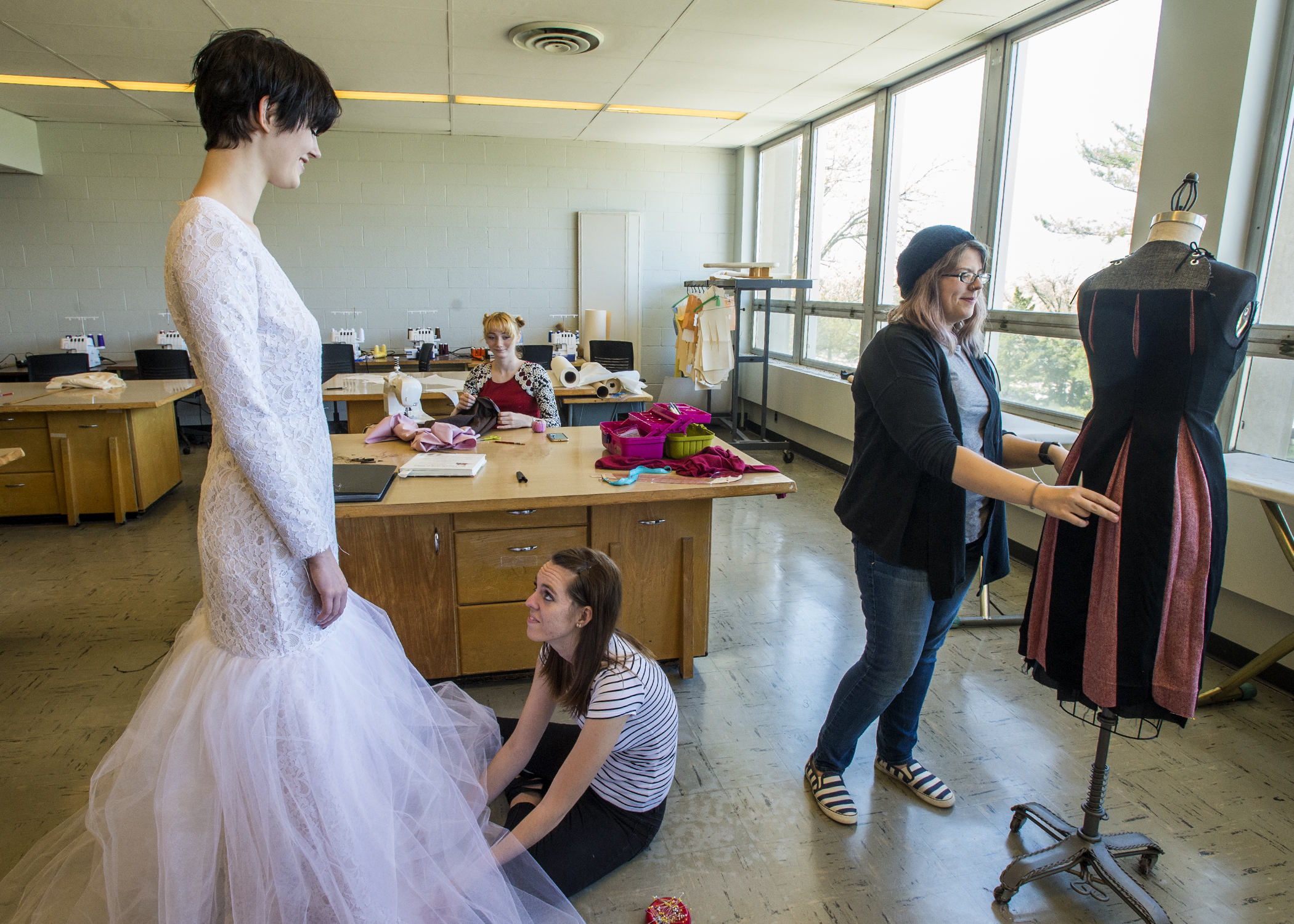 Setting the stage – Three senior fashion design students will present their original collections at the annual Southern Illinois University Carbondale 2016 Fashion Design and Merchandising Student Showcase and Fashion Show on April 21. Designers Jessica Hardwick, sitting, Christa McGrath, background, and Cristyn Farris, right, will present their works during the show. Working with Hardwick as a volunteer model is Ayla Gehner, a junior in social work. (Photo by Steve Buhman)
April 13, 2016
Show features creations by fashion design students
CARBONDALE, Ill. -- Spring signals an end to winter, the start of the baseball season, and a look at the latest in fashion and fashion trends. 
Student designers at Southern Illinois University Carbondale will present their work at the 2016 Fashion Design and Merchandising Student Showcase and Fashion Show. The annual event by students in the university's Fashion Design and Merchandising program is Thursday, April 21, in the Student Center ballrooms. 
This year's showcase includes the works of three senior student designers who have been creating their final collections. The runway fashion shows start at 7 p.m. The event is free and open to the public. 
The event starts at 6 p.m. with a student showcase of exhibits in the Student Center's J.W. Corker Lounge. The exhibit includes examples of course work and student projects from a variety of classes. One exhibit is a brand development collaboration, a project that displays the creative talents of fashion merchandising students, fashion designers, fashion stylists, and interior design students. The exhibits are available for viewing until 7 p.m. 
At 7 p.m., the runway fashion show starts with the 2016 "Dressed for Effect," featuring a line of spring dresses for all occasions. The second segment is the "Time After Time" collections, created by fashion design and merchandising students Sydney Baker, Morgan Bishop, Eva Dynes, Joshua Gavel, Olivia Martinez, Elizabeth Jean-Pierre and Anna Rutledge. 
The feature event follows with the presentation of three original garment collections from senior fashion designers. The students are responsible for every detail of their collections -- from concept to fashion illustration, fabric sourcing, patterning and construction, model and music selection, and accessory coordination. 
More than 150 students from across campus are involved in this event, including cosmetology students from John A. Logan College who help complete the final runway looks. 
"This fashion show gives our students hands-on experience in the entire design process, from concept to final garment production. In particular, design students have the opportunity to hone their work skills and understand the pressures and demands of the fast-paced fashion industry," said Laura Kidd, an associate professor and fashion design and merchandising program director, who supervises the final senior designer collections and their presentation. 
The featured senior designers and names of their collections, listed by hometown are:
Chicago and Marion: Cristyn Farris with "Cirque de Otage."
Dunlap: Christa McGrath with "Remember Me."
Tuscola: Jessica Hardwick with "A Flower for My Love." 
More information on the senior designers and the 2016 student showcase is available at http://architecture.siu.edu/undergraduate/fdm/designer-profiles-2016.php. For more information on the event, contact Kidd at lkidd@siu.edu or 618/453-1970.