April 13, 2016
Health care executives group honors two students
CARBONDALE, Ill. -- Two Southern Illinois University Carbondale students are being honored by the MidAmerica Healthcare Executives Forum for their academic excellence, volunteerism, leadership and involvement in health care activities.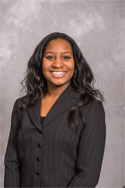 Avona E. Greene, a junior health care management major from Champaign, and Bryana Parker, a Chicago senior majoring in business management major with specialization in health care management, earned the MidAmerica Healthcare Executives Forum Award recently. The organization represents more than 200 health care professionals who lead organizations that include hospitals, health care systems and other health-care related businesses and operations throughout central and Southern Illinois.   
Greene was chosen as a recipient by the School of Allied Health's Health Care Management Program faculty and administration while Parker was selected by the College of Business Department of Management faculty and administration. 
Greene is a member of the Delta Epsilon Iota Academic Honor Society, the Student Healthcare Management Association and is an SIU cheerleader. She has a 4.0 GPA and has won a number of academic accolades including the College of Applied Science and Arts Honors Award, the Top 5% Psychology Student Award and the Student Athlete Honors Award and she has been on the SIU Dean's List each semester. She is a volunteer tutor for elementary school children, a service attendant at the Salt and Light Resource Center and the Salem Baptist Church Soup Kitchen, and is the founder of and a lecturer for the Central Illinois Community Action Coalition, which encourages junior high children to resist negative peer pressure. 
In addition, she has worked on campus at SIU and as an instrument maintenance assistant at the University of Illinois College of Veterinary Medicine, as a computer technician and lab assistant at SupporTech Computers Inc. in Champaign, and as a summer medical assistant at the Carle Hospital Heart and Vascular Institute in Champaign. She recently accepted a position as an academic peer advocate at SIU for the fall 2016 semester. 
Parker is treasurer for SIU's Delta Sigma Theta Inc. and also serves as the state facilitator for the organization, helping coordinate the sorority's work on a regional, state and national level. She is controller/treasurer for the Black Affairs Council and previously served as president. 
She has been active in the community, helping with Keep Carbondale Beautiful, visiting residents of local nursing homes, helping people through the Women's Center and creating Easter baskets for children through a local church.  
Parker holds a 3.21 GPA, has earned Dean's List recognition several times and was part of the University Honors program from 2013 to 2015. She is employed as a supervisor in the membership services office at the Student Recreation Center and was formerly a receptionist/office assistant there. After graduating in May, Parker plans to attend graduate school in the Atlanta area where her family now resides and obtain her MBA. 
Bart Millstead, American College of Healthcare Executives fellow, Southern Illinois Chapter president and vice president/administrator at Memorial Hospital of Carbondale, is presenting the awards on behalf of the organization. Parker will receive her award at 2:15 p.m. on May 4 in the College of Business dean's office and Greene's presentation is set for 11 a.m. April 26 in the College of Applied Science and Arts dean's conference room. The honor includes a certificate and monetary award.