March 21, 2016
Law school to host Gene and Katy Simonds Lecture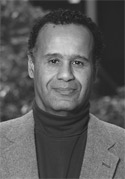 CARBONDALE, Ill. -- One of the nation's top experts on firearms and the Second Amendment will present the inaugural Gene and Katy Simonds Lecture later this month at Southern Illinois University Carbondale. 
Nicholas J. Johnson, a law professor at Fordham University School of Law, will present "Reclaiming the Heroes and Lessons of the Black Tradition of Arms," at 5 p.m., March 31, in Southern Illinois University Carbondale's Hiram H. Lesar Law Building. 
Admission is free, and the lecture is open to the public. A reception, with an opportunity for Q-and-A, will follow the lecture.
---
Media Advisory
Reporters, photographers and news crews are welcome to cover the lecture.  To arrange for interviews or for more information on the event, contact Alicia Ruiz, the law school's director of communication and outreach, at 618/453-8700 or aruiz@law.siu.edu
---
George Mocsary, assistant law professor, said the basis for Johnson's lecture is his 2014 book, "Negroes and the Gun: The Black Tradition of Arms," which looks at the African-American tradition and willingness to bear arms for self-defense. The discussion will explore the history of African-Americans in this country "embracing firearm ownership as a means of self-defense and condemning and eschewing firearms as tools of political violence," Mocsary said. 
Moscary, one of Johnson's former students at Fordham Law School, is among the co-authors with Johnson on "Firearms Law and the Second Amendment: Regulation, Rights and Policy," a casebook used primarily by law schools. The U.S. Supreme Court has cited Johnson's work on firearms law and Johnson has presented congressional testimony on the subject. He is a regular contributor to The New York Times, The Washington Post, The Wall Street Journal, National Review, The Christian Science Monitor, Huffington Post, ABC News and MSNBC. 
Johnson will also meet with students, including the Black Law Student Association and The Federalist Society, registered student organizations, and faculty, while he is on campus. 
"We are pleased to launch this new lecture series that will help us bring important conversations about law and public policy to a broader audience," Dean Cynthia L. Fountaine said. "Universities are uniquely positioned in our democracy to curate informed perspectives from across a diverse ideological spectrum. It is critical that we reach and engage citizens both outside and inside the university community in these conversations. The generous gift that established this series enables us to do this. We are grateful to the Simonds family for their continued long-time support of the Southern Illinois region."
The Gene and Katy Simonds Lectureship in Democracy series was established through a gift from Emma K. (Katy) Simonds, a longtime supporter of SIU Carbondale and the region. Funding supports a lecture, symposium or debate each year on a topic of current or recurring public interest, which explores common sense solutions to issues related to the common good by applying the principles of limited government, popular sovereignty, personal liberty, responsibility and federalism.