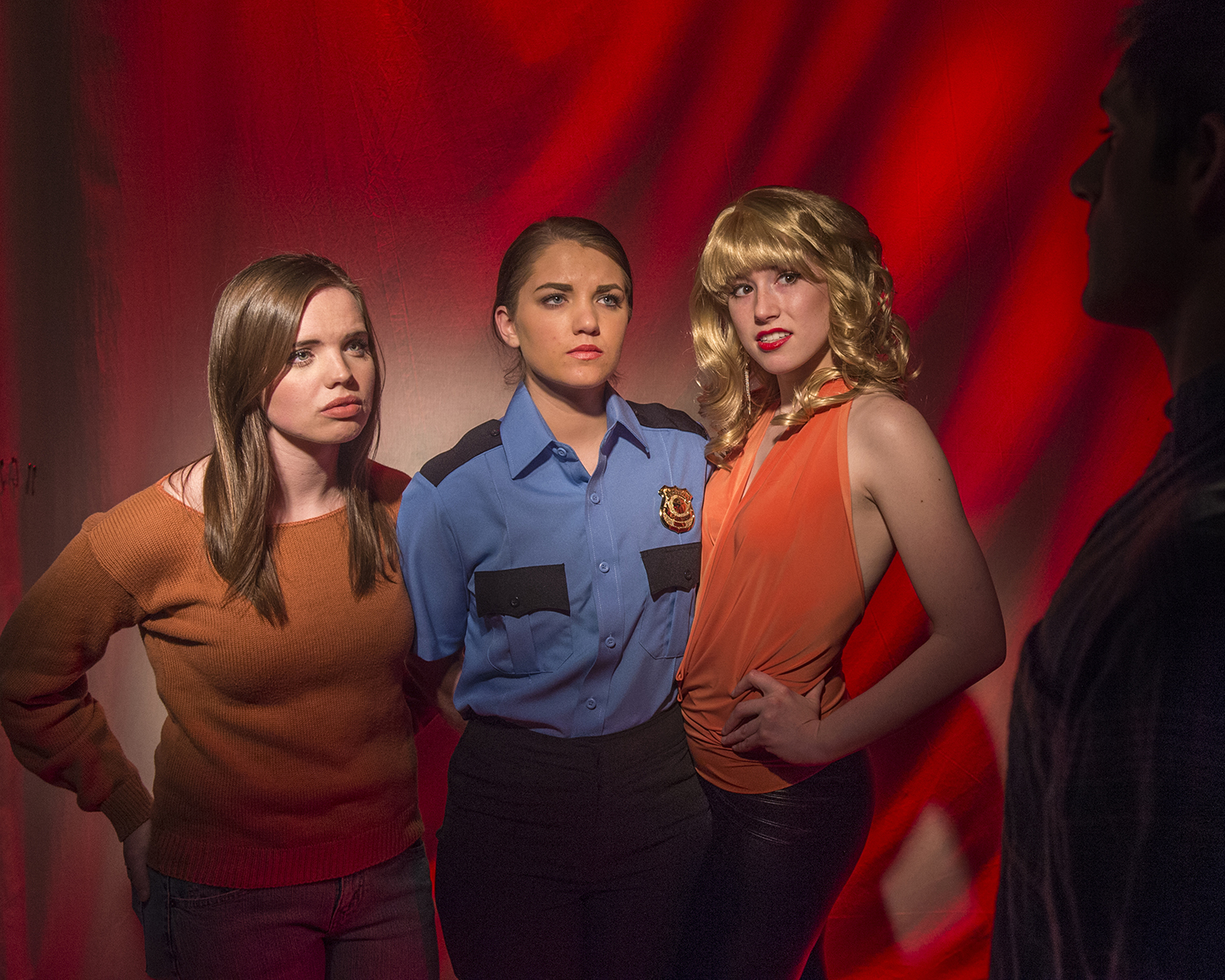 Starring in the feature production for the Big Muddy New Play Festival, "Wife/Worker/Whore," are (from left), Katelin Coursey, Taylor Jelley and Kristin Doty. (Photo by Steve Buhman)
March 18, 2016
Big Muddy New Play Festival opens March 31
CARBONDALE, Ill. – Playwright students at Southern Illinois University Carbondale present their work March 31-April 3 at the Big Muddy New Play Festival, a theater festival that includes staged readings at the McLeod Theater and a fully mounted feature play in the C. H. Moe Theater. 
This year, a new script by graduate student Kirsten Easton sits as the jewel of the festival. The featured play, "Wife/Worker/Whore," tells the story of a young new bride, a policewoman and a high-class call-girl, all of whom discover the power of sexuality for moving ahead in the world. They also find the downside, as the play examines the covert ways in which women sometimes must "prostitute" themselves, even if they don't call themselves such by profession. 
The play premieres March 31-April 3 in the C. H. Moe Theater (Communications Building), with performances at 7:30 p.m., except on April 3, when the performance is at 2 p.m. Dramaturge Brooke Oehme moderates a talk with the playwright at 1:30 p.m. on April 3. 
Tickets for the full play are $18, $6 for students. Get tickets at the box office during business hours, by phone at 618/453-6000 during business hours, or online. Tickets are also available at the door beginning one hour before the show. Seating is limited and there will be late seating during this production. 
"I read a book about a woman so tired of the corruption at her job that she decided she was going to make a more 'honest' living as a high-class call girl," Easton said. "To get off work early she would sit on her boss's lap and blow in his ear; she felt she was already a prostitute, just a cheap one. It made me think about the lack of choices women have in our society. Yes, there are more choices than 50 years ago, but what is the quality of those choices?" 
Easton noted gender-based wage and opportunity disparities and the pressure to "get ahead," adding that women are often told their greatest assets are their bodies or their looks, rather than talent or intelligence. "It seems like an easy choice to use your sexuality as a tool," she said. She hopes her play will encourage audience members to re-think their preconceptions about prostitution and to think about the choices women have. 
The play features Katelin Coursey, a senior musical theater major from Henderson, Ky., as Baby, the young bride; Taylor Jelley, a junior theater major from Monrovia, Ind., as Donna, the policewoman; and Kristin Doty, a junior musical theater major from Marion, Ill., as Scarlett, the call-girl. The men in their respective lives are: Graham Luker, a junior musical theater major from Smyrna, Tenn., as Frankie, the young husband; Jack Rose, a sophomore theater major from Murphysboro, Ill., as police officer Eddy, and Justin Broom, a junior theater major from Lincoln, Ill., as police sergeant Morris; and C. J. Bathiany, a junior musical theater major from Fort Thomas, Ky. as wealthy client, Javier. Other cast members include freshmen musical theater majors Sara Aldarondo (Joliet) as Lynn and Asia Ward (Rockford) as Liz. 
Staged readings: The staged readings are free, and take place in McLeod Theater. 
April 1
4 p.m. – "The Goat Jumped over the F---ing Fence," by David Dudley. After a fatal collision with a motorcyclist, a young woman flees Boston for Vermont and discovers that everyone must face their own demons.
7 p.m. – "El Alacrán," by J. J. Ceniceros. Partners in Salón Alacrán, a Texas dance hall, discover someone is taking money from the till.
April 2
1 p.m. – "Penetrate," by Myah Gary. The revelation of a secret turns a sexual assault therapist's life upside down.
4 p.m. – "Vampirates of the North Sea, Being an Account of the Confrontation between a Small Band of English and Irish Adventurers and an Army of Undead Marauders in the Year of Our Lord 1605," by Rory Leahy. An English spy and a mysterious Irishwoman hunt for lost treasure, contending with pirates, religious fanatics and an army of the Undead along the way.
7 p.m. – "My Tears for an Idiot," by Greg Aldrich. Stabbed through the chest on her wedding night, the heroine of Dostoyevsky's 'The Idiot,' recounts the events of her life that lead to her death.