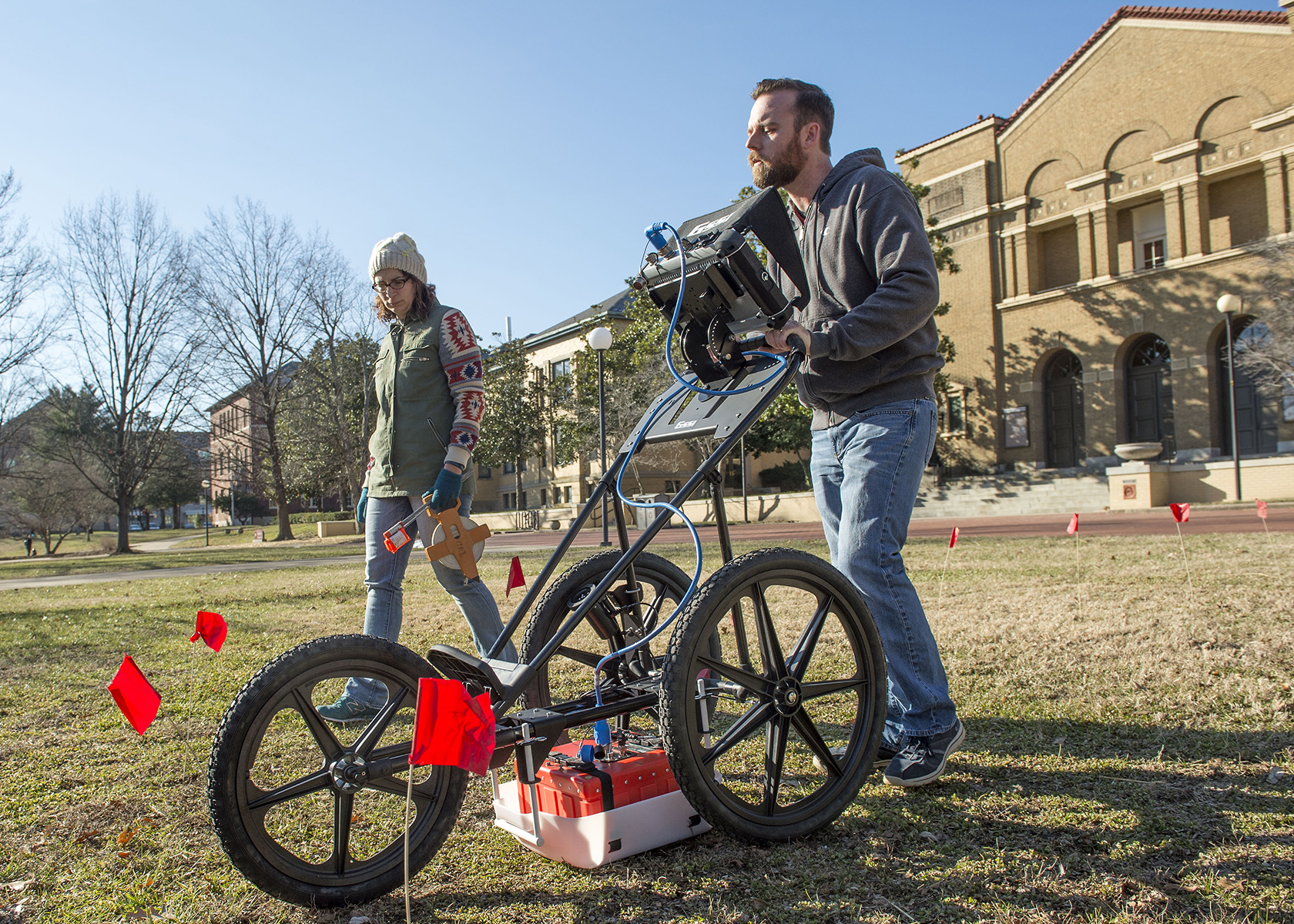 February 25, 2016
Radar key to search for Old Main foundation
CARBONDALE, Ill. – A team of Southern Illinois University Carbondale archaeologists will search for the foundation of the historic Old Main building near Shryock Auditorium on March 3 and 4, weather permitting. Their tools won't be picks and shovels. They'll be using a marked grid and a wheeled contraption that looks part-stroller and part lawnmower. 
Mark Wagner, director of the Center for Archaeological Investigations, explained that the wheeled tool is a ground penetrating radar (GPR) unit. The unit, as the name implies, uses radar to find irregularities underground. The GPR team sets up a grid over the area it wants to survey. A unit operator walks the grid and the unit sends waves through the ground to read what's beneath the surface. 
During data collection, irregularities show up as a hyperbola wave on a computer screen attached to the unit. As soon as data collection is complete, the software can convert the waves to a 3D mode. The team can look at images of vertical slices of terrain by selecting a square of the grid. They can have that first 3D look right there in the field. And they can upload the information to a computer for even more sophisticated analysis. 
The unit Wagner's team has, the GSSI SIR 4000, is top of the line. Different antennae give the capability of reading at different depths under the ground. This unit can read up to 30 feet below the surface. And, with different settings, the unit can read through concrete, asphalt and rock. Waterlogged terrain can give it some problems and so can cell phones. But the advantages far outweigh the need to delay checking texts while operating the unit. 
Wagner said training on the GPR unit will give SIU archaeology students a substantial advantage when it comes to a job search. The equipment is already widely used in several industries, including mining, concrete inspection, geology and forensics as well as in archaeology. It's a tremendous time – and therefore money – saver. A team of archaeologists can read a site from above ground and gain an idea of where, or if, to dig. 
Ryan Campbell, a doctoral student with some experience using GPR technology, said a student can learn to set up and operate the equipment after a few intensive training sessions. But processing and interpreting the data is a skill that improves only through experience – years of experience. 
"Subtle changes in the soil can produce signals that require experience to interpret," he said. "That's the type of knowledge that can only be gained through using the machine time and again at different archaeological sites. It involves examining the data, then doing some excavation to ground-truth any targets you may find in the data, and incorporating all that information into your future interpretations… We hope to provide students with a foundation that will allow them to start gaining that kind of expertise." 
Campbell and Wagner noted that not many graduate programs, and fewer undergraduate programs in archaeology, offer hands-on training in remote sensing technology. They hope that the availability of a GPR unit for training will give SIU graduates a skill that sets them apart.
The search for the Old Main foundation is part of Wagner's idea to promote campus archaeology. For archaeology students, it's like having a field school without leaving campus. For the campus community, it's a way to connect to the campus' history. And there's no digging mess – unless an excavation is ordered. 
"The whole point is proximity," Wagner said. "This (Old Campus) is a really nice place to bring students so they can gain experience with this equipment they wouldn't otherwise get without leaving campus for a field school." 
Old Main, to give a thumbnail history, was the historic centerpiece of SIU. When SIU first opened as a teacher's college in 1874, there was only one building. Fire destroyed it in 1882. The university built a brick building on that site, which became known as Old Main. It was a stately building, quintessential turn-of-the-century collegiate in appearance, and it was the symbolic emblem of SIU. It went up in an arson-set fire in 1969. SIU students salvaged what they could before the flames and smoke were too much, but the building was a total loss. 
Wagner said it's likely the cleanup involved a lot of clearing and moving of rubble. But he doubts the foundation itself, considering how soundly it was laid, was moved. In other words, he thinks it likely it's still there. 
The current statue of Delyte Morris is a landmark for the foundation. The search will take place on the lawn in front of Shryock and in a grid around the statue. It'll be a great opportunity for students to learn to use the GPR unit and to test its capabilities. Wagner hopes it will be the first of many non-invasive campus archaeology projects. 
He has plenty of plans for off-campus use of the equipment as well. SIU has been called to conduct an archaeological survey of a National Guard Armory in East St. Louis known to be located on the site of a former cemetery. He expects the archaeological investigation team, already busy with surveys at historic sites, will become busier still – and that's great for students seeking career training and marketable skills. 
"GPR allows us to look at archaeological sites in a new way that is less destructive than traditional excavation methods," Campbell said. "Excavation, while extremely necessary and useful, is destructive… With GPR, we are able to see what lies below large portions of a site without digging. We can see broad patterns that may extend across a site, rather than just using excavation to peek into small sections and try to draw interpretations from that alone. Combined with traditional excavation methods, the data that GPR provides will give us a richer understanding of how archaeological sites are organized, helping us better understand how people lived in the past."