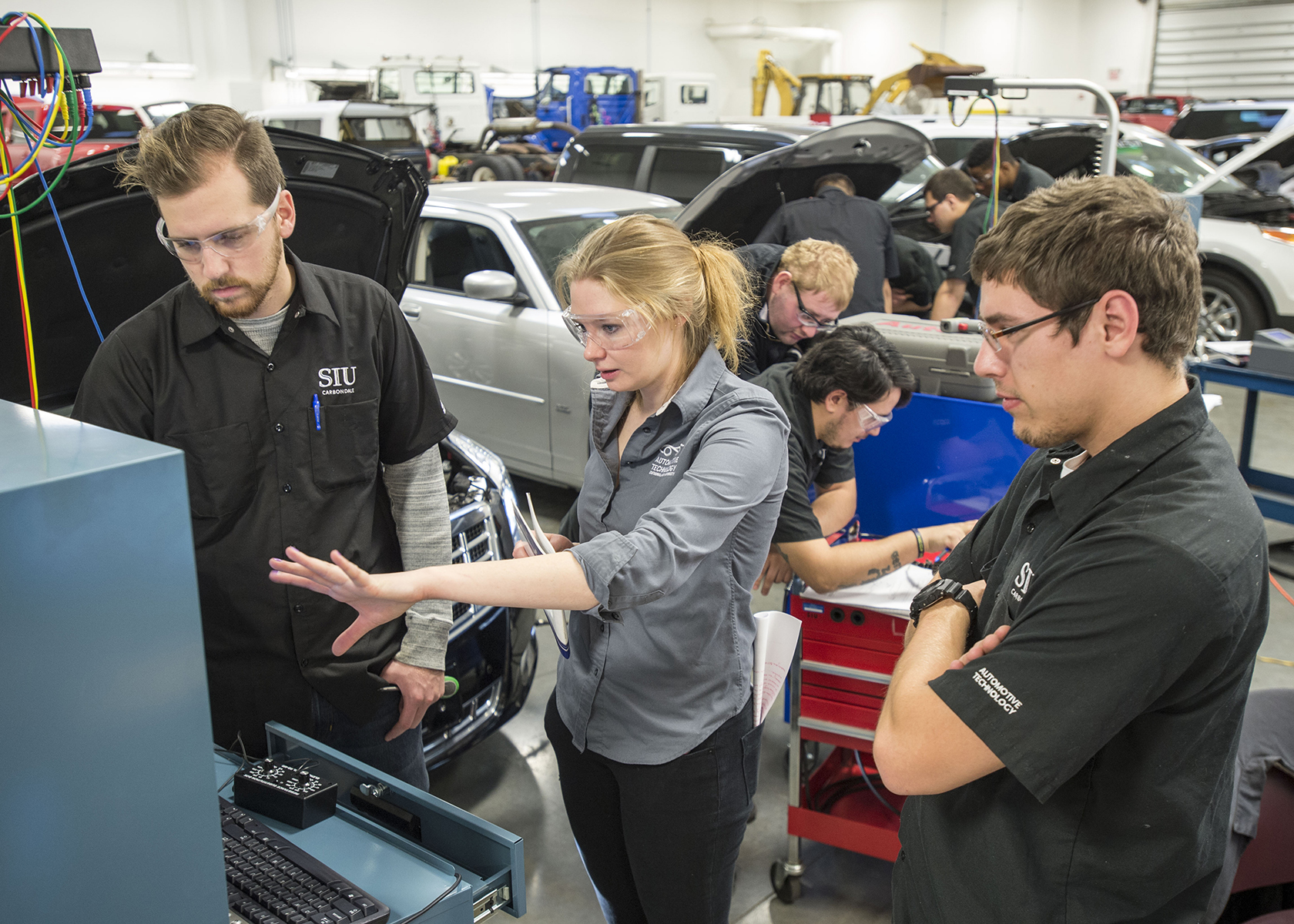 Making the diagnosis -- Jessica Suda, center, discusses findings with automotive technology students Andrew "Beau" Johnson, left, and Scott Adcock in her Automotive Drivability and Emissions Diagnostics class at Southern Illinois University Carbondale. (Photo by Russell Bailey)
February 11, 2016
Auto technology teacher is making her mark
CARBONDALE, Ill. -- Jessica Suda doesn't view herself as a trailblazer. In just a few years, however, the two-degree Southern Illinois University Carbondale alumna has made her mark. 
Last fall, Suda became the first female automotive technology instructor in the 64-year history of the program. Suda, who earned her bachelor's degree in the program in 2011, is one of a handful of female automotive technology instructors at the high school, community college, or university level in the United States, according to department Chair Michael Behrmann. He noted that Suda is also one just three female automotive instructors at the university level, and the only one who specializes in automotive technology, he is aware of. 
In a career field historically considered male-oriented, Suda does not feel additional pressure. 
"Everybody is just a person. We all work together. After being in the industry for so long, you forget. People are just people," she said. 
It was Suda's performance as a student and work as an automotive technician, service adviser and in service management that prompted Behrmann to offer Suda the instructor's job. Automotive technology, however, has not been Suda's only focus. She earned a bachelor's degree in electrical engineering in 2014, and was involved with waterfowl migratory research with SIU Carbondale's Cooperative Wildlife Research Laboratory. She also managed the facility's invertebrate lab. 
In addition to teaching, Suda is working toward a master's degree in computer engineering that she hopes to complete in December. 
"When she was a student here she excelled in classes. She displayed the drive -- the determination for constant learning that I look for," Behrmann said. "She understood what she needed to learn and identified the resources and ways to try and learn that. She mastered it. She set challenging goals for herself and worked hard to achieve those goals." 
Suda emphasizes focus and hard work with her students.
"Just focus on what you want to do and you can strive to do whatever you like," she said. "There is no substitute for hard work. If you want to do something, you can totally do it. You just have to put your mind to it." 
A 2007 graduate of Glenbard South High School, Suda credits her parents, Karen and Frank, of Glen Ellyn, for her interests. She recalls watching her father work on the snow blower, lawnmower and fixing things around the house. Suda got her interest in engineering, where logic, order and math are key components, from her mother.  A younger brother, Kevin, also graduated from SIU's automotive program and works for Toyota. 
While in high school, Suda visited the Technology Center of DuPage for a career day. Suda said she recalls seeing various career fields but that automotive technology caught her eye. "I want to do that. I don't know anything about cars yet, but I want to do that," she said. Steve Elza, an SIU automotive technology program graduate and one of Suda's high school instructors, encouraged her to attend SIU Carbondale. 
"I was unsure what to do at that point in life but I'm glad I had the right people push me in the right direction," she said. 
Suda said her SIU instructors, in both automotive technology and engineering, became mentors in her teaching approach. Suda's teaching area includes automotive data systems, electrical diagnostics and hybrid electric vehicle technology. She wants to one day convert her first and favorite car, a 1992 Honda Accord, into an all-electric vehicle. 
"A lot of the instructors are very patient, outgoing and you can ask them questions all day long," Suda said. "As long as you want to learn and show initiative it will help you out. I want to be that patient, understanding person who just wants to help students learn." 
Suda loves helping students realize their potential. 
"That is my passion; just seeing the light bulb turn on," she said. "That means the world, and it affects them for the rest of their life. They will remember that moment in your class." 
Janette Ramirez Baltazar, a senior from Joliet, is one of three females in Suda's Automotive Drivability and Emissions Diagnostics class this semester. Baltazar said that like Suda, she also likes to work with her hands and on cars. Having a female instructor "opens my eyes more to seeing what is available; it's not just fixing cars and getting dirty – it's being able to teach other students, like myself. This also shows that automotive technology is not just for males." 
Suda and Behrmann agree that the automotive industry provides great opportunities for women, with Suda noting, "You don't always have to get dirty." She wants to continue as an instructor after she earns her master's degree, and pursue a doctorate while also involved in new automotive computer system research. 
"It is really transitioning into the electrical side. If you want to go to the electrical side and do diagnostics, that is great," Suda said, explaining that much of diagnostic analysis involves logic and eliminating potential problems. 
Behrmann said there are misperceptions that the only career opportunities in the automotive industry are in designing, building or working on cars. There is, however, much more, and he said the industry "needs to do a better job in promoting the career opportunities that we have available."  There is a large industry demand for students with science, technology, engineering and mathematics (STEM) backgrounds, he said. 
"There is a huge demand within our industry to take leadership management entry-level roles … and help manage the technology and the personnel who are controlling this technology," he said. "Our graduates have taken global leadership positions with some of the largest corporations in the world. People do not realize those opportunities; they don't realize the job potential out there. It's not gender specific by any means." 
Having a female automotive instructor, however, is important for all students to see, he said. 
"It impresses upon not only our current female students that they can achieve great things, but it also impresses upon our male students that this is a global industry that needs to represent all of our consumers," he said. "She brings not only that academic side and the intelligence but she also brings the industry work experience into the classroom that she's been there and done that."