February 10, 2016
Illinois official to discuss state of economy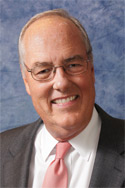 CARBONDALE, Ill. – Jeff Mays, the director of the Illinois Department of Employment Security, will present a lecture later this month at Southern Illinois University Carbondale. 
A former state legislator, Mays will discuss the state of Illinois and the Southern Illinois economy as part of the "The State of the American Worker Lecture Series." The event is from 11:30 a.m. to 1 p.m., Feb. 25, in the Saluki Stadium Club. Parking will be available in the SIU Arena parking lot. 
The Paul Simon Public Policy Institute is sponsoring the lecture series. 
The lecture is free and open to the public, but space is limited. Lunch is included and advance registration is required. The registration deadline is Feb. 22. RSVP to Shiloh Deitz, coordinator and researcher, at 618/453-4004, or at http://paulsimoninstitute.siu.edu/jeffmays/ 
"The state of the American workers series is designed to provide insight into the problems of income disparities in the U.S. as well as various approaches out there to do something about it," David Yepsen, institute director, said. 
A member of Gov. Bruce Rauner's cabinet, Mays is a former five-term legislator who represented the 96th District in west central Illinois from 1981 to 1990. He has also served as president of the Illinois Business Roundtable, and as vice president of human resources and executive vice president of the Illinois State Chamber of Commerce. 
For more information on the program, contact the institute at 618/453-4009 or visit http://paulsimoninstitute.siu.edu/.