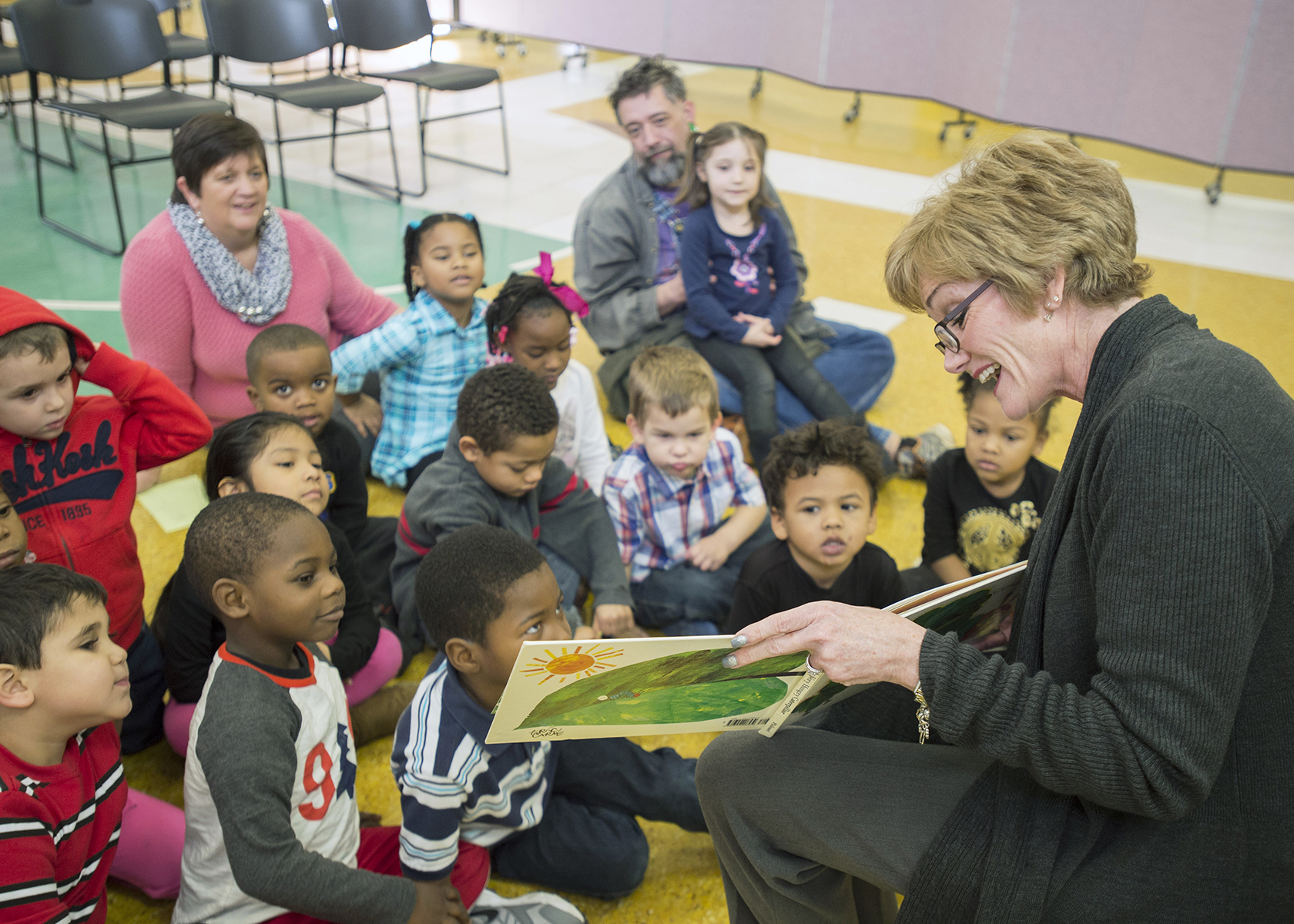 Reading for a lifetime -- Ronda Dunn, right, honorary chair of the 2016 "Book in Every Home" campaign, reads to youngsters enrolled in the Carbondale Head Start center. (Photo by Russell Bailey)
January 19, 2016
SIU launches 'Book in Every Home' campaign
CARBONDALE, Ill. – A strong educational foundation begins with reading. 
Southern Illinois University Carbondale's Head Start program is launching its "Book in Every Home" campaign. Longtime educator Ronda Dunn, wife of SIU President Randy Dunn, is once again chair for this year's drive, which runs through March 1. 
The goal of the campaign, "Read to Me Now and I'll Read for My Lifetime," is to collect enough books so that each of the 368 children enrolled in four Head Start centers will receive at least 10 new books to take home and call their own, Linda J. Flowers, interim Head Start director, said. 
Children ages three to five attend Head Start centers in Carbondale, Carterville, Marion and Murphysboro. Head Start centers are at 1900 N. Illinois Ave., Carbondale; Malone's Early Learning Center, 108 Walnut St., Carterville; 907 N. Vicksburg, Marion, and McElvain Center, 593 Ava Road, Murphysboro. 
"The ability to read is the single most important skill parents of preschool age children can cultivate in the home," Dunn said. "Reading allows the child to dream. Dreams propel us through life. Having age appropriate books available in the home is imperative." 
The campaign is off to an earlier start this year and there are already "significant donations," Dunn said. She read to children at the Head Start center in Carbondale last week.
"I always enjoy reading to the kids. They're so cute and well-behaved," she said. 
Nationally respected for its success, the SIU Carbondale Head Start program, now in its 45th year, is one of only a few university-related Head Start organizations in the country. The program focuses on meeting the social, intellectual, emotional and physical needs of preschool children from income-eligible families. The national Head Start program got its start in the summer of 1965. 
A triple alumna of SIU, Dunn is a graduate of Benton High School. She earned her bachelor's degree in business administration, a master's degree in workforce education and development along with a certification in business education. Dunn completed her doctorate in educational administration at the university in 2003.  
In her early career, Dunn worked for Prudential and First Bank of Carbondale but after continuing her education, she became a business education and computer science teacher for the Herrin school district.  She was then hired as Williamson County technical education director and later appointed as the Regional Superintendent of Schools for Franklin and Williamson counties. 
Following a move to Murray, Ky., where her husband was president of Murray State University, Ronda Dunn worked for the Kentucky Department of Education.  As an educational recovery director, she supervised school improvement efforts at high schools within the western 36 counties of Kentucky.  
Flowers emphasized that research shows that it is difficult for young children to catch up if they are behind in reading skills by the time they reach third grade. 
"It's important that we continue to stress the importance of reading to our children and families because reading is important to a child's success in school and in life," she said. 
In choosing a new book for young children ages 3-5, please consider the following:
Illustrations -- Large, clear colorful pictures that relate to the words.

Content -- Books that repeat words or phrases and those with rhyming words.

Text -- The story should be easy to follow and understand.

Design -- The pages in the book should be uncluttered. The print should be large and legible.

Language -- Books written in both Spanish and English are acceptable. 
There are 18 drop box locations on campus and throughout the Head Start communities. On campus the following locations are:
SIU President's office, Stone Center

Chancellor's office, Anthony Hall

SIU Alumni Association, Colyer Hall

Intercollegiate Athletics office, 118 Lingle Hall

Student Health Services

Student Recreation Center

SIU Carbondale Head Start Central Office, 1900 N. Illinois Ave., Carbondale.

Teacher Education Program, Wham Building

University Bookstore, Student Center
Participating businesses are: Bank of Carbondale, Carbondale; First Mid-Illinois Bank and Trust locations in Carbondale, Carterville and Marion; First Southern Bank locations in Carbondale and Murphysboro; Murdale True Value & Just Ask Rental, Carbondale; Silkworm, Murphysboro, and SIU Credit Union, Carbondale. 
In addition to bringing books, tax-deductible monetary donations to buy new books are also welcome. Checks should be made out to the SIU Foundation with "Book in Every Home" written in the memo area. The SIU Foundation address is 1235 Douglas Drive, Colyer Hall, Mail Code 6805, Southern Illinois University Carbondale, Carbondale, IL 62901. 
For more information on the "Book in Every Home" campaign or Head Start, contact Flowers at 618/453-7171.