December 15, 2015
CD by Lee, Stemper earns top 10 album ranking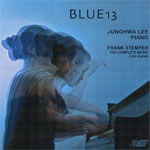 CARBONDALE, Ill. – Junghwa Lee and Frank Stemper have racked up another accolade for their CD, "Blue 13." The Global Music Awards ranks the CD in its "Top Ten Albums of 2015," placing it at number four. 
Lee is associate professor of piano at Southern Illinois University Carbondale, and Stemper is professor emeritus and former composer-in-residence at SIU. The CD, released through Albany Records in April, features Lee's piano virtuosity, showcased by means of Stemper's complete piano compositions (so far). 
"This album brings the joy of intense virtuosity as well as sensitive interpretation of highly complex, yet curiously accessible compositions," the description of the CD by Global Music Awards reads. "The album whispers in your ears because the composer and classical pianist go to the heart and soul of what artistic communication is all about." 
Global Music Awards named the CD a Gold Medal Award winner earlier this year. Gold Medal Awards go to only the top 10 percent of entries for the record competition. Global Music Awards are industry awards meant to recognize original music and emerging artists. 
Concert reviewers and critics describe Lee as "a pianist of acute intelligence, conviction … and passion," and as having "flawless technique and exquisite attention to details." Lee is also well traveled and well known, performing in solo recitals, chamber concerts and lecture recitals. She has presented solo performances, and as a soloist with symphony orchestras, in her native Korea, in New Zealand and Australia, and in nine other countries in Europe, Asia and North America. She debuted Stemper's composition "Global Warning" in Orleans, France, in 2008 and included it in her Carnegie Hall recital that same year.  
"Blue 13" is a complete record of Stemper's compositions for piano so far. He also composes music for orchestra, chamber ensemble, voice and computer. His music has traveled to 22 countries and all over the United States. Stemper has spent his 30-plus-year career not only at SIU, where, in addition to his teaching position he also served as composer-in-residence, but at many other universities and music conservatories as guest composer or artist or teacher in-residence. His compositions reflect the middle 50 years of the 20th century, with influences from jazz and other music forms informing his unique style.